June 29, 2007
Scott Leonard - 1 Man 1 Mike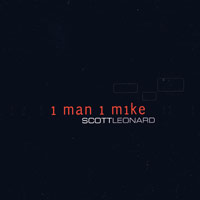 We have been a major fan for years of Rockapella's singer/songwriter/arranger/producer Scott Leonard, who puts his talent and versatility in the spotlight on this solo, all-a cappella recording, "1 man, 1 mike." We also have an admiration for artists who push the a cappella envelope enough to include an announcement like "This is an a cappella recording. All sounds were created vocally, or by Scott Leonard "slapping up gainst hisself," and wonder with the ultra-funky first cut, "Moneyman," how he came up with the rock-solid vocal percussion and faux synthesizer. The amazement continues with the smooth, rhythmic "Boomerang Monkey Love" and powerful, boogying "H'eau." There are a pair of wonderful renditions of songs Scott performed with Rockapella, "California Sad-Eyed Girl" and the driving "4U4Now4Life," only he's vocally accompanying and harmonizing with himself, instead of with one of the greatest a cappella bands in the world. Included are 11 songs that need to be listened to several times to appreciate how much of a star Leonard truly is. "Love Last," "Tell Me What You Want," "Sunset Strangler," "There Will Be Love"-this is all wonderful stuff. "Impressive" is not a strong enough word for this solo CD, so we'll go with "amazing." Thank you, Mr. Leonard, and more, please! 2428 CD 15.95
Listen to "California Sad Eyed Girl"
Posted by acapnews at 2:50 AM
June 26, 2007
Kinsey Sicks - I Wanna Be A Republican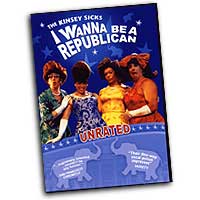 In their first live concert film The Kinsey Sicks reveal the shocking news: they have gone Republican. In this mock GOP fundraiser, Rachel, Winnie, Trixie and Trampolina, the four gifted singers and comedians who comprise the quartet, defend their conversion to conservatism. They sing - literally! - the praises of corruption, tokenism, greed and all things nuclear (both families and bombs). The film, shot over two nights with five high definition cameras at the Broadway Studios in San Francisco, captures the final performances of the live, touring version of the Kinseys' I WANNA BE A REPUBLICAN stage show which they developed during the 2004 election season. Touring for over a year nationally, as well as in Canada and Mexico, "Republican" was performed not only in major cities, but also in small towns and red states -- to wildly appreciative audiences. A cappella has rarely been funnier! 2407 DVD 24.95

Posted by acapnews at 12:11 AM
BQE - Acappella Starlight Sessions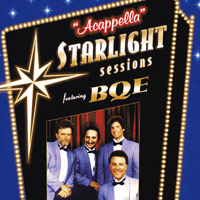 "BQE" refers to the Brooklyn-Queens Expressway, and with their full, rich harmonies this all male quartet is really going places. This collection of 20 songs includes "Pretty Little Angel Eyes," "Sherry," "The Wanderer," "My Prayer," "Will You Love Me Tomorrow," "What Time Is It," "Chain Gang/Cupid medley," "The Way You Do the Things You Do," and a killer cover of "The Lion Sleeps Tonight." Great stuff! 8804 CD 12.95
Listen to "Sherry"
Posted by acapnews at 12:07 AM
June 15, 2007
Pacific Mozart Ensemble - A Story of Freedom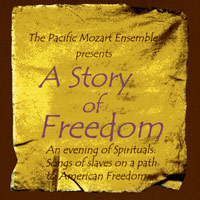 The Berkeley, CA-based PME has just been getting better and more innovative since its founding 20 years ago. This rich, powerful, live collection of 23 authentic Spirituals is their 3rd winning recording in the Primarily A Cappella catalog. Some songs are recorded at the Green Room in San Francisco, and the rest at the Oakland Museum. All of our favorites are here, with fresh new arrangements: "Didn't My Lord Deliver Daniel," "Ezekiel Saw de Wheel," "His Name So Sweet," "Freedom Train," the heartbreaking "Steal Away," "Do Lord, Remember Me," "Elijah Rock," "The Battle of Jericho," "Amazing Grace," "Mary Had a Baby" and many others. Every song a gem, soaring solos, great music, live performance excitement—what could be better? We loved "A Story of Freedom!" 8630 CD 15.95
Listen to "His Name So Sweet"
Posted by acapnews at 11:57 PM