January 23, 2007
Akasa - Views From The Urban Jungle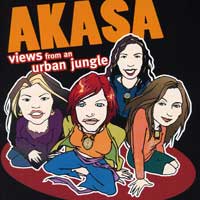 Melbourne, Australia's dynamic all-woman quartet Akasa, Vicki, Andrea, Diana and Heidi, gifts us with their third recording. "Views" is happily mostly originals by group members, with an activist, ecological theme. Favorites are Heidi's "Not for Profit" ("Imagine if every business in the world operated not for profit"), "Leap Out," "Council Coconuts," "Freeway" and "I Won't Break;" Diana's "Indigo Tails" and "Need Some Care;" and Andrea's "Runaway," "The Cycle" and "Lullaby." These four dynamic, beautiful young women have a lot to say, emotionally and politically, and they write and sing it with style and grace. 12 thought-provoking tunes with some non-vocal percussion, played by the group. "Akasa" (pronounced A-ka-sha) is Sanskrit for brilliant/cavity of the heart/ether/that which fills everything, and we couldn't have described them better. Powerful words, powerful music! 9891 CD 14.95
Listen to "Bubazinho"
Posted by acapnews at 1:16 AM
Face - Forward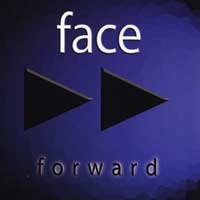 We have personally experienced the vocal power of Colorado-based, 7-man Face, who first began singing together in 2000, and first performed for the public in the summer of 2002--the year they won their first of three Audience Favorite awards at the Harmony Sweeps Rocky Mountain Regional. In Spring of 2005 they won the Regional and we saw them win Audience Favorite at the Harmony Sweeps National Finals, placing 2nd overall. "Forward" is exactly that, a collection of 11 covers that announce to the a cappella world that Face is ready to join the elite. Beginning with Mark Broussard's driving "Home," Tonic's brooding "If You Could Only See" and some amazing vocal sax, trumpet and keyboards on Mancini's "Pink Panther Theme;" the great song selection continues with Counting Crows' bouncy "Accidentally In Love," the BeeGees' romantic anthem "How Deep Is Your Love," The Hoodoo Gurus' Adams Familyesque "Dig It Up" and "American Passion," an incongruous medley of Bach's "Erkenne Mich, Mein Huter" and Paul Simon's "American Tune" which totally works. "Forward" is an impressive collection that moves and touches us�great stuff! 2406 CD 14.95
Listen to "It's Not The Crime"
Posted by acapnews at 1:11 AM
January 19, 2007
Talisman - The Quick Day Is Done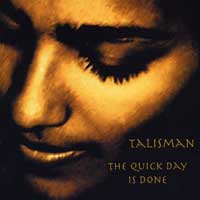 Stanford University's world-class mixed ensemble Talisman is dedicated to the sharing of stories through music, specifically the musical traditions the African diaspora. "The Quick Day" is the group's 7th spirited recording, and features the 2003-4, 2004-5 and 2005-6 groups—each with fifteen to twenty singers. 14 powerful, rhythmic songs, some with non-vocal African drums. From the first cut, "Before This Time," we are drawn into the soulful current of this music: "Frekoba," "Majhi," "Soweto Blues," the soaring "Ohureo," the dramatic Native American song "Xihtecuhtli," the joyous, hand-clapping spiritual "Way Beyond the Blue," the vocal percussion gem "Belgo Zairoise," the plaintive spiritual "No More My Lord," the heartbreaking "Stimela," the marvelous "Akekho Ofana No Yesu,' and stunning (although orchestrally accompanied) bonus track "Baba Yetu." We were deeply moved by every one of these songs, and consider "The Quick Day Is Done" one of the best of the year—don't miss this one! 1765 CD 14.95
Listen to "Ohureo"
Posted by acapnews at 1:54 AM
The Whiffenpoofs - In The Studio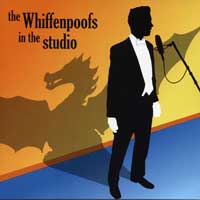 The 14 fresh-faced young men in the photo on the back of the liner notes for "In The Studio" are Yale Seniors selected to be Whiffenpoofs, probably the best-known, and certainly the oldest, collegiate a cappella group in the U.S. These 19 songs, beginning of course with the Bohemian Marching Song "Aj, Lucka, Lucka, Siroka," which, along with the haunting "Whiffenpoof Song," has graced every Whiffenpoof recording, the guys nail "On Broadway," "Black is the Color of My True Love's Hair," "Steppin' Out With My Baby," the very hip and funny "Is This Any Way to Fall in Love," "Stay," the self-parodying "Daddy is a Yale Man," "Maryland," "Bye Bye, Blackbird," "Between the Devil and the Deep Blue Sea," and many more. The 'Poofs are (and always have been) one of the best collegiate groups we have reviewed, and the wonderful "In The Studio" shows how truly fine they can be! 1763 CD 14.95
Listen to "Between The Devil and the Deep Blue Sea"
Posted by acapnews at 1:52 AM
January 15, 2007
2006 Barbershop Society Top Quartets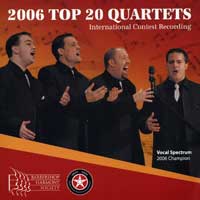 There was plenty of great harmony singing in Indianapolis this year and as usual the competition was tough. Winning the gold medals this time was St. Louis-based Vocal Spectrum featuring Timothy Waurick, Eric Dalbey, Jonny Moroni and Chris Hallam. In 2nd place was barbershop "supergroup" Max Q, OC Times were 3rd, Metropolis 4th and Flipside finished 5th. With many, many hundreds of quartets competing every year to finish in the top 20 is a real accomplishment and these quarts clearly demonstrate why barbershop singing remains vibrant to this day. 5760 CD 14.95
Listen to "Vocal Spectrum - Cheer Up Charlie"
Posted by acapnews at 10:39 PM
January 9, 2007
Richter Scales - We Hate A Cappella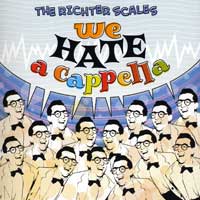 The Scales are an all male, 18-strong Bay Area ensemble which first started singing a cappella together in 2000, and, according to their website, "We Hate A Cappella" is their debut CD. 12 manic, high-energy cuts, some favorites are Lennon/McCartney's "Can't Buy Me Love," "I Got Mail," the very funny original by group member Brian Rosen, (who also sings lead), "High Notes." "Stockholm Syndrome" (which focuses on love as a hostage situation), and "Pencil Boy" (where our hero and Crayon Girl are "drawn together") also Rosen originals, strong covers of Steely Dan's "Reelin' In The Years," the Doo-Wop standard "I Only Have Eyes For You" and the Disco hit "Love Machine;" and finally the oddly compelling, fairly silly title tune, also a Rosen original. "We Hate" is a strong, funny debut recording with an attitude by 18 very creative, talented guys—give it a listen! 1219 CD 14.95
Listen to "I Got Mail"
Posted by acapnews at 2:57 AM