September 27, 2007
New York Voices - A Day Like This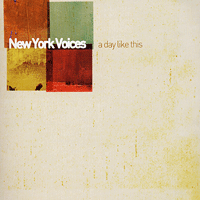 We have long placed the Grammy-winning two-woman, two man NY Voices in the same company as groups like Singers Unlimited, Manhattan Transfer, The Real Group and Vox One, that is, among the best vocal jazz groups in the world. Receiving "A Day Like This" is cause for celebration, as it has been way too long since the quartet last stepped into a recording studio. This all-accompanied collection of 14 upbeat, jazzy tunes starts out fast with Jimmy Van Heusen' "Darn that Dream," group member Peter Eldridge's "The World Keeps You Waiting" and a smoky, bluenote cover of Alan Jay Lerner's "On A Clear Day." Then we're treated to some sweet covers of Lewis & Coots' "For All We Know," Duke Ellington's "Love You Madly," Stevie Wonder's "Don't You Worry 'Bout a Thing," John Coltrane's beautiful "Noticing the Moment (Moments Notice") and the wonderful, scattish, manic "Jackie" with lyrics by Annie Ross. One last favorite is a delightfully fresh and simple arrangement of Laura Nyro's "Stoned Soul Picnic." Every cut here, in fact, is a joy - the Voices have a sophisticated, effortlessly clean sound that surprises and entertains. It was worth the long wait for A Day Like This!" 7637 CD 17.95

Listen to "Darn That Dream"

Posted by acapnews at 2:01 AM
September 26, 2007
Sweet Honey In The Rock - Experience 101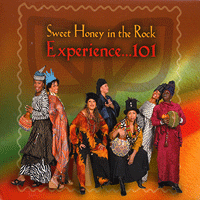 Sweet Honey in the Rock, the award-winning female African American ensemble, releases their first recording since Dr. Reagon's retirement and is the group's fourth CD for children. The CD's colorful packaging – an eyecatching digipack and a 16-page booklet in the style of a school composition notebook – contributes to the theme of learning through music. Children from the ages of 9 to 12 pose questions about the mysteries of the adult world in print, and the members of Sweet Honey (six vocalists at the time of this recording, now five, not counting their onstage sign language interpreter) respond with songs of about peaceful coexistence, the virtues of education, the nurturing support and reassurance of parents and elders, following one's moral and spiritual compass, and working to better the surrounding world. Emphasizing the group's roots in African culture, the songs are matched up in print to Adinkra symbols used in Ghana, West Africa, to indicate wisdom, strength, unity, good fortune, harmony and other emotions crucial to leading a meaningful life. The sound of Sweet Honey is almost intoxicating, as they deploy their voices in myriad combinations and styles – call-and-response, scatting, percolating percussive effects, waterfalls of harmonies and counterpoints, rounds, spoken rap-like segments, and just about every other pleasing way the human voice can be utilized. 9914 CD 16.95

Listen to "In the Middle of the Night"

Posted by acapnews at 12:13 AM
September 22, 2007
Harmony Sweepstakes National Finals 2007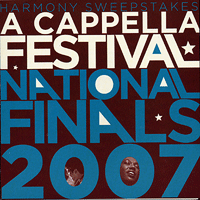 On a perfect May Saturday night in San Rafael, CA, the sold-out audience witnessed another unbelievable evening of unaccompanied vocal harmony. Eight Regional winners were up on stage, singing their hearts out for the fans and the judges, with the National Championship on the line. The best 18 songs of the night, including from local favorites the folk/world female ensemble Solstice with "Wade in the Water" and the dynamic "Kappee." A pair of songs from Audience Favorites Denver's "Face," includes the gritty, powerful rocker "Home," that won them 2nd Place. Three tracks from the evening's winners National Champs from Los Angeles, Moira Smiley & VOCO with the folk tune "Bring Me Little Water, Silvie," "Szerelem" and the lovely, moving "Stand in that River."
Other favorites are New York's The Fault Line's "Some Kind of Wonderful;" the Pacific NW's V-Chords' "Don't You Worry 'Bout a Thing", Boston's Men in Black's "Run Around" and Chicago's Nightwatch's very funny "Defying Gravity." And let us not forget host group 2006 Champions Hi-Fidelity (hey, that's 2 in a row for L.A.!), whose "Enterprise/Sulu Medley" reminds us how brilliant and funny they can be.
2007 CD 14.95

Listen to "Face - Home"

Posted by acapnews at 12:04 AM
September 19, 2007
Insideout - Sharing Time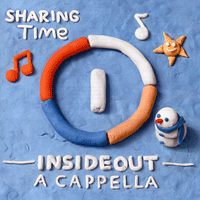 "Sharing Time" is a wonderful sequel to six-man, SLC-based Mormon multiple CARA-winners' excellent "Primary Colors." Both CDs are aimed at children, and both sparkle with crisp vocal percussion, original songs arranged and produced by the group, sweet harmonies and leads, and thought-provoking lyrics. Fourteen all-a cappella tunes, ranging from serious Contemporary Christian material in songs like "Book of Mormon Stories/The Golden Plates," "The Priesthood Is Restored/A Young Man Prepared," "When I Am Baptized" and "Baptism (Jesus Came to John the Baptist)" to a fine a cappella rendition of Ravel's "Bolero," Piero Umiliani's "Mahna Mahna," fun and silly kid's tunes like "Do Your Ears Hang Low," "Little Purple Pansies," new lyrics to the Reggae tune in "Primary Jamboree," "What Do You Do in the Summertime" and the surprising, brilliant impressionistic gem "In The Sun They Melted (Snowman II)." We loved the guest children singers on "I Am a Child of God" - so many things about "Sharing Time" are beautiful and touching on many levels. One of the best of the year! 2431 CD 14.95
Listen to "The Priesthood is Restored"
Posted by acapnews at 11:46 PM
September 8, 2007
Legacy - Legacy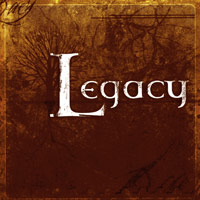 The sound of Lubbock, TX-based Contemporary Christian all-male a cappella quartet has been compared to groups like Take 6, Acappella and Rockapella. Particularly fine among these 10 songs are three written by group member and producer Josh Wheeler, "Preach the Word," "Make a Difference" and the inspirational "I Will Praise Your Name" and group member Jake Lierman's "How Can I." Other favorites are the upbeat "Livin' on the Edge," "Who is Here" and "Without Love;" the moving "Beautiful Lamb," "Beautiful Like This" and "Now to Him," with music by Keith Lancaster. Every cut of "Legacy" is strong, sung with power and feeling by this talented, committed quartet. One of the best we have heard this year! 2251 CD 14.95
Listen to "Make A Difference"
Posted by acapnews at 1:39 AM
The Sirens - PreMusical Syndrome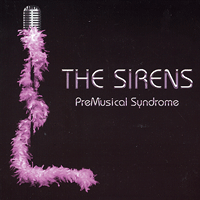 Not to be confused with the Collegiate ensemble USC Sirens, The Sirens were formed in New York City in the Fall of 2000, and are a Contemporary a cappella all-woman septet. "PreMusical Syndrome" is their debut CD, and it's an excellent one. 8 all-a cappella cover tunes, beginning with George Michael's "Freedom 90," Lenny Kravitz' "Fly Away," Radiohead's "High and Dry" and Amanda Marshall's "Sunday Morning After." Other winners are U2's "Pride," Blue Swede's "Hooked on a Feeling" and a very nice "TV Medley" that pushes a bunch of our nostalgia buttons. The Sirens have a fresh, clean, fun sound, we enjoyed every of "Syndrome" and we're looking forward to hearing more. 2432 CD 9.95
Listen to "Hooked on a Feeling"
Posted by acapnews at 12:37 AM