June 26, 2006
Cosmos - Par un Par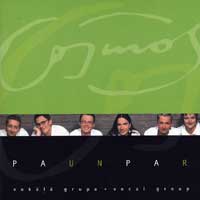 Cosmos is the happy union of six talented young Latvian professional musicians who have come together to cover the human vocal range, from bass to soprano, performing all styles of music from Renaissance polyphony to contemporary jazz and pop. Two brilliant counter-tenors, and the group's dynamic live performances and inspirational sound have made Cosmos one of Latvia's most popular and successful groups. Their debut CD, a collection of their own arrangements of Latvian pop music, will soon go platinum, and the group won the international competition "New Wave 2004" before a tv audience of 200 million. 15 songs, from the richly harmonic "Pirms," subtle, ringing covers of Lennon/McCartney's "Blackbird" and "Got to Get You Into My Life," Brad Roberts' "MMMM," Tommy Sims' "Change the World," Phil Collins' "I Can't Dance," Key Smith's "Virtual Insanity" (arranged by m-pact's Britt Quentin, as was "Got to Get You Into My Life"), and Michael Jackson's "Billie Jean," to the crisp, jazzy title tune and some other nice tunes in Latvian, particularly "Mezs" and "Saullekts" and the 10-part smorgasbord, "Saulriets." The men of Cosmos are artists of the highest ability, who are pushing the a cappella envelope creatively as much as any group we've heard, and winning new fans wherever they perform. "Pa un par" is a complex masterpiece by fast-rising Cosmos! 1202 CD 15.98
Listen to "Change The World"
Posted by acapnews at 10:26 PM
June 21, 2006
Insingizi: Voices of Southern Africa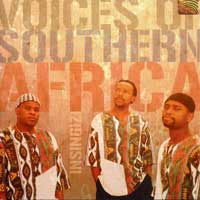 "Mbube" music, regarded as dating back in Zulu tradition to King Shaka, was originally royal music to be sung to honor the Zulu King by his male supporters. The style—a rich a cappella male choral approach usually sung in Zulu, appeared in the early 20th century as "Ingoni Ebusuku," meaning "night music." Popular with Zulu and Swazi laborers, in the early 1940s one of the Ingoni Ebusuku groups recorded a song called "Mbube" (the lion), which became a model for the international hit "Wimoweh" (the Lion Sleeps Tonight), and since then this type of music has become known as Mbube. The three talented men of Insingizi, Vusa, Nqo and Ramadu, have deep Mbube roots and performing experience, and they have created a special, powerful collection of 17 songs here. The rhythmic gem "Amasango," the gospel-based "Jerusalem," "Ungangidluli Jesu" and "Siyabonga," the complex "Isiqholo" and "Mama," and "Uzoyidela" are favorites. Beautiful, extensive liner notes. Authentic, wonderful "night music" from Insingizi. 9883 CD 14.98
Listen to "Ingoma"
Posted by acapnews at 12:26 AM
June 7, 2006
The Hi-Lo's - Listen to The Hi-Lo's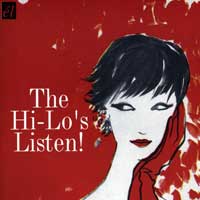 Here's the recording that started the career of quite possibly the best vocal jazz arranger ever and certainly one of our favorites. In April 1953 24-year-old Gene Puerling and his friend Bob Strasen met Clark Burroughs and Bob Morse within a week of moving to Los Angeles and together formed the Hi-Lo's. Taking their name from the incredible vocal range they covered between them it was also true that, while Puerling and Burroughs were five feet seven and five feet five respectively, Morse and Strasen topped six feet. Recorded for Starlite Records and released in 1954 "Listen to The Hi-Lo's" received rich praise from the critics and led to a series of titles on Starlight which included collaborations with Frank Comstock. Gene Puerling's genius in arranging complex yet pleasing vocal arrangements is apparent from the very first track on this historic recording which is here released for the first time on CD. This import has the original liner notes and the earliest photographs we have seen of the group and shows how young they were when they first found success. This is a collector's title that will gather no dust on your shelf, as you will be listening to it time and time again. Fabulous! 7488 CD 15.98
Listen to "Fools Rush In"
Posted by acapnews at 1:05 AM
June 4, 2006
Ac Rock - Flying Colors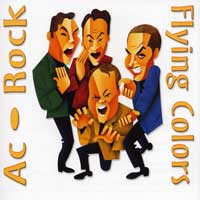 Chicago's high-energy all male Contemporary quartet Ac-Rock, anchored by Mark MacLean's yummy, deep bass and sweet leads by tenor Paul Iams gets us into a boogying groove right away on "Flying," their 5th excellent CD. The Ricky Martin hit "Livin'," CCR's foot-tapping "Down on the Corner," the Doo-Wop classic "Little Darlin'," the Rockabilly hit "Waitin' In School" and Tommy James' "Draggin' The Line," which is impossible not to start moving to. The manic "Girls, Girls, Girls," Jackson Browne's "James Dean," "Poison Ivy," the make-out anthem "I Think We're Alone Now," the bubblegum hit "Elenore," Chicago's schmaltzy "Does Anyone Really Know What Time It Is," Kenny Loggins' "I'm Alright"... the words to these songs are engraved on our brain cells, but here is Ac-Rock, having big, silly fun with them, and suddenly so are we! 8029 CD 14.98
Listen to "I Think We're Alone Now"
Posted by acapnews at 10:58 AM
June 3, 2006
First Call - Rejoice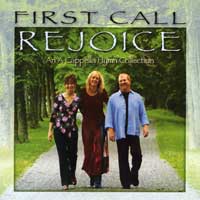 Melodie (or Mel), Marty and Bonnie first got together as studio musicians in Nashville in the 1970s, "first call" on music producers' lists, a term that fit when they became a much-beloved Christian group. Two Christmas CDs, "An Evening in December" Volumes I and II, have long been bestsellers in the PAC catalog, but the group stopped recording together in the 1990s. Imagine our joy to see them back in the recording studio to do this powerful collection of a cappella hymns (OK, there's occasional light accompaniment, picky, picky). From the first strains of "Doxology," we know we're in for something very special, and "I Sing the Mighty Power of God," the richly harmonic "How Deep the Father's Love for Us," "The Solid Rock," "O Sacred Head, Now Wounded," "Come Thou Fount of Every Blessing," the title tune, "O Sifuni Mungu" (All Creatures of Our God and King), "Untitled Hymn" (Come to Jesus) and "The Lord Bless You and Keep You" only leave us wanting to hear more. Welcome back, Mel, Marty and Bonnie, thanks for "Rejoice," one of the best Gospel collections we've heard, and please send us more! 3056 CD 13.98
Listen to "The Lord Bless You And Keep You"
Posted by acapnews at 12:17 AM
June 2, 2006
Fretless - All The Things We Are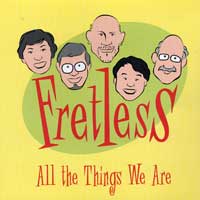 Fretless chose its name to represent the freedom, and challenge, of making music with a fretless instrument, the human voice. These five (3 men, 2 women) multitalented singers sharpened their chops performing with many other jazz and classical groups, particularly those performing in the Boston area; they began singing together in 1999. "All the Things" is a finely-crafted, varied collection of 18 covers ranging from the classical and sacred (Palestrina's "Exultate Deo," Debussy's "Dieu! Ou'il La Fait Bon Regarder!," Durufle's "Ubi Caritas" and "Brahms' Lullaby") and rock (Loggins & Messina's "Your Mama Don't Dance" and the LaBelle hit "Lady Marmalade," to pop and R&B ("James Taylor's "Lonesome Road," Randy Newman's "Short People" and Smokey Robinson's "Tracks of My Tears") reggae (Jimmy Cliff's "Many Rivers to Cross") show tunes (Hammerstein's "All the Things You Are" and Gene Krupa's "Some Like It Hot", arranged by Mel Torme) and jazzy blues (the Lambert/Hendricks/Ross arranged "Moanin'"). We particularly enjoyed soprano Anna Choi's solos on "I Can't Make You Love Me," "Tracks of My Tears," "Many Rivers to Cross" and "Lady Marmalade." An impressive, very entertaining debut CD from talented Fretless! 7703 CD 14.98
Listen to "O, My Love's Like A Red, Red, Rose "
Posted by acapnews at 2:14 AM