February 28, 2007
Soweto Gospel Choir - African Spirit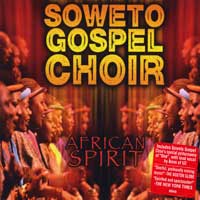 South Africa's 26-strong, mixed-voice Soweto Gospel Choir draws their talented singers from the churches and communities around Soweto. Their exuberant sound is a blend of traditional music rooted in song and percussion, combined with the influence of 19th century missionary music, called African Gospel. The Choir continually tours the world to standing ovations and sold-out concerts, and has performed with artists from Bono, Peter Gabriel and Queen to Diana Ross, Jimmy Cliff and Johnny Clegg. They are famous for their bright costumes and spirited live performances, and for their fundraisers to raise awareness of HIV/AIDS in South Africa. 18 songs, some accompanied, are here. Traditional tunes "Setend Sediba," "Ke Na Le Modisa," "Izwi Lahlab'Inhiziyo Yami," "Africa," "Sefapano," "Modimo," "Somlandela" and "Shosholoza" are very fine, as is "Avulekile Amasango/Bob Marley's "One Love" medley, Bono's "One," Dylan's "I'll Remember You" and "Forever Young," and "Sitting in Limbo/This Little Light of Mine/M'Lilo Vutha Mathanjeni/If You Ever Needed the Lord" medley. Every cut on "Spirit" is a joy, as is looking at the pictures of these beautiful, powerful singers! 9895 CD 16.95
Listen to "By the Rivers of Babylon"
Posted by acapnews at 3:16 AM
February 27, 2007
The Fault Line - The Fault Line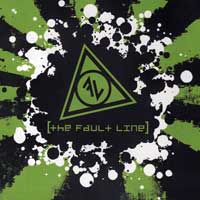 Adam, Justin, Jeff and Matt, all former members of the nationally known a cappella group Sons of Pitches, invited a fifth man, Josh, to join them in their high-energy bid for national stardom. Listen to the crazed, manic cover of Jet's "Are You Gonna Be My Girl?" and get a taste of the startling, refreshing power and energy of New York-based The Fault Line, qualities we almost never hear in an a cappella recording. This tune appropriately segues into a juicy live rendition of Bill Haley's "Rock Around the Clock," which created a generation of British rockers before anyone in America took notice. Two other favorites, and live cuts, are a boogying arrangement of Ben E. King's "Stand By Me, and a crazed cover of Fall Out Boy's "Dance Dance." Powerful, driving, fun stuff throughout - a strong, beautifully arranged 7-song debut collection from these five talented guys! 2415 CD 14.95
Listen to "True"
Posted by acapnews at 3:19 AM
February 15, 2007
Ball In The House - Granite Ave.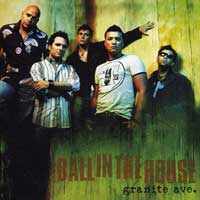 We well remember Boston-based, 5-man Contemporary a cappella group Ball in the House from their 1998 appearance at the Harmony Sweeps Finals in San Rafael. Since then they have wowing audiences with their dynamic live shows (over 250 a year!) and with excellent recordings ("Granite Ave." is their 4th). 12 cuts, many of them originals written and arranged by the group. Aaron Loveland, Dave Guisti, Jon Ryan, Dan Syzmczak and Tim Foust share credit for the words and music on "Come Back to Me," "Get It Together," "Crawlin' Out From Under," "Trust Me," "Your Love," "Addicted" "What More Do You Need," "Anyway," "Set The Mood," "Heavy On My Mind" and "Let You Lead." The only cover, arranged by the guys is Stevie Wonder's "Superstition," one of the best covers of this classic that we've heard. Strong vocal percussion throughout supplied by Jon. "Granite" shows Ball to be at the top of their game and among the elite Contemporary groups in the world. They are stars as a cappella performers, composers and recording artists, and the world is quickly discovering that! 2408 CD 14.95
Listen to "Addicted"
Posted by acapnews at 12:14 AM