September 30, 2005
Persuasions - Sing U2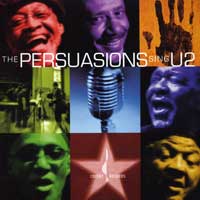 A Cappella pioneers and legends The Persuasions, who headlined to standing O's at the A Cappella Summit in San Rafael a couple of years ago, have been one of the most prolific recording bands we know of, with 19 titles in the Primarily A Cappella catalog, 20 counting "Sing U2." In the past few years, the Persuasions have treated us to CDs covering the work of some of their (and our) favorite groups: The Beatles ("Sing The Beatles"), their patron and mentor Frank Zappa ("Frankly A Cappella"), The Grateful Dead ("Might As Well") and now "Sing U2." The Persuasions' soulful, deep-bass a cappella takes on these groups, some of the most influential musicians of our time, are just what the doctor ordered! 10 songs, some favorites are "Even Better Than the Real Thing," "Angel of Harlem," "The Wanderer," a marvelous cover of "I Still Haven't Found What I'm Looking For," "Stuck In A Moment You Can't Get Out Of," "When Love Comes To Town," "Trying to Throw Your Arms Around The World," a surprising Doo-Wop interpretation of "Pride" (In The Name of Love), "One" and "Mysterious Ways." This is sweet, soulful stuff that we regard as the ultimate tribute to U2 and the other groups, and we can only hope that the series continues for as long as possible. Who could be next—Bob Dylan? Hendrix? The Stones? Led Zep? Ray Charles? Janis Joplin? Listen, guys, whoever you pick will be perfect, and a gift to their fans and yours everywhere! 8289c CD 15.98
Listen to "Tryin' To Throw Your Arms Around The World"
Posted by acapnews at 2:38 AM
September 22, 2005
Heart of Texas Chorus - Inspiration From The Heart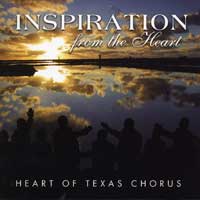 Cindy Hansen had been coaching men's and women's choruses and quartets since 1981 when she was a student at Western Michigan University. In 1983 she was asked to coach the West Towns Chorus, who went on to be International Champs. She now has a "who's who" list of gold medal-winning quartets and choruses on her resume. The changes she institutes range from sound and arrangements to creating "visual packages" for the group in performance, and the Heart of Texas Chorus has received many of her "enhansenments." The result is a spirit, a sound, a "juice" that is pure entertainment, but don't take our word for it—listen to the HOTC on these 20 songs: "There's a Meeting Here Tonight," "Operator," Saturday Evening Post's "Gospel Medley," an unbelievable arrangement of "Battle Hymn of the Republic," a dynamic "All Rise," Hot Pursuit's arrangement of "He's Got the Whole World In His Hands," Vanguard's "When There's Love at Home," HOT Lite's "Ain't a That Good News"… we could go on and on, but we trust that excellence rises to the top in the Barbershop world, so just listen to "Inspiration from the Heart," and become a believer in Cindy Hansen and the men of the Heart of Texas Chorus. One more thing, don't miss bonus tracks "Yes, Sir, That's My Baby" and "I'll Be Seeing You!" 5687 CD 14.98

Posted by acapnews at 2:40 AM
September 20, 2005
On The Battlefield - Great Gospel Quartets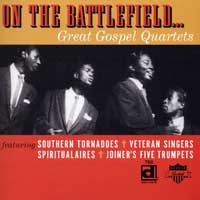 United Records was one of the first successful black-owned record companies and was operated by Leonard Allen, a former policeman. With impecable taste Allen recorded some of the best performances of the top jazz, gospel and R&B acts between 1951 and 1957, especially in the Chicago area. This recording features some of United mightest gospel quartets who by this time had introduced a more modern sound that had taken the place of the more conservative jubilee tradition, and included knee-drop, ad-lib interjections, swing lead and exaggerated vocal ornamentation. Great stuff! 3019 CD 15.98

Posted by acapnews at 1:13 AM
Wes Carroll - Mouth Drumming Volume 2 (DVD)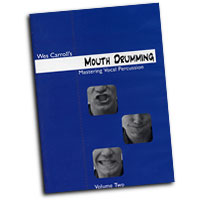 Now on DVD this 80-minute sequel to the best-seller "Introduction to Vocal Percussion," Wes ups the ante by presenting powerful techniques, patterns, and tricks in an easy-to-follow format of step-by-step instruction. Wes will leave you able to duplicate some of his most mind-blowing effects!After a perspective-changing look at Vowels, Consonants, and Breath Control, you'll learn the advanced secrets of The Hardware Whistle, Tongue Placement, and The Hi-Hat Canvas. Finally, two chapters cover Sound Reinforcement and The Microphone, the most-requested topics from viewers of the first volume!Each chapter ends with guided drills designed to reinforce the material just covered. Complete with on-screen music notation and metronome, these drills give you the opportunity to learn in a way even live lectures can't duplicate! 6011 DVD 29.98

Posted by acapnews at 1:07 AM
September 16, 2005
Klapa Cambi - Songs of Croatia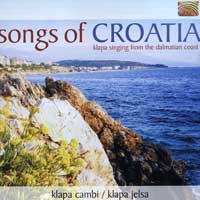 The tradition of Dalmatian Klapa (meaning a friendly crowd or gang--primarily male--singing group) singing began in the middle of the 19th century in small Mediterranean towns along the Croatian coast and islands, particularly in Dalmatia. Klapa songs are generally major key, deeply harmonic love songs, ranging from the very poetic to cheerful, optimistic, exaggeratedly sentimental and funny songs. Klapa Jelsa, founded in 1995 of students from Zagreb University, and award-winning Klapa Cambi, founded in 1986, are featured here. All songs are in Croatian, and they generally alternate between the two groups. Some favorites would have to include Klapa Cambi's "Lipa moja," "Tempera," "Divji cvit," "Dobri judi," "Judi, zviri I bestimje," "Ej, vapore;" and "Projdi vido;" and Klapa Jelsa's "Pismo cali," "Noa dobro ti dosa," "Ano, Ano," "Vilo, vilo, varala si mene," and "Cetri lita I cetiri zime." Lots of feeling, spirited harmonies and deep-voice basslines! 9866c CD 15.98

Posted by acapnews at 3:19 AM
September 8, 2005
Harmony Sweepstakes A Cappella Festival 2005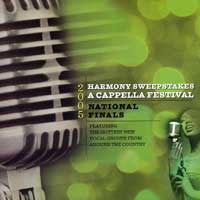 It always seems to us as the Harmony Sweeps celebrates another year of its existence (its 21st, in this case), that "last year's Finals were so sublime, how could this year's possibly…etc., etc."—but then we're in the sold-out, excited audience for this year's, and the first group is about to come on… what we're trying to say is somehow each Sweeps Final is better than the last. And what we love about the CDs is that they're live, 9 of the best a cappella groups in the world on one stage, singing their hearts out for 13 short minutes, for the National Championship. Last May, Mid-Atlantic's Cartoon Johnny, Boston's Firedrill, Chicago's Fiveplay, NYC's Traces, Denver's Face, Pacific NW's Groove for Thought, LA's Undivided and SF's own Moodswing were those groups. 19 songs, including "Joy to the World" and Best Original Song, "Walk the Straighter Road" by Kevin Kunz of National Champions Groove For Thought, David Lichtman Best Original Arrangement winner "Paper Moon" by Greg Murai of Moodswing, ("Moanin'" by Moodswing is also happily included), 3rd Place finishers Fiveplay sing Stevie Wonder's "Superstitious/IWish" and "I Never Knew," and runner-up and Audience Favorite Face have 3 winners, "Pink Panther Theme," "Harder To Breathe" and "Safety Dance." But let us not forget hosts Chapter 6, whose "Ode to Krispy Kreme" and "Don't You Worry 'Bout A Thing" drew standing O's, Firedrill's Motown classic "Chain of Fools," Traces' "Mary Don't You Weep," Undivided's "What's Goin' On" and Cartoon Johnny's "Crazy Love." A savory sampler from a magic night in May in San Rafael, CA! 2005c CD 14.98
Listen to "Walk The Straighter Road (Groove For Thought)"
Posted by acapnews at 12:07 AM
September 7, 2005
Riltons Vanner - Har ar Passion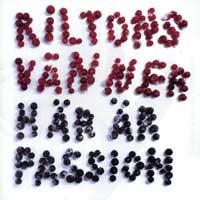 Oh, to be young, beautiful, and a member of the hottest Swedish a cappella ensemble since the Real Group, Rilton's Vanner (Rilton's Friends)! First formed five years ago in Stockholm by five high school friends (3 women, 2 men) merely "singing for fun," they are now one of the most well known groups in Sweden—and the rest of the world is quickly becoming aware because of excellent CDs like "Kompis." Their music ranges from jazz standards and pop covers, but their main focus is their own music. "Har ar passion" (Here is Passion) is their third album, 11 songs consisting solely of music and lyrics especially written for the group. Live performances at festivals in Sweden and Germany, a visit to Washington and New York, and a tour of Sweden with a newly produced show has gained the quintet a host of new fans. The songs, like "Langtar till sommarn," the title tune, "Poesi for snabbmatskultur," "Inga ord," "Schack matt" and "Brinner av langtan" are all in Swedish except for "Argument." Comparisons to the Real Group in sheer listening enjoyment are well-founded. Innovative, complex arrangements are effortlessly followed; and the group's precise, clean sound is as rewarding on first listen as on subsequent appreciative returns. "Kompis" was outstanding, "Har ar passion" is even better, and with "Vanner" like these, can international stardom be far off? One of the best CDs we've heard this year. 4632c CD 15.98
Listen to "Har ar Passion"
Posted by acapnews at 12:32 AM
September 6, 2005
Dapper Dans - Live!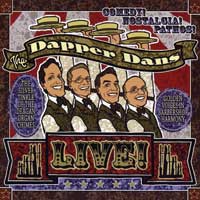 When the paint was still drying on the faux Victorians of Disneyland's Main Street, USA, it was abundantly clear that four of the people who "lived" there needed to be a barbershop group, that made-in-America musical invention. The Dapper Dans were invited/created and fell in love with the place; the Main Street audiences loved them right back, and one of the most enduring barbershop groups in entertainment history was born. "Shave & A Haircut" is a "best of" the Dans, containing 21 of their most popular songs, over 40 minutes of music, including arrangements featuring the Deagan Organ Chimes (which are hand-held and played by the quartet). The songs are pure, sweet Americana, with Disney movie favorites like "Under the Sea," "They're Off!" (from The Great Race), "When I See An Elephant Fly," "When You Wish Upon A Star," "Wouldn't It Be Loverly" and "Twinkle, Twinkle, Little Star." Then we have the feel-good nostalgic classics "Coney Island Washboard," "All in the Golden Afternoon," "Cruising Down The River," "Mairzy Doats," "Remember Dad on Mother's Day," "Walkin' My Baby Back Home," "Moon Shine Tonight," Stephen Foster's "Jeanie with the Light Brown Hair," "In the Good Old Summertime," "Doodlin'," "Heart" and more. All of the yummy harmonizing we love from a bona fide American institution! 5688c CD 14.98

Posted by acapnews at 10:27 AM