June 22, 2005
Tonic Sol-fa - From Boston to Beijing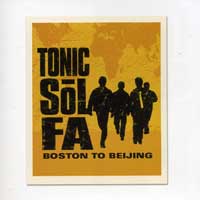 As we listen to hot Contemporary quartet Tonic's wonderful cover of Willie Dixon's "29 Ways To My Baby's Door," it's clear that these four attractive, hard-working, personable young men (down from 5) have many more than 29 ways to please audiences! We'd havee to count their tour schedule of hundreds of energetic, live, sold-out shows in 32 states that feature pop hits, country songs, classic oldies, award-winning originals, parodies and audience interaction. Then we'd have to add some winning CDs like "By Request," "Red Vinyl," "Style," "Sugarue," "Left Turn In Cross Traffic" and others. And last, but far from least, we have to add the 12 songs of "Boston to Beijing," Mark, Shaun, Greg and Jared's latest and best. Nashville's powerful Vivaton Records, with their substantial backing, state of the art recording studio, have decided the boys are stars (which we have known all along), and "Boston" is getting serious mention in the mainstream media. Six originals, the very top-40 title tune, "Sleep On," "Who Wants to Go," "Oklahoma Wind" (which is a country hit waiting to happen), "So Easy" and "Other Side of Town." Add a poignant cover of "Chances," Wayne Kirkpatrick's "It's Me Again," a rock-solid, funky arrangement of the Doobie's "Takin' It To The Streets" and J.D. Crowley's song of faith, "Grace," which has the refrain, "It was Grace that brought me here." Yes, but the touring, recording and everything Tonic has done to turn themselves into some of most exciting, audience-pleasing a cappella singers on the planet also helped and we couldn't be happier for them! Some non-vocal percussion, but who cares—"Boston" is one of the best a cappella CDs of the year. 7458c CD 14.98
Listen to "Who Wants To Go"
Posted by acapnews at 12:14 AM
June 18, 2005
Rajaton - Kevat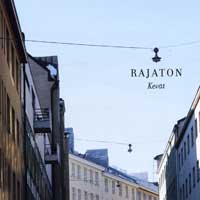 Rajaton (boundless) is an a cappella mixed sextet (3 women, 3 men) based in Helsinki, Finland, founded in 1997, that primarily performs music written especially for the group. Their CDs are elegant, intelligent, poised and confident masterpieces that recall the breezy perfection and song selection of The Real Group. As with early RG CDs were all or mostly sung in Swedish, and it didn't bother us a bit, "Kevat" is all in Finnish and again we hardly notice—focusing instead on the innovative vocal percussion and background vocals. 11 finely-crafted tunes, some favorites: the bluesy, rhythmic "Lunta," the salsa-flavored "Kertosakeen nainen," the dramatic, stunning "Sydan ei vastaa," the precisely-arranged harmonic gem "Jos sanot," the delicate "Kauniimpaa" and the moody "Hopeaa hiuksillaan." But "Kevat" is to be listened to first for enjoyment, and subsequent times to appreciate how such a full, rich, expressive sound is created by these 6 human voices. Being amazed is also acceptable! 4623c CD 15.98
Listen to "Kertosakeen nainen"
Posted by acapnews at 12:52 AM
Petra Haden - Sings The Who Sells Out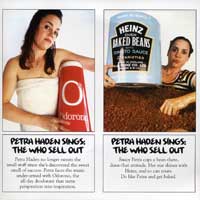 One of the triplet daughters jazz bassist legend Charlie Haden, Petra grew up in a world of music, developing at a young age the ability to perfectly mimic the sounds of instruments she was hearing around the house. She developed complex arrangements in her head and could interpret all kinds of songs. The idea for "The Who Sell Out" came from her friend, bassist Mike Watt, who suggested that she attempt to re-imagine this classic Who album as an a cappella tour de force. He gave her an 8 track cassette tape with the Who album recorded onto one track and the other 7 empty, for her to fill with intricate vocal harmonies reinventing not only all the Who's instrumental parts, including drums and even the mock radio commercials so integral to the original lp. The final result is a technical tour-de-force that highlights the Who's own achievement while showing off the brilliant vocal talents and fresh point of view of Petra. 13 songs: "Armenia City In The Sky," "Heinz Baked Beans," "Mary Anne With The Shaky Hand," "Odorano," "Tattoo," "Our Love Was," "I Can See For Miles," "I Can't Reach You," "Medac," "Relax," "Silas Stingy," "Sunrise" and "Rael." Who needs a band when you have the vocal chops (and the 8-track recorder) to re-interpret a classic lp and turn it into an instant a cappella hit that Pete Townsend called "exquisite?" Who fans, Petra fans and those interested in pushing the a cappella envelope will want to listen to what Petra Haden has created here! 7451c CD 15.98
Listen to "Heinz Baked Beans"
Posted by acapnews at 12:29 AM
June 10, 2005
Four Shadow - Four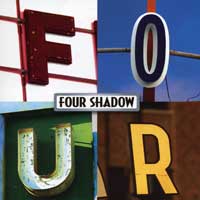 The new a cappella sensation from Minneapolis, MN, talented all male quartet Four Shadow has the kind of slogan that warms our a cappella hearts, "All Vocals All The Time." They perform a repertoire of a number of original songs, as well as tunes by the Beatles, Paul Simon and the Dave Matthews Band, for audiences across America, singing over 150 shows a year in over 40 states. They have shared the stage with Huey Lewis, the Persuasions and Lonestar, and performed live on NBC's "Today" show. 13 songs, some favorites: the excellent, group-written originals "Breathin'," "Better Than This" and "Summer Sunday," Curtis Mayfield's Motown hit, "It's Alright," "Day Tripper," Buffalo Springfield's (made famous by Crosby, Stills, Nash & Young) "For What It's Worth," James Brown's upbeat "I Feel Good," CSN&Y's "Seven Bridges Road," the fairly silly "Blankets and Pie," (traditional melody with words by the group's Drew Tullar) "It's Gonna Rain" and the sublime, driving "Kyrie." OK, our favorites include just about all the songs, but in fact there's not a weak cut here. Crisp, solid vocal percussion, bright, innovative arrangements, and most of all, sheer vocal talent multiplied by four adds up to a stunning debut CD for this fast-rising young quartet from Minneapolis! 7457 CD 14.98
Listen to "Breathin"
Posted by acapnews at 2:25 AM
June 7, 2005
Face - Wake Up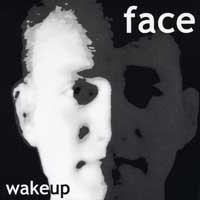 We never forget a Face, especially having just savored the Boulder, CO's memorable performance at the 2005 Harmony Sweeps Finals in San Rafael and personally counted their winning votes for Audience Favorite (the judges also awarded them 2nd Place in a hugely talented field of 8 Regional winners). Face performed two of the 5 songs on this sampler CD at the Finals, a dramatic, soaring cover of Maroon 5's wonderful "Harder to Breathe" and a big fun, rock-solid vocal-percussion cover of Men Without Hats' 80's Techno hit "Safety Dance." Cake's "Short Skirt, Long Jacket" gets an appropriately manic, energetic treatment, and "The River Runs Slow" is a flowing, rhythmic, harmonic treat. The final cut is a sweet, sexy arrrangement of Marvin Gaye's seduction anthem "Sexual Healing." "Wake Up," and Face's live performance, give notice that this hard-working, talented group is ready for the bigtime in the a cappella world! 7454 CD 8.98
Listen to "The River Runs Slow"
Posted by acapnews at 10:21 PM
June 6, 2005
Undivided - Conectate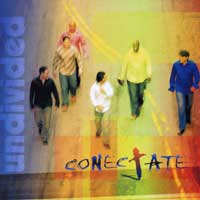 Released at the same time as "A capella from the Soul," "Conectate" includes many of those songs, sung in Spanish. "Dios tu Nombre Exaltare," for instance corresponds to the reggae Gospel tune "Lord I Lift Your Name On High," "Cuando Suene La Trompeta" is "When The Roll Is Called Up Yonder," "Oh, que amigo nos es Cristo" is "Oh, What a Friend We Have in Jesus," "Sublime Gracia" is "Amazing Grace," etc. "Jamappella," "Es Jesus" and "What's Going On" appear on both CDs. Two songs are new, the salsa romp "Dame una Sonrisa" and the breezy title tune. Undivided's pure vocal power and feeling is underscored on this wonderful, all-Spanish Contemporary Christian CD. 2897 CD 14.98
Listen to "What's Going On?"
Posted by acapnews at 2:44 PM
June 3, 2005
Cartoon Johnny - Face The Music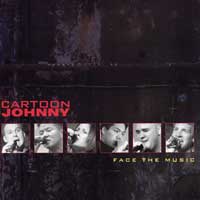 Energetic 5-man, one-woman vocal band Cartoon Johnny first hit the Washington, DC area in 2001 under the name "3 guys mike." After a year, two of the original Mikes moved on, and 4 new men and one woman joined, changing the makeup of the group and updating the name. In their 3rd appearance at the Mid-Atlantic Harmony Sweeps regional, the group won 1st Place, best arrangement for "Signed, Sealed, Delivered" and "Audience Favorite." They went on to perform a strong set at one of the best Harmony Sweeps Finals we've ever seen and heard. "Face the Music" draws on influences from classic soul to modern alternative, and includes a variety of sure-fire audience favorites and the group's own original music. 7 songs, some favorites are George Michael's "Careless Whisper," live covers of Lennon/McCartney's "Drive My Car," and the rock classic "Higher and Higher," and the originals "Bring Me to Life," "Secret Smile" and the live cut, "Better from Here," written and arranged by group member Mike Henrickson. A strong debut CD from a fast-rising, spirited, talented sextet from Washington, DC! 7453 CD 9.98
Listen to "Drive My Car"
Posted by acapnews at 10:17 PM
June 2, 2005
Clockwork - Tesseract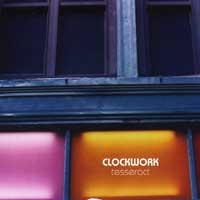 Bay Area favorite, 4-man, 1-woman vocal jazz group Clockwork surprised a strong field with a win in the 2004 Bay Area Regional, then went on to place 2nd in the National Finals, making many friends and new fans along the way. "Teseract" is Clockwork's debut CD (on PAC Records), produced by The Bobs' Richard Bob Greene. There are 11 songs, all with cutting-edge arrangements, particularly by group member Stephen Saxon (also including Greene and group members Angie Doctor and Jim Hale). Herbie Hancock's sassy "And (So) What If I Don't," (There's some nice alto sax on this one, otherwise "Teseract" is all a cappella), a cool, jazzy "My Baby Just Cares For Me," Lennon/McCartney's classic "Blackbird" (with actual Red-winged Blackbird sounds), and a rainy-day bluesy "DC Farewell." "Donna Lee" segues perfectly from the laid-back "Back Home Indiana" to Charley Parker's scattish, driving jazz standard, Radiohead's "Creep" runs the gamut from quiet to crazed, and jazz standard "Rhode Island Is Famous For You" features a bright, upbeat lead by Doctor. Clockwork nails John Coltrane's frantic, driving "Moment's Notice," slowing down with perfect control for Richard Rogers' moody "Little Girl Blue," and then taking off on some very nice vocal riffs on "Variation #1 on (J. Williams') 'Nightwatch" and finishing up with the con man's anthem, a bluesy, appropriately smarmy original by Jim Hale, "Big Cash Deal." We loved Clockwork live, and "Teseract" is poised, confident proof of their readiness to join a cappella's vocal jazz elite! 2980 CD 14.98
Listen to "Little Girl Blue"
Posted by acapnews at 5:58 PM
Ready, Willing & Mabel - A Cocktail For The Ears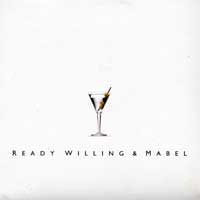 Los Angeles-based mixed vocal jazz quartet RW&M first came to our attention when they performed a very strong 10-minute set at the 2005 SF Bay Area Harmony Sweeps Regionals. Singing together since 2003, these 4 "chord freaks" have a passion for dangerously close harmonies and "songs that can melt the heart," 12 of which are included on this CD. Some favorites are "This Can't Be Love/Almost Like Being in Love" medley, " the smoky, Latin "Corcovado," the moody "Where Is Love," "Spring Will Be A Little Late This Year," Lennon/McCartney's "I Will," "Through the Years" and "Puttin' On The Ritz." Some songs with Bass, Percussion and other accompaniment. Beautifully designed liner notes. A "Cocktail for the Ears" from this talented Retro quartet. 7456 CD 14.98
Listen to "Where Is Love?"
Posted by acapnews at 5:54 PM