March 25, 2005
King's Singers - Six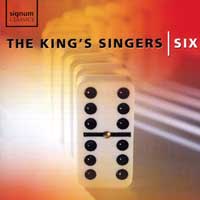 After years at the pinnacle of a cappella choral music, The King's Singers show no sign of slowing down, as their creativity and number of appearances throughout the world remain undimmed. In what has been described as their 3rd generation, "Six" is a tasty sampler spanning the life of the group since their founding in the explosive rock decade of the 1960s. The spiritual "Down In The River To Pray" appeared in the movie "O Brother, Where Art Thou?", arranged by Singer Phillip Lawson, who also arranged this sublime cover of Billy Joel's "Lullabye (Goodnight My Angel)." Lennon/McCartney's "Blackbird" is one of the most-requested encores in the KS' live concert repertoire. "The Wishing Tree" by former Divine Comedy member Joby Talbot, was commissioned by the KS and the BBC. Irving Berlin's moody jazz classic "Blue Skies" is sung in a cool and reflective arrangement by Singer Richard Bennett. The final cut is a soaring, surreal arrangement of Neil Young's deathless, "After the Goldrush," which takes our breath away and leaves us wanting to hear much more. One forgets just how exceptional the King's Singers are, until one is able to see them live, or one settles back next to the stereo in a comfortable chair and lets the beauty of these "Six" wash over him like a subtle, perfect tide. 7717 CD 11.98
Posted by acapnews at 1:43 AM
March 22, 2005
Toxic Audio - Word Of Mouth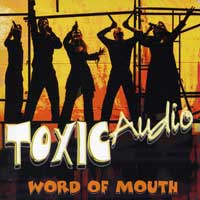 First launching its quirky show at the 1998 Orlando International Fringe Festival, where they caught the attention of Disney executives who hired them as featured performers at Disney/MGM Studios, Toxic Audio began making major waves in the a cappella world in 2000 with a stunning win at the Harmony Sweeps Finals in San Rafael, CA. Their CD "Chemistry" was named 2003 CASA' Album of the Year. After national TV appearances with Ed McMahon and Wayne Brady, the group won the 2004 Drama Desk Award for "Unique Theatrical Experience for their Off-Broadway Show in New York's John Houseman Theatre. "Word of Mouth" is essentially a "Best of Toxic Audio 1998-2004" CD, which features tracks from their previous releases in addition to "Chemistry," "Captive Audience," and "Toxic Audio," as well as 6 new tracks recorded exclusively for "Word." 13 songs, and a list of favorites would have to include a pair of amazing originals written by group members Jeremy and Shalisa, "Caffeine" and "Putting Words in My Mouth," who also sing lead on them; a funky, salsa-flavored "(Put the Lime in the) Coconut;" an ethereal, soaring arrangement of "Stand By Me," a pair of Lennon/McCartney winners, "Why Don't We Do It In The Road" and "All I've Got to Do," one of the best live covers of "Route 66" we've ever heard, the group's live concert favorite "Turn the Beat Around," a bluesy-jazzy "If I Only Had A Brain" with a sweet, meandering lead by Paul; and a boogying "You Can't Stop The Beat" from the Broadway musical "Hairspray." One of the most dynamic live shows we've seen, at the Sweeps and at the A Cappella Summit, Toxic Audio makes equally wonderful CDs, and this is their best yet, "Word!" 7447 CD 15.98
Posted by acapnews at 1:15 AM
March 10, 2005
Real Group - In The Middle Of Life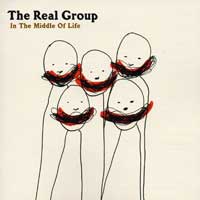 The A Cappella world is abuzz with the good news: the release of "The Middle of Life," The Real Group's much-anticipated new CD. Even better, "Life" is all new, all originals, all studio and all in English! Anders Edenroth writes the music and lyrics to "Prime Time Blues," a funky, saucy romp that features the title phrase and some state-of-the-art vocal percussion and mock horns, his "Words" is a lyrical, rhythmic masterpiece, "Friendship" has Anders singing a mellow, soaring lead, and his "The Grass Grows Greener" is an instant jazz standard with his voice adding a muted, precise tone. Peder Karlsson writes the understated, bluesy "Mister Father," his "Are You Coming To Me" is a salsa-flavored fiesta tune featuring Katarina on lead, "A Quiet Song" features Peder's slow, bluesy voice, and "Gota," featuring Peder and Katarina, has a simple, meandering melody that builds in intensity to symphonic proportions. Margareta Jalkeus writes "Spring Is Coming" and has a nice, soaring solo riff that becomes a dreamy scat sequence, and has a moody, mysterious lead on her "My Hidden World." Katarina Henryson writes "I Tried," shares writing credits with Anders on the ironic, pop-ish "A Perfect Life," and her bluenote alto on her "Given" is sweetly profound. So much talent here - we find ourselves listening to this CD again and again to appreciate just how far the a cappella envelope has been pushed, and comparing the genius and musical focus of the individual composers. Simply put, "The Middle of Life" is a masterpiece, an unexpected gift from Sweden to be unwrapped and savored on many levels! 4610 CD 16.98
Listen to ""Prime Time Blues"" and "Words" in Real Audio
Posted by acapnews at 1:41 PM
March 9, 2005
Flying Pickets - Everyday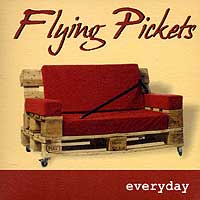 Veteran European Contemporary a cappella quintet The Flying Pickets, known for their innovative arrangements, crisp vocal percussion and clean, flawless harmonies, has long been one of our favorite groups. "Everyday" is the Pickets' much-anticipated 6th winning CD. 12 finely-crafted songs, particularly fine are four originals, two by group member Dylan Foster, "Do It" and "Perfect Day," "Chapel on a cloud" by group member Michael Henry, and "That which can't be explained (ming's lullaby) by Peter Eldridge. Also marvelous are covers of Sheryl Crow's "Everyday Is A Winding Road," Tracy Chapman's "Fast Car," Sting's "Roxanne," James Warren's "Everybody's Got To Learn Sometime," Michael McDonald's "I Keep Forgettin'," Tom Johnson's "Long Runnin'," and Peter Gabriel's "Here Comes The Flood." "Everyday" is anything but, a groundbreaking masterwork that needs to be listened to many times to be fully appreciated, especially by other Contemporary a cappella groups. A confident sound like this is fashioned by years of taking chances, experimentation, a whole lot of performing and recording together, and of achieving artistic maturity individually and as a group. This is one of the best Contemporary CDs we've listened to in a long time! 7437 15.98
Listen to ""Every Day Is A Winding Road""
Posted by acapnews at 11:55 AM
March 8, 2005
Dis Moi - Between Us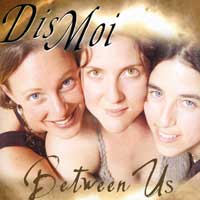 Dis Moi (Dees Mwah) is French for "Tell Me," and we were touched by this all woman trio's performance at the 2005 Harmony Sweeps Regional at SF's Palace of Fine Arts. There is a wealth of original material by group members in these 15 tunes: the poetic "Birds," "Solstice Reverie" and "Between Us" by Samantha, "Lumin Solare Fiat," "Memoria de Amor," "Flame," "Real" "Mariah's Song" and "Now is the Time" by Heather, "In Depth" and "Together" by Tamar, and "River Song" by Samantha and Heather. The Middle East folk song "Ana Tumba" and the Nigerian rite of passage song "Samagwaza" are also very strong. These are powerful, thought-provoking songs of peace, freedom, justice and love from the sweet, honest voices of these three beautiful, talented women. 9864 CD 14.98
Listen to ""Between Us""
Posted by acapnews at 11:50 AM
Good Company - Live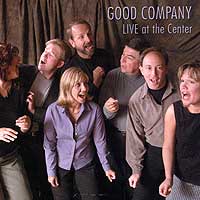 Good Company is a 7-member mixed Vocal Jazz ensemble sponsored by the Midland, MI Center for the Arts. They have shared the stage with such noted artists as Doc Severinsen and His Big Band and Preservation Hall Jazz Band. "Live at the Center" has 11 nicely-done jazz standards or jazz arrangements of pop hits, some a cappella ("When I Fall In Love," "Where Is Love," "Java Jive," a stellar "There Will Be Another You" and the patriotic medley "Lift Up Your Voice"); and some jazz-band accompanied: Louis Prima's "Sing, Sing, Sing," Duke Ellington's "It Don't Mean A Thing If It Ain't Got That Swing," Irving Berlin's "Blue Skies," Gordy and Robinson's Motown classic "Shop Around," and Paul Simon's "Bridge Over Troubled Water" are standouts. Good Company had the good sense to employ some very fine arrangers: Stephen Zegree, Kirby Shaw, Gene Puerling, Darmon Meader and others. Great song selection, top-drawer arrangements, serious vocal talent and range, an appreciative audience—it all adds up to a wonderful live jazz CD and an impressive debut for Good Company! 4606 CD 14.98
Posted by acapnews at 12:28 AM
Copper Wimmin - The Right To Be Here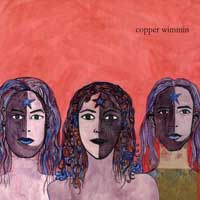 Sebastopol, CA's beautiful, etheric trio brings us their third stunning, poetic work of art. We have seen Copper Wimmin live at the Harmony Sweeps Regionals and Summit, and heard their pure, intricately woven harmonies and powerful modern chants of peace, feminism and justice, dressed as copper-clad goddesses. This is where we heard the opening cut, "Freon Blue," a post-apocalyptic/current vision of LA, for the first time, and remarked on its accuracy. 11 songs, most of them surprisingly, albeit beautifully, accompanied by cello, violin, guitar, bass and Wurlitzer. Some favorites are "Ink," "Kito," "1/5 Water," "Oasis," "First Breath" and "Kinder." Colorful liner notes with all the lyrics are enclosed. "The Right" is a treat for the eyes, the ears and particularly the mind! 7438 CD 14.98
Listen to ""Bleeding Rivers""
Posted by acapnews at 12:02 AM
March 6, 2005
Les Choristes - Soundtrack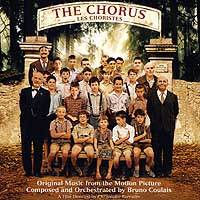 This is from the soundtrack of "The Chorus" (Les Choristes) starring Jacques Perrin and Gerard Jugnot. The movie uses a "Dead Poets Society" formula, where a teacher, Clement Mathieu (played by Jugnot) goes to a poverty-stricken French boarding school in 1949, where troubled boys don't like him, but he ends up, through music, winning their hearts and teaching them about life. The music they perform is excellent (actually dubbed by "Les Petits Chanteurs de Saint-Marc," a professional chorus directed by Nicolas Porte), ranging from the kids' songs mocking the teachers, to original songs Mathieu wrote (like the Oscar-nominated "Look To Your Path" ("Vois Sur Ton Chemin") to well-known songs by famous authors. There are 21 songs, most accompanied, and some cuts are all dramatically instrumental, like "Pepinot" and "Les Partitions." The a cappella "La Nuit," "Caresse sur l'Ocean," "Lueur d'Ete," "Cerf-Volant," "La Desillusion," "Action Reaction," and "In Memoriam A Cappella." "Nous sommes de Fond de l'Etang" is an a cappella scene from the movie about Mathieu's initial efforts to teach the boys. The colorful liner notes have wonderful movie stills, and translate the songs line for line. This is fun stuff that makes us want to see the film! 7357 CD 15.98
Listen to ""La Nuis""
Posted by acapnews at 11:01 AM
Albert McNeil Jubilee Singers: The Best Of Jubilee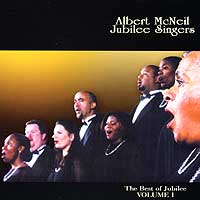 An LA-born native Californian, Albert McNeil earned Bachelors and Masters degrees at UCLA and did his doctorate studies at USC, the Westminster Choir College of Princeton and the Univ. of Lausanne, Switzerland. He has been conducting groups and church choirs for most of his adult life, and has dedicated himself to upholding a tradition of choral excellence as Founder/Director of the McNeil Jubilee Singers in 1968. Since then the Singers have earned international acclaim for their vast repertoire of African-American folk music, focusing on the rich genre known as Negro Spirituals as well as gospel, secular folk songs, calypsos and other African-Caribbean and African vocal forms. Their repertory also consists of concert works by distinguished African-American composers and arrangers along with Classical Opera, Sacred Music and Musical Theater. The 15 selections in "Best of Jubilee" draw on the best performances of one of the most honored choral ensembles. It's understandably hard to pick favorites, but the South African freedom song "Siyahamba'ekukhanuen'kwenkhos" (We are marching in the light of God), "Glory, Glory Hallelujah," "Open the Window, Noah," "Hallelujah! (Been Down Into The Sea)," "Oh, Mary Don't You Weep," "Oh Make Me Holy," "All My Trials," "Walk Together Children" and "Rocka My Soul" are particularly fine. Inspirational and moving songs, every one the best of the best! 2893 CD 14.98
Posted by acapnews at 12:28 AM
Ladysmith Black Mambazo - No Boundries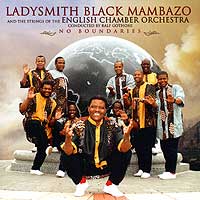 "No Boundaries" is a rare treat, combining the talents of legendary Ladysmith with the English Chamber Orchestra, conducted by by Finnish pianist and composer Ralf Gothoni, with most arrangements by Swedish composer Isak Roux. 12 songs, some of our favorites were written by Ladysmith's Joseph Shabalala, the powerful "Jabulani-Rejoice," "Homeless," Awu Wemadoda," "Ngingenwe Emoyeni" (Wind of the Spirit of God), and "Lifikile Ivangeli." Other favorites are the Paul Simon and Shabalala-arranged "Amazing Grace," the playful Roux arrangement of "Dona Nobis Pacem," the moving "Umzuzu Nayi Ujesu," Schubert's "Sanctus," Mozart's "Ave Verum Corpus" and Bach's "Jesu, Joy of Man's Desiring" are given a rhythmic, African flavor, and the Roux-arranged "Walil' Umtwana" (The Child is Crying) is a beautiful finish to a joyful cross-cultural collaboration of musical talent! Gorgeous, colorful liner notes. 9863 CD 15.98
Posted by acapnews at 12:06 AM
March 5, 2005
Vocal Point - Standing Room Only
In 2001 Bob Ahlander, one of Vocal Point's founding members (in 1991) returned to BYU as faculty director of Vocal Point, directing the group in performances at several venues at the Salt Lake City Winter Olympics, to the semifinals at the International Championships of Collegiate A Cappella," and wowed the audience at the 13rd Annual A Cappella Summit in San Rafael. "Standing Room Only" is a polished, confident CD for this 9-man collegiate group, of 15 beautifully arranged pieces in different musical styles. From Contemporary pop (Maroon 5's "Harder to Breathe," Phil Collins' "Strangers Like Me," Eve 6's "Promise"), to Classic Pop ("Runaround Sue," "The Way You Look Tonight," "Ain't No Sunshine"), to Contemporary Christian ("He Is Born," "Primarily Vocal Point" Medley), to Bluegrass ("O Brother, Where Art Thou? Medley") to traditional Gospel ("Be Still, My Soul," and the bonus track "12 Days of Christmas"), this is all bright, spirited, fun music. These guys are amazing live, and it shows bigtime on "Standing!" 1752 CD 14.98
Posted by acapnews at 12:09 AM
March 3, 2005
Boomerz: Street Corner Harmony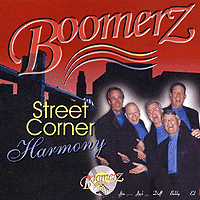 The five men of Tampa, FL, the Boomerz have a rich, deep-bassed Doo Wop sound and are blessed with good arrangements and song selection on these 16 authentic tunes. Listen to "Looking For an Echo," an amazing autobiographical song that also tells the story of Doo Wop. "In the Still of the Night," a Doo Wop "Over the Rainbow," the accompanied finger-snapping cover of the Earlsπ "Remember Then," the classic "Da Do Ron Ron," a sweet Boomerz original, "Sunday Kind of Love," "Rama Lama Ding Dong," a nicely done "Blue Moon," "Lonely Way," an interestingly up-speed arrangement of "Unchained Melody," "Tell Me Why," "Loving You," "Whoπs That Knocking," and finishing with a lovely "When I Fall In Love," these have the kind of harmonies that once attracted singers to streetcorners like moths to a flame! 8267 CD 14.98
Posted by acapnews at 12:31 AM
March 2, 2005
Soweto Gospel Choir: Voices From Heaven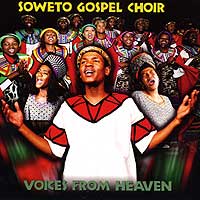 The 25 mixed-voice Soweto Gospel Choir draws on the best talent from many churches and communities in and around Soweto, and is truly an "all-star" Gospel ensemble. Like Ladysmith Black Mambazo, the SGC has strong roots in traditional music and celebrates the vitality of South Africa with its powerful spiritual message. They've achieved breakthrough success in Europe (two sold-out shows at London's Royal Festival Hall!), Africa and Australia, and their sellout runs in 2003 and 2004 were the surprise hit of the Edinburgh Fringe Festival. "Voices" is the SGC's debut recording, and it includes an irresistible mix of traditional South African secular and gospel songs, American gospel material such as "Amazing Grace," and stirring inspirational tunes such as "Many Rivers to Cross," sung in English as well as Zulu. Some tracks are breathtaking a cappella, while others are upbeat tracks with instrumental backing. A massive tour of the US is accompanying the launch of "Voices" in early 2005, most notably Carnegie Hall in NYC, Sanders Theatre in Boston and the Robert Frost Center in Atlanta. "Voices" is an impressive, powerful, joyous debut CD for the Soweto Gospel Choir! 9862 CD 15.98
Posted by acapnews at 12:27 AM
March 1, 2005
Naturally Seven: Live In Berlin DVD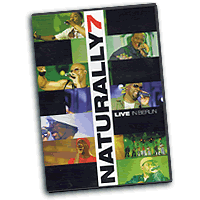 When we last saw and heard Naturally 7 live, they were called "Seven," dressed in matching dark suits and confidently blowing away the Harmony Sweeps Finals competition on a San Rafael stage in 1999. "Live In Berlin" was recorded live at the "Meilenwerk" concert hall in Berlin, March 13th, 2004, and the guys are looking fine, dressed like rap stars at a music awards show, but the story here is the amazing talent of these men, and their music. 12 songs: "Sit Back, Relax" welcomes us in, and Jamal Reed's guitar solo on "BMG (Be My Guest)" is one of the best we've heard. Their opening number at the Finals, "Bless This House," is even better than we remember, as is "Amazing Grace," and a stunning "Simon and Garfunkel Medley" reminds us of their show-stopper "Bridge Over Troubled Water." The good stuff keeps coming with "Say You Love Me," "Back To The Essence," a stunning arrangement of "Another You," the title tune of their second CD, "What Is It," "Have I Ever Told You" and "Music Is The Key." Throughout there is great camera work, close-ups of the group and the appreciative audience. There is some very cool bonus material: "First Time in Japan," "At Telecom," an interview with Nat7 at the hotel lobby, "Photo Gallery" and "Biography." The guys are stars, and this amazing DVD leaves no doubt of that! In Dolby Digital 5.1 2863 DVD 19.98
Posted by acapnews at 12:26 AM