July 30, 2005
Moosebutter - Udder Won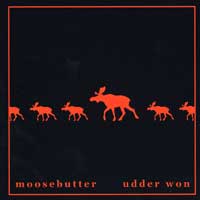 There they were, 4 young guys from Utah at one of the daytime West Coast Summit "showcase concerts," in white headbands, red polyester running pants and black windbreakers, singing "Captain Organic Vegetable Man" and "Star Wars." That night they were invited to do some of their set at the big Summit concert at Marin Veterans Auditorium, and the crowd went nuts. Segue to May, 2003, another Saturday night on the same stage--the Harmony Sweeps Finals, where Moosebutter came in second only because The Idea of North could have beaten a choir of angels that night. Although they're not our type, we loved Moosebutter from the beginning, and have played their 1st CD, "See Dee," until "Psycho, the Musical" sounds like Alvin & the Chipmunks. Their long-awaited 2nd CD, "udder won" is now safely installed in our boombox. 15 manic songs, like "Uncle Earl's Hairpiece," the deeply romantic "The Valentine's Day Song," "Harry Potter" (sung to the tune of Roy Orbison's "Pretty Woman"), "I Hate Mosquitoes," "Rubber Monkey," "Hicksville, parts 1 and 2," "Jon Boy Jon," a particularly crazed "Witch Doctor" and the never-ending "Squirrels" (In My Nose). "Udder won" (which we think refers to the fact that they had one "See Dee" and this, obviously, is the "udder won"), is funny, bizarre, weird, brilliant and totally bananas. Our theory centers on something in the Utah water, and we'll take a six-pack! 7462c CD 14.98

Posted by acapnews at 2:41 AM
July 26, 2005
Sweet Honey In The Rock - Raise Your Voice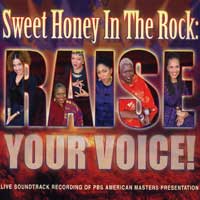 The songs from "Raise Your Voice!" come from two live benefit concerts from 2003. Acclaimed filmmaker and Emmy winner Stanley Nelson documented Sweet Honey's activities in this, Sweet Honey's 30th anniversary year, and this CD is the soundtrack to that film. It features 22 favorites such as "I Remember, I Believe," "Joan Little," "In The Upper Room with Jesus," "In the Morning When I Rise," "Denko," "The Women Gather," "Run," "Come Unto Me," "Old Ship of Zion" and "Movin' On." "Ballad of the Broken Word/Give the People Their Right to Vote!" features SH's collaboration with Toshi Reagon (daughter of founder Bernice Johnson Reagon) and her band Big Lovely. All other songs are a cappella, with occasional tamborine and light percussion. "Raise Your Voice!" puts us in the audience to experience this inspirational, soulful, powerful music from these a cappella legends! 9868c CD 15.98
Listen to "That Old Black Music"
Posted by acapnews at 11:35 PM
BOCA 2005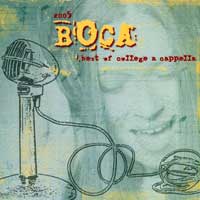 We always enjoy listening to the BOCA collection that arrives this time of year, because (a) it's exciting, spirited stuff from a cappella groups across the country we don't usually get to hear, and (b) it reminds us how alive and juicy the a cappella scene is on the country's campuses! Picking favorites from CASA's picks for the 20 best collegiate a cappella tunes, we have: Stanford U. Everyday People's "Whatever You Want," the Dartmouth Aires' rendition of Caedmon's Call's "Somewhere North," MIT Logarhythms' vocal percussion gem "The Kids Aren't Alright," U of North Carolina Clef Hangers' rap-flavored version of Outkast's "The Way You Move," UCLA Random Voices' lovely cover of Tori Amos' "A Sorta Fairytale," the Claremont Shades' cover of Garbage's nasty "Push It," Stanford Mixed Company's cover of Collective Soul's "Run," Clemson U TIGEROAR's cover of Matchbox 20's "Unwell," Duke Out of the Blue's cover of Maroon Five's "She Will Be Loved," Stanford Mendicants' cover of Wham!'s "Wake Me Up Before You Go Go," the Michigan Amazin' Blue's cover of Sarah McLachlan's "Angel" and the U of Virginia Hullabahoos' raucous cover of Outkast's "Hey Ya." Some incredible voices, cutting-edge arrangements, hot vocal percussion and wonderful song selectionóBOCA 2005 is another stone winner! 1756c CD 14.98

Posted by acapnews at 12:43 AM
July 19, 2005
Suntones - Masterworks Series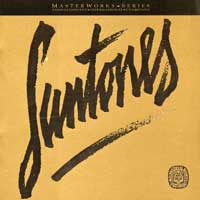 Miami, Florida's Suntones, formed in 1957 singing innovative arrangements of "Old Black Magic" and Hi-Lo's songs, finally won SPEBSQSA Quartet Gold in 1961. They went on to record extensively and seek professional bookings outside of barbershop circles, causing them to perfect their act, and helping to create a world of possibilities for top-drawer barbershop groups in the entertainment industry. "Suntones" is a "best-of" collection of 23 songs, certainly tough choices given the large number of excellent recordings by the group. From the first cut, "Bye, Bye Blues," the final tune in their Gold-winning set that became a trademark for them, we see how special this group is. "After You've Gone," which begins straight, introduces a major 7th chord, jazzy 2nd chorus and wild and crazy tag. "If You Can't Tell the World She's A Good Little Girl," "Old Songs Medley" showed that even though they tended toward daring innovations, they never lost their love of the simple, "square" barbershop songs. "Danny Boy," "That Old Black Magic," "West Side Story Medley," "Jezebel," "Where Is Love," "Show Me Where The Good Times Are," "Tennessee Waltz," "Shrimp Boats" and "For All We Know" need to be listened to again and again to appreciate the chances the Suntones took, and how solid the barbershop fundamentals were that formed their base. "Suntones" is an amazing recording on many levels, and certainly mandatory listening for aspiring quartets to expand their horizons. 5678c CD 14.98
Listen to "That Old Black Music"
Posted by acapnews at 11:58 PM
July 16, 2005
Masters of Harmony - The Way We Were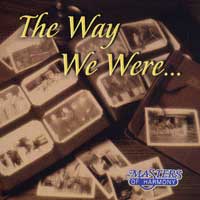 For the 15 years of its existence, The Masters of Harmony has been the toast of the barbershop chorus world, winning the coveted SPEBSQSA gold medal five timesówhoops, make that six with their 2005 triumph in Salt Lake City! This, and "The Way We Were" are proof that the best keep getting better. A walk down memory lane from their winning performances under 3 directors, Mark Hale, Jeff Oxley and Brett Littlefield, this collection of 14 winners also includes signature songs from the Masters' four international champion quartets, Nightlife, Revival, Michigan Jake and Gotcha!, all with close ties to the group. Al Jolson's "California, Here I Come" tops the bill and begins like a train getting up to steam, Sammy Cahn's "All the Way" segues into a Southern trilogy, "The Birth of the Blues," "Song of the South" and a wonderful "Here Comes the Showboat;" "Singin' In the Rain Medley," "Make 'Em Laugh," "That's How Rhythm Was Born," the heart-tugging title tune, "What Are You Doing the Rest of Your Life" (surprisingly with orchestra, saxophone and piano)--the hits just keep on coming. The "Battle Hymn of the Republic" and "The Stars and Stripes Forever" end this powerful collection on just the right note. Our congrats to the M of H for their recent win at SLC, and for bringing us this "best of the best" CD! 5679c CD 14.98
Listen to "Singin' in the Rain Medley"
Posted by acapnews at 1:08 AM
July 13, 2005
Aquabella - Kykellia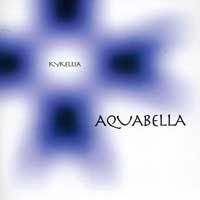 Bremen, Germany-based 5-woman World a cappella group Aquabella, after impressing us with "Nani Dschann" and "Aquabella," bring us a unique Christmas CD, "Kykellia, or the Story of Christmas." 19 songs, some favorites are the rhythmic "Breaths," the spirited "Sneig Sniedzinis Putinaja," the chant-like "Vila Moma," a nicely-arranged "Wexford Carol," a latin-flavored "Los Reyes Magos" (with drum accompaniment), a bluenote "Noel nouvelet" that seques into a dance rhythm, the ringing chant "Schen char wenachi," the Maori song "Nga iwi e" (also with drums), and the moody "Shalom Aleikhem" and "Kling no, Klokka." Exotic, beautiful music in different languages, and from different cultures, that relates to the celebration of Christmas. Another winner from the sweet, harmonic voices of Aquabella! 9867c CD 15.98
Listen to "Los Reyes Magos"
Posted by acapnews at 2:13 AM
July 1, 2005
An Octave Above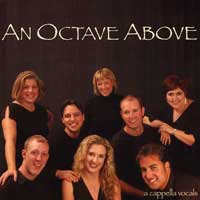 The 4 men and 4 women of An Octave Above, (named 1st runner-up at the 2005 Harmony Sweeps Chicago Regional) are a group of professional vocalists, together for only 3 years, whose repertoire includes doo-wop, jazz, standards and madrigals. This is the group's impressive debut CD of 13 songs, beginning with a jazzy, light "Chile Con Carne," a sweet Ward Swingle-arranged "All the Things You Are," and a ringingly harmonic cover of James Taylor's "That Lonesome Road." Doo-Wop classics "Come Go With Me" and "In the Still of the Night" segue nicely into Billy Joel's anthem "And So It Goes," a bluenote "There Will Never Be Another You" grows upbeat and scattish, "Tico Tico" puts a margarita in our hand and pulls us onto the dance floor, and finally we have Ward Swingle's sparkling arrangement of "Country Dances." Excellent stuff from this fast-rising Chicago octet, who we will be expecting to see at the '06 Sweeps Finals! 4621c CD 14.98
Listen to "Tico Tico"
Posted by acapnews at 11:33 PM
4:2 Five - Unstoppable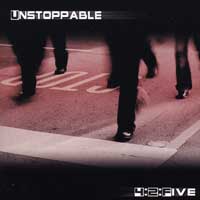 "Unstoppable" is the third CD by Earl, James, Layne and Geoff, and they've made some serious changes since we loved their set at the 2001 Harmony Sweeps Finals. Once a solid doo-woppish cover quintet with a sound reminiscent of Rockapella and the Coats who did all their own arrangements, they have become an (almost) all-original (written and arranged by group members) quartet with an infectious, techno sound. 11 songs, the supersmooth "Baby I'm Waiting," the precise, soaring "The Rules," the top-40ish Title tune, the edgy "Just Listen," the love song "Your Moon," the vocal percussion gems "Any Note Will Do" and "Just Listen," the harmonic anthem "Slowly Slowly Stop," the philosophical "Life," a cover (one of two) of the BeeGee's "Stayin' Alive" that's the best we've heard, and a funky, incongruous "Winter Wonderland" that gives the Blenders a run for their harmony. All a cappella, but with some added echo and vocal distortion. Ordinarily we might have some reservations about such effects, but here they fit seamlessly into one of the richest, most full sounds we have heard an a cappella group produce on a recording, all the more amazing when we consider that they are basically just 4 guys with mikes. "Unstoppable" pushes the a cappella envelope in a confident, surprising direction, that needs to be listened to again and again to be savored and appreciated. The fact that all the original material is brilliant is only to be expected. Enough superlativesówe love this CD, one of the best of the year! 7457c CD 14.98
Listen to "Stayin Alive"
Posted by acapnews at 11:26 PM