July 25, 2007
Reconciliation Singers - Voices of Peace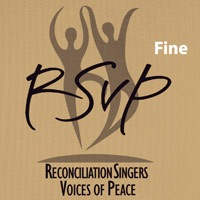 Twenty-strong, mixed-voice RSVP was founded in 2000 by Artistic Director Julie Adams, with the purpose of bringing people together through the arts and giving back to the community. They have presented uplifting and powerful live performances, donating all proceeds to to 15 local charities. RSVP's concerts have supported programs for the elderly, the abused, the neglected, the hungry, the poor, the illiterate and the homeless. Some light accompaniment. We like the chosen purpose of this talented ensemble, and we love their music! 2247 CD 14.95
Listen to "Heavenly Crystal"
Posted by acapnews at 1:01 AM
July 19, 2007
Classic Collection - Masterworks Collection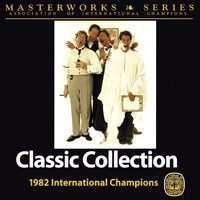 Tenor Curt Hutchison, Lead Larry Wilson, Baritone George Davidson and booming Bass Terry Heltne won the SPEBSQSA Central States District Championship in 1975. Moving to Denver in 1977, they won that District as well. And in 1982 they won the International Quartet Championship by the largest winning margin (296 points) up to that point. These same four men have been singing together for 31 years, and Masterworks series brings us a 27-tune "best-of" recording of one of Barbershop's all time greatest groups. Classic Collection specialized in nostalgic, romantic heart-tuggers, and from "I've Seen My Baby," "When You Look In the Heart of a Rose," "In the Land Where Shamrocks Grow" and "Little Silver Lady" to "Oh, You Beautiful Doll," "Paper Doll," "Moonlight Becomes You," "My Blue Heaven," "Makin' Whoopee," and the final cut "Jezebel," every one of these cuts is sweet, harmonic and true. If you love Classic Barbershop, this wonderful, entertaining collection is for you—enjoy! 5807 CD 14.95
Listen to "The Last Waltz"
Posted by acapnews at 10:31 PM
State Line Grocery - Paper or Plastic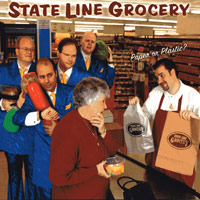 As a group, Georgia-based State Line Grocery is fairly new on the Barbershop scene, having been formed in July of 2003. They immediately won the 2003 Dixie District Quartet Championship in the fall, and went on to qualify for the Barbershop Harmony Society's Internationals in Louisville in 2004. They placed 11th at the 2005 BHS International competition in Salt Lake City, and recently placed 4th at the Denver Internationals! Baritone Heath, Bass Drew, Lead Tim and Tenor Dylan, all longtime BHS veterans and district champs, are turning a lot of heads with the kind of drum-tight harmonies, sweet leads and ringing chords we find on "Paper." 14 songs, some favorites are "The Glory of Love," "Everything Old is New Again," Randy Newman's poignant "When She Loved Me," "Too Marvelous for Words," "On the Sunny Side of the Street," "His Eye is On the Sparrow" and Hank Williams' "I Saw the Light." Beautiful stuff from fast-rising, talented SLG! 5808 CD 14.95
Listen to "Goodbye World, Goodbye"
Posted by acapnews at 10:29 PM
July 12, 2007
OC Times - Let's Fly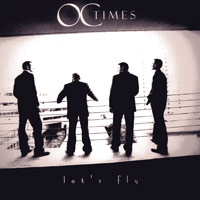 Tenor Shawn York, lead Sean Devine (of the Alley Cats), baritone Patrick Claypool and bass Corey Hunt, all talented young men from Orange County, CA, proved with their 2nd place medal at the recent SPEBSQSA competitions in Denver that a far-from-quiet young revolution is happening in the Barbershop world. The quartet, also members of Chorus Gold medal-winners (and youngest-ever choral entrants) Westminster Chorus, rose from 46th place to 18th in 2004, to 5th place in 2005, and in 2007 second only to supergroup Max Q. "Let's Fly" is 15 innovatively-arranged (by group arranger Aaron Dale), flawlessly performed winners, from OC standards "Good Luck Charm," "Put Your Head On My Shoulder," "Honey (Open That Door)/Hey Good Lookin' Medley," "Love Me," and "Come Fly with Me," to new winners "Teddy Bear," "Drivin' Me Crazy," "So Much in Love," a brilliant "Stormy Weather," "Anytime at All," "You're 16, You're Beautiful, and You're Mine" and the last cut, "Save the Last Dance For Me/Sway Medley," this collection impresses at every turn. Audiences call them "fresh," "cutting edge," "pushing the envelope"—but listen to "Let's Fly" for yourself, hear the fast-rising future of Barbershop, and come up with your own adjectives! 5812 CD 14.95
Listen to "So Much In Love"
Posted by acapnews at 12:54 AM
July 3, 2007
BR6 - Here To Stay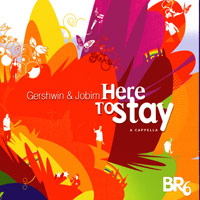 We raved over five-man, one woman BR6's debut recording, "Rio A Cappella," and have been eagerly waiting for their second. First let us praise the marvelous, Beatles-flavored graphics and photos in the liner notes, some of the best we've ever seen, and a perfect complement to the smooth, latin sound the group applies to one of our all-time favorite tunes, George Gershwin's "Rhapsody in Blue," medleyed with Tom Jobim's "Waters of March." Continuing with a cool "Jazz 'n' Samba," mellow and sweet "Someone to Watch Over Me," jazzy "Water to Drink," and sassy, sexy "They Can't Take That Away From Me" this is all pure enjoyment. Try to imagine faux, feline-sounding horns on "Girl from Ipanema," a surprising, bluenote faux trumpet solo on "Fascinating Rhythm," faux muted trumpets on a meandering "Forever Green," "They All Laughed," "Song of the Jet," "Love is Here to Stay"…this is all mellow, fun, jazzy, salsa-flavored stuff to be savored like musical fish tacos and margaritas on a perfect beach with the one you love! 7634 CD 15.95
Listen to "Jazz'n'Samba"
Posted by acapnews at 1:09 AM
July 2, 2007
Underage - We Go Together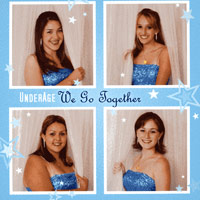 We caught a live performance by this talented young Sweet Adelines quartet at the Harmony Sweeps Bay Area Regionals a year or two ago, and joined the audience in rousing ovations. 16-year-old Brittany, 17-year-old Mary, 15-year-old Mia and 18-year-old Caitlin are seasoned performers who touch audiences with their wit, humor and charm as well as their sweet harmonies. "We Go Together" features 12 tunes, Barbershop chestnuts like "Georgia On My Mind," "Last Night on the Back Porch" and "Whatever Happened to the Old Songs" and "Once Upon A Time;" show tunes like "I Feel Pretty," "Angel of Music/Phantom of the Opera" and "We Go Together" from "Grease;" and pop tunes like the Rascals' "Feeling Groovy," Billy Joel's "And So It Goes," and "Happy Days/Get Happy Duet" featuring Brittany and Mia. We have to send some strokes to Sweet Adelines for cultivating and encouraging groups like UnderAge, who are off to a great start as budding Sweet Adelines, and a cappella, stars! 5805 CD 14.95
Listen to "I Feel Pretty"
Posted by acapnews at 2:19 AM