September 30, 2006
Nylons - Live in Tokyo DVD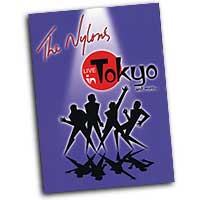 Of all the contemporary a cappella groups The Nylons have always put on one of the best shows, in great part because of their background in live theater. So this DVD of a historic concert shot in Japan in 1986 is a real treat and a must for all Nylons fans. The high production values shows the guys at their high-energy best and features Marc Connors, Claude Morrison, Paul Cooper and Arnold Robinson. As well as the thirteen song concert footage there are six bonus music videos that the group has shot over the years which helps makes this a most enjoyable watch! 1205 DVD 28.98
"Watch a video clip"
Posted by acapnews at 1:39 AM
September 29, 2006
Gold Company - Absolute Integrity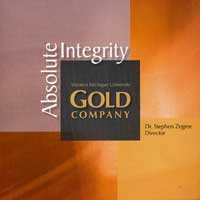 Dr. Stephen Zegree is one of those rare directors of collegiate ensembles who is able to take that group, in this case WMU's Gold Company, to a professional level in performance and recordings. That the group is able to maintain that level through the years of constantly graduating members means, of course, that the best young jazz musicians are going to Kalamazoo to work with and learn from Zegree, When we see recordings, this only the fourth in over 25 years since the group's founding, it's cause for celebration! "Absolute Integrity" is an impressive collection of 15 songs, many of them originals by former group members, such as Justin Avery ("Just Sing," "Soul Conspiracy," "All Night," the wonderfully funky and nearly a cappella "Cell City Mode," the title tune, and "100 Years"), and Gary Fry's "Higher Purpose." Others are arranged by former members, like Matt Falkner's arrangement of Rodgers and Hart's "I Didn't Know What Time It Was," Nathan Lansing's arrangement of "Stompin' At The Savoy" and others. Our friend Gene Puerling lends a great arrangement of "I Remember You," the only pure a cappella cut, as Zegree attracts as many jazz instrumentalists as vocalists. We of course would prefer many more, but "Integrity" is still an amazing, and rare CD from one of the best collegiate ensembles in the world. 7606CD 14.98
Listen to "I Remember You"
Posted by acapnews at 1:50 AM
September 28, 2006
Sidewinders - One More Time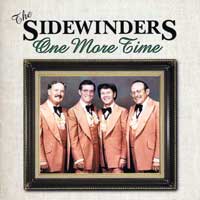 1964 Barbershop Quartet Gold medal winners The Sidewinders, all members of the same SPEBSQSA chapter in San Antonio, who some people call the "Greatest Barbershop Quartet ever," deserve a "best of" CD, and we have it here in our hands! "One More Time" is ringing, chord-bending old-time Barbershop that SPEBSQSA "supergroups" try to recreate, but the Sidewinders achieved naturally, by singing, performing and competing together for decades. 19 songs, divided into "Early Days" ("Roll Out Of Bed With A Smile,"), "Chord Records" ("Ramona," "There'll Be Some Changes Made," "True Love" and "Molly Malone"), "Gold Medal Years" ("All American Girl," "Because," "Little Captain Of My Heart" and "Try To Remember"); and "Favorites" ("I Left My Heart In San Francisco," "Sailin' Down The Chesapeake Bay," "Tears For Souvenirs" and "Today"). These songs tug our heartstrings and push our nostalgia buttons like few other groups we've heard. "One More Time" is the very essence of great Barbershop—so cue up the CD player, sit back and enjoy! 5725CD 14.98
Listen to "Little Captain of my Heart"
Posted by acapnews at 1:06 AM
September 20, 2006
Harmony Sweepstakes A Cappella Festival - National Finals 2006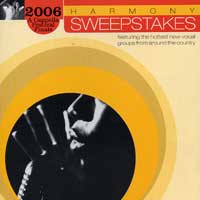 It's the first weekend in May, and the sold-out audience at Marin Veterans Auditorium in San Rafael, CA is buzzing with anticipation of seeing the Harmony Sweepstakes Finals, possibly the best live show in a cappella! 8 Regional-winning groups are backstage, having beat out as many as 8 other groups for the privilege of singing their hearts out for the National Championship. "Finals" has 16 of the best tunes from that memorable night, including Bay Area winner Clockwork's jazzy "My Baby Just Cares For Me," and wonderful cover of Radiohead's "Creep," part of an excellent set that won them 3rd place, and the award for "Best Original Arrangement." We hear Mid-Atlantic-winning Regency's "Only You" and high-energy "Jump, Jive and Wail," part of a great set that won them 2nd place. LA barbershop quartet Hi Fidelity, in "Addams Family" costume, bring us the "Addams Family" theme and a key-bending, hilarious "Blackbird," they won both Audience Favorite and the National Championship. New York Quartet 'Round Midnight's "Take the A-Train" and "Tin Roof Blues," Chicago's Elmo Thumm's "Last Train to Clarksville" and "Shooting Star," Denver's Curious Gage's "Long Train Runnin'" and "Windmills" show us how good Hi-Fidelity had to be to win. Boston's Traces sing "As" and "Wonderful World," which won Best Original Song," and the Pacific NW's Tongue Tied A Cappella give us a dynamic cover of the Starship's "We Built This City." Exciting cuts from a magic May evening in San Rafael! 2006 CD 14.98
Listen to "Blackbird"
Posted by acapnews at 12:48 AM
September 14, 2006
Anonymous 4 - Gloryland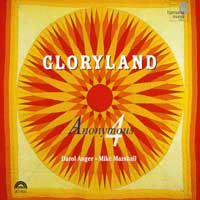 On the heels of their successful hit album American Angels, the four-woman vocal group Anonymous 4 sets off on another musical journey into the rich songbook of traditional American folk music on the stunning new album Gloryland. Conceived as a collaboration between A4 and new-grass stars Darol Anger and Mike Marshall, Gloryland layers together lyric folk songs, religious ballads, shape-note tunes, and spiritual and gospel hymns into a musical tapestry that shimmers with joy and creativity. 8410 CD 18.98
Listen to "I'm On My Journey Home"
Posted by acapnews at 2:55 AM
September 8, 2006
CHICKAdivas - Chick Us Out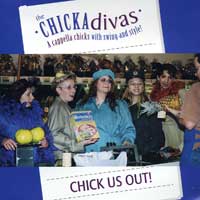 Edmonton, Alberta, Canada's 5-woman "a cappella chicks with swing and style!" quintet Chickadivas found each other in a "cosmic event" in 2002, and in their first five years together they've gone through 4 sopranos and 4 altos, and won the Northern Harmony 2003 a cappella competition. Christmas concerts around Alberta have been very successful, and a sold-out concert in March celebrated the release of "Chick Us Out!," their debut CD. 10 songs, with some nice Canadian folk tunes like "Feller from Fortune," "The Morning Dew," "She's Like the Swallow," and the silly, sexy "The Log Driver's Waltz;" vintage rock classics like "Under the Boardwalk," "Lollipop" and B.E. King's "Stand By Me," the Swing anthem "Mr. Sandman," and, incongruously, the Eurythmics' hit, "Sweet Dreams." The Chickadivas have a fresh, innocent sound and obviously love what they're doing. "Chick Us Out" marks a promising beginning for one of Canada's best new a cappella groups! 1208 CD 14.98
Listen to "The Log Driver's Waltz"
Posted by acapnews at 1:04 AM