January 26, 2006
Barbershop Society - Top Quartets 2005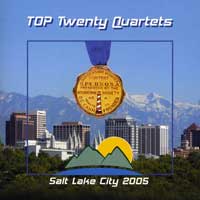 TWe have the 2005 collection of The Barbershop Society international competition winners, featuring Gold medalists Realtime's "Story Of The Rose" and "Cry Me A River," Silver medalists Max Q's "This Little Piggie Went To Market" and "Steppin' Out With My Baby," and Bronze medalists (and Sweeps winners) Metropolis' "I Only Have Eyes for You" and "Love/Eyes (Medley)." Riptide, O.C. Times, Vocal Spectrum, Saturday Evening Post... hot selections from the top 20 Barbershop Quartets in the world, live from the electric Finals in Salt Lake City! 5694c CD 14.98
Listen to "Yesterday I Heard the Rain by Realtime"
Posted by acapnews at 12:59 AM
January 18, 2006
Soweto Gospel Choir - Blessed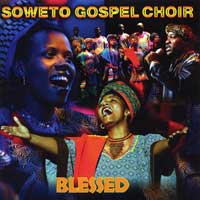 Soweto Gospel Choir is the most successful and exciting vocal group to emerge from South Africa Since Ladysmith Black Mambazo. "Blessed", a follow up to their number 1 Billboard World Charts debut album "Voices From Heaven," takes their irresistible blend of traditional South African music, gospel and inspirational pop one step further. With some awe-inspiring South African hymns and great versions of such classics as "Oh Happy Day," "The Lion Sleeps Tonight," and "Khumbaya." The Soweto Gospel Choir with their intricate harmonies and soulful singing will beckon all to reclaim their spirit. 9873c CD 15.98
Listen to "Swing Down"
Posted by acapnews at 1:56 AM
January 11, 2006
Voices 2005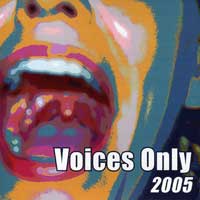 "Voices" is a generous, 2-CD set of the best of the collegiate a cappella groups, a total of 30 songs. We're particularly pleased to see and hear groups we've never heard of before, such as "What It Feels Like For A Girl," by Boston Aural Fixation, "Into the Dark" by VT Juxtaposition, "The Late Great Planet Earth" by UT Ransom Notes, "Feel Good Time" by MIT Muses, "Missing" by UPenn Penny Loafers, "Collective Soul" by Colorado In The Buff, "Only In Dreams" by Wash U in St. Louis Mosaic Whispers, "Earth Song" by UCSB Naked Voices, and "Beauty of Grey" by St. Louis Bare Naked Statues. There are familiar and welcome names from the BOCA yearly compilations, such as "All Original" by the Stanford Fleet Street Singers, "Ask the Lonely" by the Dartmouth Aires, "When I Think About Angels" by the UVA Sil'hooettes, "Never There by the Clemson TIGEROAR, "Destiny/In The Waiting Line" by the USC Sirens, and "Nothing" by Northwestern Purple Haze. The brazen, refreshing ensemble names, like the Duke Pitchforks, Cornell Class Notes, Oregon Divisi and Elon Twisted Measure go well with their music, which features innovative arrangements, rich harmonies, genuinely funny material and always interesting entertainment. Want to hear what's up in collegiate a cappella? Settle back, put the 2 CDs of "Voices Only 2005" and enjoy! 1759c 2CDs 15.98
Listen to "Stutter"
Posted by acapnews at 12:47 AM
January 7, 2006
Voices on the Dark Side - Dark Side Of The Moon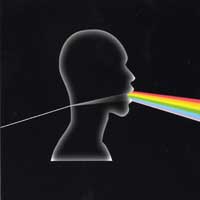 Vocomotion is an a cappella-only recording studio and record label based near Chicago, owned by multi-talented Freddie Feldman, who has been immersed in the world of a cappella for over a decade, as a singer, producer, arranger, composer, recording engineer and vocal percussionist. He is a major CASA player, and is currently lead singer for the band Gaskit and vocal percussionist for Absolute Harmony. He has produced 30 a cappella albums at Vocamotion, winning several BOCA and CARA recording awards. Pink Floyd's masterpiece and one of the best-selling rock albums of all time, "Dark Side" is vocally recreated here by 8 singers and 1 vocal percussionist, and the results are fairly stunning. Of course, many people know these 9 tunes by heart: "Speak to Me/Breathe," "On the Run," "Time," "Money," "Us and Them" and others, but the envelope that the recording pushes goes way beyond being able to better understand what the lyrics actually were. Floyd used synthesizers and audio effects to create their haunting sound, and it's totally cool to hear the voices riff on a creating a particularly difficult beloved passage, and succeeding. Recorded in High Definition, without breaks between the tracks, and as close to the original timing as possible, lovers of a cappella and/or of rock will want and need to hear "Dark Side," to be amazed again by the power of the human voice. 7471c CD 15.98
Listen to "Brain Damage"
Posted by acapnews at 12:15 AM
Coco's Lunch - Rat Trap Snap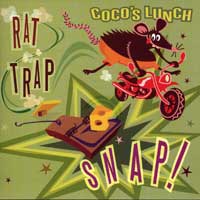 Australia's hottest and most innovative all-woman a cappella quintet Coco's Lunch are dedicated to composing and performing original and inspiring music, and they succeed with relish on "Rat Trap Snap!" These 14 group-written and composed songs are clever, jazzy, catchy and fun. Check out the faux horns on the bouncy "Let's Dance," tap your feet to the rhythmic, saucy salsa tune "Fire" and soaring "Away" ( both with non-vocal percussion), enjoy the silly, jazzy "Little Miss Muffet," the McFerrinesque "Nip," and the highly instructional "Baby in Her Belly." "I Sweep My Feet" enters the mind of a precocious child, "Nowhere Train" rolls on a vocal percussion track, and "Rain" and the title tune are surreal romps. "Snap" is a refreshing, surprising joy. 9870c CD 14.98
Listen to "Rat Trap Snap"
Posted by acapnews at 12:08 AM