October 29, 2005
Pieces of 8 - Gift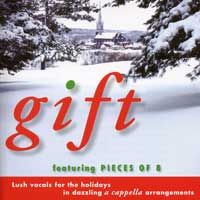 This unique Contemporary Jazz octet, founded by artistic director Charles Mead and formed of pairs of sopranos, altos, tenors and basses, has a full, almost vocally orchestral sound. "Gift" gives new dimensions and excitement to Christmas chestnuts like "Christmas Song," "Silver Bells," "Sleigh Ride," and three medleys, "Count Your Blessings/White Christmas," "God Rest Ye Merry Gentlemen/My Favorite Things"-- while retaining what we love about them. "Santa Claus" stuffs every song ever written about the fat man in a big, happy, silly, genre-crossing musical sack. "Little Drummer Boy" starts sweet and simple and riffs in all directions from there. There's a jazzy, surprising "12 Days of Christmas," a powerful "Prayer for Our Children," and a stream of consciousness "O Tannenbaum." A smoky, moody "What Are You Doing the Rest of Your Life?" closes out a remarkable "Gift" to yourself and any other music-lovers on your list! 4644c CD 14.98
Listen to "The Christmas Song"
Posted by acapnews at 2:28 AM
October 27, 2005
Four Freshmen - Voices in Modern / Funny How Time Slips Away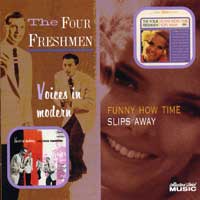 "Voices/Funny" by The Four Freshmen is another of those 2-LPs-on-one-CD re-releases that we love so much. That's particularly true in this case, as the Freshmen were such an influential jazz/pop group, with a smooth sound that kept the Freshmen high on the charts from the early 1950s, when "Voices in Modern" was recorded, into the mid-60s, when "Funny " was recorded. All 23 cuts are accompanied, but these songs are the very definition of "classic:" "Over the Rainbow," "My Heart Stood Still," "The Nearness of You," "Stormy Weather," "Mood Indigo," "It's A Blue World," "Funny How Time Slips Away," "Graduation Day," "Charade," "Wake the Town and Tell the People"…great stuff by composers like Harold Arlen, Richard Rodgers, Hoagy Carmichael, Duke Ellington and Henry Mancini. And the Freshmen's bright, upbeat sound is such that their covers of these songs are the ones that people remember and associate with the songs. This is a great collection of hits by a group whose work influenced jazz/pop music and generations of musicians! 4636c CD 15.98
Listen to "Street of Dreams"
Posted by acapnews at 12:26 AM
October 26, 2005
King's Herald - Encores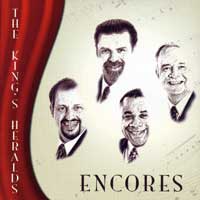 It's pretty clear from the first few notes from Simi Valley, CA's honey-voiced veteran male Gospel quartet The King's Heralds that we're in for a treat. "Encores" is all about spirituals: "Walk in Jerusalem Just Like John," "Now Don't You Let Nobody Turn You 'Round," "Good News, Chariot's A-Comin'," "(If We Ever Needed the Lord Before) We Sure Do Need Him Now," "There's A New Name In Glory," "Children Keep In the Middle of the Road"… this is inspirational Gospel sung with some of the best deep-bass harmonies we've heard. But it's the feeling behind the music, the spiritual mission of the aptly named King's Heralds that takes "Encores" beyond the usual. Their powerful belief, joyous words and sweet harmonies make this CD very special indeed! 3022c CD 14.98
Listen to "Good News, Chariot's A-Comin"
Posted by acapnews at 2:16 AM
October 22, 2005
Vocal Majority - You Raise Me Up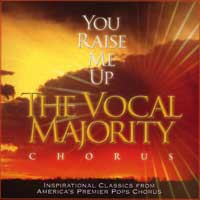 The 120 men of Dallas' "America's Premier Pops Chorus," founded in 1972, have earned that title time and time again in SPEBSQSA international chorus competitions, bring us an uplifting collection of twelve timeless classics of devotion and faith, in "Your Raise Me Up," their 15th recording. VMC's glorious, rolling harmonies soar on some of our favorite inspirational songs: "You Raise Me Up," "Somewhere Medley," "Hymns of the Cross" medley, "Climb Ev'ry Mountain," "Deep River," "It Is Well With My Soul," "He/I Believe Medley," "When You Wish Upon A Star," "The Holy City" and "God Be With You Till We Meet Again." Comforting words, given depth and power by one of the all time great choruses, The Vocal Majority. 5693c CD 14.98
Listen to "Deep River"
Posted by acapnews at 3:08 AM
Whiffenpoofs - Dragonfish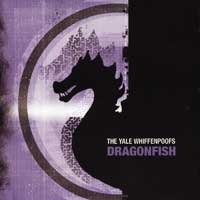 The Whiffenpoofs, 14 talented young Yale undergraduates, are 2005's version of the oldest collegiate a cappella group in the US, founded in 1909, "Whiffenpoof" being a mythical "Dragon fish" appearing in a Broadway musical called "Little Nemo," based on the brilliant Art Nouveau color comic strip "Little Nemo in Slumberland" by Winsor McCay. In any case the 'Poofs have always been one of our favorite, and funniest collegiate groups. 18 songs, beginning with the lusty Bohemian Marching gong "Aj, Lucka, Lucka, Siroka" and finishing with the butter-smooth harmonies of "The Whiffenpoof Song," a noir heartbreaker we always associate with soldiers of the two World Wars. In between are a jazzy "Bye Bye Blackbird," a funny, surprising arrangement of "The Girl from Ipanema," innovative arrangements of Cole Porter's "Too Darn Hot," Bob Marley's "Waiting In Vain," Irving Berlin's "Steppin' Out With My Baby," "Midnight Train to Georgia" and Lambert, Hendricks & Ross' "Little Pony." There's a nice Whiff original, "Time After Time," a pair of James Taylor covers, "You Can Close Your Eyes" and "New Hymn" and the poignant "I'll Be Seeing You." 18 spirited, finely-crafted tunes. "Dragonfish" is an impressive collection from a wonderful a cappella tradition at Yale, as strong and vital now as in its beginnings. 1757c CD 14.98
Listen to "I'll Be Seeing You"
Posted by acapnews at 12:59 AM
October 21, 2005
Trapp Family Singers - An Evening of Folksongs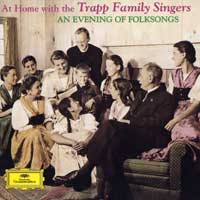 The Trapp Family Singers made famous in the movie "The Sound of Music" were an actual group that were fortunately able to escape the Nazis by arranging an American tour, leaving behind their home and all that remained of their wealth. They toured and recorded in the US for another decade and a half, and founded the Trapp Family Music Camp in Stowe, VT., at a lodge that is still run by the family today. The CD, the third in our catalog (following the excellent "The Original Trapp Family Singers" and "The Sound of Christmas") begins with 6 tunes sung in English, "Ev'ry Year Brings Something New," "The Farmer's Boy," "Waltzing Matilda," "The Lone Prairie," "An Eriskay Love Lilt" and "Early One Morning;" before continuing with German and Austrian tunes, "In einem kuhlen Grunde," Kuckuck hat sich zu Tod gefallen," "Innsbruck, ich muss dich lassen," Es wollt ein Jagerlein jagen," "Auf der Alm," "Spinn, spinn Marie" and many others, 23 in all. Occasional instrumental music. An inspiring story, and inspiring music sung by this talented, deservedly famous family! 7887 CD 12.98

Posted by acapnews at 3:17 AM
October 19, 2005
Streetheart - So In Love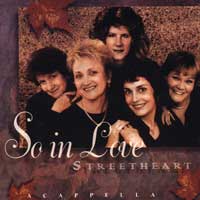 New Jersey-based all-woman Doo-Wop quintet Streetheart, with their vocal roots in Brooklyn, the Bronx and Jersey, bring us their second recording, the first being the excellent "A Streetheart Named Desire." Vicki, Dee, Bethe, Betty and Vicki take turns singing lead on these 20 Doo-Wop standards: "So Much In Love," "Will You Still Love Me Tomorrow," "I Wanna Love Him So Bad," "Forever," "When I Woke Up This Morning," "I Only Have Eyes for You," "Chapel Bells," "One Fine Day," "Teardrops," "ABC's of Love" and "Sunday Kind of Love." Soulful harmonies, soaring leads, love, heartbreak, longing, joy and pain—it's all here on "So In Love." Good stuff! 8203 CD 14.98

Posted by acapnews at 2:36 AM
October 15, 2005
Kinsey Sicks - Oy Vey In A Manger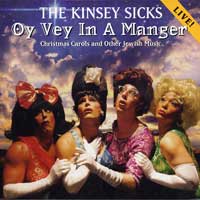 The Kinsey Sicks, our favorite Drag Queen Comedy A Cappella quartet since we first saw at the SF Harmony Sweepstakes Regionals, have given us an early holiday gift, their 4th recording, a manic live Christmas CD, which we opened with great anticipation. And, although the humor is as brilliant as we are sure the material in their off-Broadway show was, we have to warn most people right here that there is some pretty rank material, notably "A Lay In A Manger," "O Come, Ye Unfaithful" and "Feliz Navidad Parody," with the Sicks' own caveat "(Trust us, we can't print the name)" that you had better believe. Even the live audience of primarily gay males (judging by audience response to references like local gay hookup mecca Buena Vista Park) seemed taken aback by some of the sex jokes—certainly not for kids or Christian fundamentalists. That being said, it doesn't try to be. Some of the funniest stuff is skits like "The Story of Christmas," where the "girls" tell Trampolina about subletting the manger while Jewish mom Mary is wintering in Florida, who comes back because they "wouldn't let her fly Virgin Airways," and brings her property managers The Three Weismans, and lawyers from the firm of "Gold, Frankincense and Myrrh" who give them "an eviction notice of great joy." They are joined by Mary's relatives "Uncle Christ, Aunty Christ..." who want to order take-out ("Pontius' Palate or Judas's Carry Out?"). 24 songs or spoken bits: "God Bless Ye Femmy Lesbians," "Crystal (Meth) Time In The City," "Jingle Bells, Don't Ask, Don't Tell," "Chanukah Medley" (Jews Better Watch Out), a nice live reprise of their Bobby McFerrin parody, "Worry," "'Tis The Season To Drink Stoli," the spot-on "Vanna White Christmas," and "Soylent Night" (preceded by "Oh, Yes, the Donner Party!") which take us queasily in a cannibalistic direction—I think you get the picture. If you love the Sicks and their edgy- and over-the-edgy humor, "Oy Vey" is your stocking stuffer, if you're new to them or easily offended, You Better Watch Out! 7464c CD 14.98
Listen to "Dragapella Chorus"
Posted by acapnews at 1:12 AM
October 13, 2005
Voice Trek - An A Cappella Trek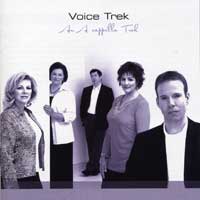 St. Paul, MN-based 3-woman, 2-man jazz quintet Voice Trek has a rich, clean, poised sound, and arrangements that can turn very familiar tunes like the Beatles' "Ticket to Ride," Dave Brubeck's jazz anthem "Take Five," Joni Mitchell's "Both Sides Now" and Michel LeGrand's "Windmills of Your Mind" and turn them into new songs, unexpectedly tasty musical treats. There's a spirited, sassy cover of Rossini's "William Tell Overture" that would have the Swingles looking over their shoulders, Sinatra's "Fly Me To The Moon" becomes a (lightly accompanied) scattish, salsa romp, and Toto's "Rosanna" is a finger-snapping winner, as is Brazilian composer Manfredo Fest's energetic "That's What She Says." A bonus track, "America the Beautiful," was included "after the tremendous response from the a cappella community when they performed it at the West Coast Summit!" 11 songs, each a many-faceted gem. "An A cappella Trek," Voice Trek's 5th recording, is a joy from beginning to end, one of the best Vocal Jazz CDs we've heard this year! 4646c CD 15.98
Listen to "Take 5"
Posted by acapnews at 12:55 AM
October 12, 2005
House Jacks - Fitchy & Grikko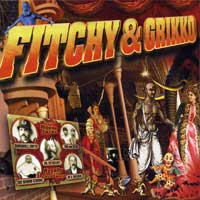 The veteran, edgy House Jacks take some major creative chances with their new circus-themed "Fitchy & Grikko." The four Jacks, who just added powerful Los Angeles singer/composer Troy Horne to their exciting mix, bring us 12 original songs wrapped in one of the most graphically stunning (on a level with the Beatles' "Sgt. Pepper" album cover in our opinion) liner notes of the year. This slick, 6-panel mixed-media art may or may not have anything to do with these 12 cuts, songs like "The Bone," "This Man's Pride," "Athena," "The Fall," "Light of Stars," "Conversations," "Take It," "I Am The Man," "Broken Up" and "Cereal"—possibly the Jacks are messing with our heads, or simply found a really cool computer graphic artist and told him/her to go nuts. It doesn't really matter because the music, as in all Jacks CDs, rocks! The guys are quite comfortable in any number of musical styles, soul, funk, pop, alt, techno—it's all good. As long as the Jacks keep reinventing themselves as artists and pushing the a cappella envelope, we will keep listening, dancing and applauding! 7460c CD 14.98
Listen to "I Will Wait"
Posted by acapnews at 2:29 AM
October 1, 2005
Chanticleer - Sound in Spirit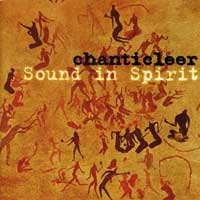 "Sound in Spirit" is a totally new direction for this Bay Area-based 12-man group, in that it is the first Chanticleer recording to be conceived as a total experience—there is no silence or space between tracks. Ideally it should be listened to without pause. It is the first to add outdoor ambient sounds and to incorporate "overtone singing." The music extends from ancient sacred chants to music composed at the recording sessions themselves; all as seen through the creative eyes of composer/arranger Joseph Jennings and Chanticleer, his "Orchestra of Voices." There are 14 "cuts," beginning with Jan Gilbert's "Incantation" (from NightChants), and ending with Gilbert's "Grace to You" (from NightChants). In between are Nectarie Viahul's "Axion Estin," Jennings' title tune and "Night Spirit Song," Carlos Rivera's "Motet for 12 Singers," the Jennings-arranged "Beata" plainsong, de Victoria's "O Sacrum Convivium," Gilbert's "NightChant," Jackson Hill's "In Winter's Keeping," Giacinto Scelsi's "Gloria in Excelsis Deo," Sarah Hopkins' "Past Life Memories," Patricia Van Ness' "Cor Meum Est Templum Sacrum" and others. "Sound" is a surprising, moving, eclectic piece that takes us to places of meditation, wonder and mystery. A beautiful, very special CD from Chanticleer that needs to be listened to again and again to be fully appreciated. 7832c CD 15.98
Listen to "O Sacrum Convivium""
Posted by acapnews at 1:59 AM