August 29, 2006
Jerome Williams - Sacred Doo Wop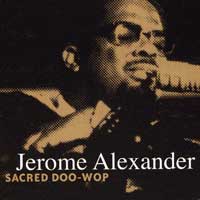 New Orleans, LA's Tight Harmony Records brings us this joyous, spirited collection of a cappella Doo-Wop Gospel featuring the vocal, writing and arranging talents of Jerome Alexander (of Jay, Ray and Gee) and a strong supporting group. These 18 songs, originally recorded in the early 90s, are from tape masters, luckily preserved when the original masters were lost due to Katrina. Alexander originals "Jesus Is Our Lead Singer," "The Ten Commandments of God," "Hambone Praise Song," "Put On The Armor of God," "I'll Be A Fool for the Lord," " "Don't Let Him Fool, Rule or Ride You," "Don't Forget to Say Your Prayers" and "He Did It for You and Me" are favorites, as is the raucous African American Jubilee Song, "My Dungeon Shook and My Chains Fell Off." There's some accompaniment (keyboard and percussion) on a few songs, but the emphasis is on the fine vocals and spirited message. Alexander is a major Gospel/Doo Wop talent, and his group, smooth, hot and experienced, has no trouble keeping up. "Sacred" is a surprising, fresh collection of juicy roots Gospel, and we had big fun listening to every cut! 8210 CD 14.98
Listen to "Put On The Armor of God"
Posted by acapnews at 10:00 PM
August 23, 2006
Groove For Thought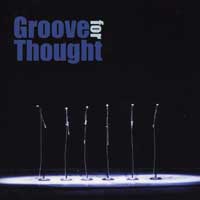 All male Pacific Northwest sextet Groove for Thought's debut CD is here, not surprisingly titled "Groove for Thought." We last saw GFT at the 2005 Harmony Sweeps Finals, where they won both the Best Original Song award for group member Kevin Kunz' "Walk the Straighter Road" and the National Championship. "Groove" is an excellent, jazzy, beautifully arranged album, but we need to warn a cappella purists that there is a lot of accompaniment with these 14 songs. Our favorites are the two pure a cappella tunes, Kevin's wonderful arrangement of "Joy to the World," and Billy Joel's "And So It Goes." We also once again enjoyed "Walk the Straighter Road," which has some light piano accompaniment. Kevin's hot, jazzy originals "Lay It Back," "A Better Place," "Gotta Lotta Lemons," "My Perfect Day," all accompanied, are also very good; as is Chick Corea's "La Fiesta." The Kelly Kunz-arranged hymn "Take My Hand, Precious Lord" completes our favorites. GFT has some of the best original writing and arranging we've heard and a clean, pure sound that needs no accompaniment of any kind to blow us away!. 7501 CD 14.98
Listen to "Joy To The World"
Posted by acapnews at 11:47 PM
August 3, 2006
Kid Beyond - Amplivate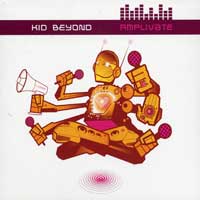 Beginning his career as a singer and "San Francisco's Best Beatboxer," Kid Beyond, "Singer, Beatboxer, Live Looper, Songwriter and One Man Band" has put together a powerful solo a cappella show and a growing following. We personally caught a couple of Kid's first live shows at the A Cappella Summit, and were amazed, watching and hearing him loop and multitrack his voice onstage to create his own backing tracksólayering his impassioned, surreal lyrics over his own beatboxing and vocal instrumentation. The result is a riveting, mesmerizing, soulful brew of pop electronica. Included are 4 major pieces, "Wandering Star," "Mothership," "Deep Inside" and one of our favorite live tunes, "I Shall Be Free." Following that are some wonderful remixes, 2 of "Wandering Star," and one each of "Mothership" and "Deep Inside." With over a dozen live concerts across the country in the next month, Kid has become an a cappella phenomenon that needs to be experienced to be believed! Some of the remixes are remixed with some accompaniment, unless Kid can do the best imitation of several trumpets we've heardóbut no matter, this is great stuff, and Kid is going to be a star! 1206 CD 9.98
Listen to "Wandering Star"
Posted by acapnews at 10:46 PM