August 30, 2005
Alley Cats - Nine Lives (DVD)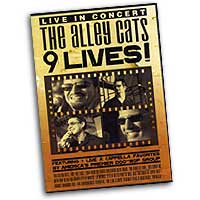 When we first saw the Alley Cats it was giving a "showcase concert" on a small school stage at the A Cappella Summit, singing 4 or 5 songs. What was clear was that these four young guys simply performed sweeter, better-arranged, funnier, more together Doo-Wop than anyone we had ever heard. "9 Lives" (9 "live" performances, get it?) proves that they are even more so now. Their song selection includes our very favorites: "Blue Moon," "Duke of Earl," "Come Go With Me," "Little Darlin'," "La Bamba," "Little Bitty Pretty One," "The Book of Love," "Barbara Ann," plus 3 bonus tracks, including "The Lion Sleeps Tonight," "Smoke Gets In Your Eyes" and "Rock N Roll is Here to Stay." The DVD includes cool footage from their appearances on Arsenio Hall and other shows, and begins with live songs from an outdoor California festival, then follows the guys on their ride to Vegas for very hot performances and outtakes there. Alley Cat fans, you of course will buy this DVD because you know that the Cats are "America's Premier Doo-Wop Group." Those unfamiliar with the group, you of course will want to see how good you have to be to bill yourself as "America's Premier Doo-Wop Group," and you won't be disappointed. We love these guys, and "9 Lives" is a treat from beginning to end! 8130dvd DVD 19.98

Posted by acapnews at 12:47 AM
Swallows - Acappella Album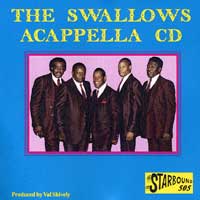 Philadelphia's sweet-singing Doo-Wop quintet perform 23 original, authentic hits, "Oh Lonesome Me," "Hey, Senorita," "Little Darlin'," "Let Me Come Back," "What'Cha Gonna Do," "Have Mercy Baby," "Louise," "When the Swallows Come Back to Capistrano" "Ride Eddie Ride" and slightly racy tunes like "Sixty Minute Man" and "It Ain't The Meat." With voices like these, The Swallows could sing the phone book and get us boogying! 8284c CD 14.98

Posted by acapnews at 12:41 AM
Notre Dame Glee Club -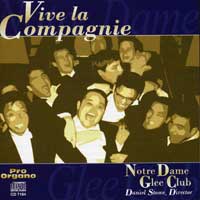 The 40-strong, all-male NDGC brings us a rich, varied collection of 26 songs, ranging from the expected Notre Dame fight songs ("Irish Backs"/"On Down the Line," "You Gotta Be A Football Hero"/Touchdown Star," "Notre Dame, We Hail Thee," "Notre Dame, Our Mother" and "The Notre Dame Victory March"), Folk and Traditional tunes ("Vive l'amour," "What Shall We Do with the Drunken Sailor," "McNamara's Band"/Clancy Lowered the Boom"), "Loch Lomond" and "Danny Boy"), Show tunes {'Tonight," "Seventy-six Trombones") and spirituals ("The Water Is Wide," "Swing Low, Sweet Chariot," "Wade In the Water," "My Lord, What a Morning" and "Ain'-A That Good News"). Nicely sung, spirited a cappella selections by one of the oldest and most beloved collegiate choruses. 7814c CD 15.98

Posted by acapnews at 12:27 AM
August 27, 2005
Academic Folk Choir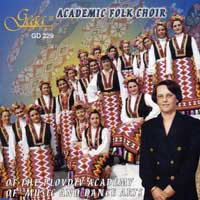 In the years since the western world discovered the "Mystery of the Bulgarian Voices," a fascination with the striking harmonies, exciting rhythmic effects and haunting melodies only continues to grow. This new CD goes one step further: important "classical" composers such as Krassimir Kyurkchiyski, Nokolai Stoykov and Milcho Vassilev are represent here in work which incorporate the elements of fold music into a more "legitimate" setting. The results appeal to both the mind and heart of the listener. The Academic Folk Choir of the Plovdiv Academy, founded in 1980, specializes in a vast repertoire of both folk classical works under the direction of Vassilka Spassova, professor of conducting at the Academy. They have met with great success throughout Bulgaria as well as on tours of Belgium, Switzerland, Italy, Russia and other European countries. 9869c CD 15.98

Posted by acapnews at 3:29 AM
August 24, 2005
Dell Vikings - Vintage Acappella Album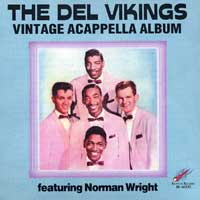 Five friends in the Air Force practiced in the service club each day and began to develop their sound. Clarence Quick wrote "Come Go With Me," which they recorded in disc jockey Barry Kay's basement. In 1956 hey sold it to Fee-Bee Records, became a hit that was bought by Dot, who signed the group. Signed by Mercury after being discharged from the Air Force, their biggest hits being "Cool Shake," "Sunday Kind of Love" and "Whispering Bells." 17 authentic original tunes, "String Along," "That's My Desire," "Jitterbug Mary," "Stormy Weather," "Life is But a Dream," "Pretty Little Things," and soulful covers of "Searchin'," "That's Why I Love You So," "The Glory of Love" and a finger-popping "On The Street Where You Live." A fun collection from these Doo-Wop legends! 8281c CD 14.98

Posted by acapnews at 1:21 AM
Vocalogy - Distilled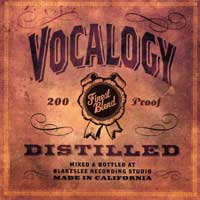 Arising from an artist-in-residency program under Grammy-nominee Phil Mattson, who recorded their debut CD with them, "Is God a Three-Letter Word for Love?," and now self-directed, "Distilled" is Vocalogy's 3rd excellent CD. "Distilled" is an all jazz-band accompanied collection of 13 jazz standards and originals, some favorites: Charles Mingus/Joni Mitchell's tongue-in-cheek "Dry Cleaner from Des Moines," smoky-jazz arrangements of Lennon/McCartney's "Oh Darlin'," and Leonard Bernstein's "Some Other Time," a latin treatment of "Just Friends," two Jimmy Van Heusen classics, "It Could Happen to You" and "I Thought About You," Rachmaninoff's "Piano Concerto #2" turned into a bluenote lament, a sassy, upbeat "Groove Merchant," a stark arrangement of Paul Simon's "Old Friends," and, despite our interest in the local Giants, David Frishberg's "Dodger Blue." As we've noticed in a number of cases, Phil Mattson's musical progeny are unfailingly outstanding, and vocally, all accompaniment aside, Vocalogy is right up there with the best in jazz! 4631c CD 14.98

Posted by acapnews at 1:17 AM
August 13, 2005
Cadence - Twenty For One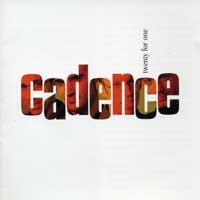 Toronto's celebrated 4-man vocal band, Dylan, Carl, Kevin and Ross, won the tough 2003 Harmony Sweeps New York Regional (and Audience Favorite), and went on to place third here in San Rafael with a very strong set at the '03 Finals. So we were not at all surprised to see their debut CD, "frost-free," win two CARA awards. With an extensive concert and touring schedule, playing to sold-out audiences, and now with "twenty for one," it's clear to us, from their great sound, solid musicianship, finely-crafted arrangements, sense of humor and pure ability to entertain, that Cadence is simply one of the best jazz/pop vocal quartets performing today. We have 12 songs, great covers of the cool retro "Perhaps, Perhaps, Perhaps," popping vocal percussion and a Simonesque lead on "50 Ways to Leave Your Lover," Charles Mingus' and Joni Mitchell's classic jazz treat "The Dry Cleaner from Des Moines," Nat King Cole's crackling "Hit That Jive, Jack," the timeless "Game," the pop hit "True Colors" and a nod to Freddie Mercury of Queen on "The Things We Do For Love;" and winning originals by Dylan ("Don't Fix What's Broken," "Blues on Sunday"), Carl's sweet wedding anthem, "The Perfect Kiss," Kevin's funky "Sittin' in the Cellar" and friend Gillian Stecyk's "Sunshine." Begin with poised, perfect harmonies, add solos and scat with attitude, heartbreaking faux horns, vocal percussion that's some of the tightest and most innovative we've ever heard, and cutting edge arrangements--and you get "twenty for one," one of the best jazz-pop CDs of the year! 7452c CD 14.98
Listen to "Hit That Jive Jack"
Posted by acapnews at 2:15 AM
August 6, 2005
Rural Route 4 - Friends and Relatives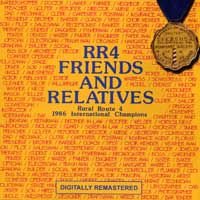 When 1986 SPEBSQSA International Quartet champs RR4 made this recording in 1987, their producer told them they should consider making CDs. They went with albums and cassettes, and one month later everyone had CDs. So now by popular demand, we have a digitally remastered CD of this half-live, half-studio collection of 17 songs from one of the most popular and respected winners of SPEBSQSA Quartet Gold. "How's Every Little Thing in Dixie," "Rockabye Baby Days," "Lida Rose/Dream of Now," "Tie Me To Your Apron Strings Again," the heart-tugging "Little Pal," "Where the Black-Eyed Susans Grow," "I've Been Everywhere," "Old Apple Tree" and "The Richest Man in the World" are favorites. Lots of feeling, smooth, effortless harmonies—"Friends and Relatives" is ringing, straight-up, traditional barbershop from one of the best! 5682c CD 14.98
Listen to "Little Pal"
Posted by acapnews at 4:30 AM
August 3, 2005
Eclipse - For Show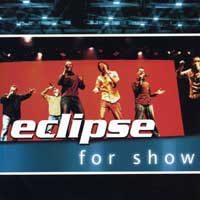 We have been fans of the six young men of Logan, UT-based Eclipse since we first saw them at the Harmony Sweeps Finals in 2001 and 2002, regional winners from Denver. Their fine CDs "Once," "Think Twice" and "Three Kings" only increased our admiration. Some CARA and "Best of State" awards later, we have the live CD "For Show" in our hands, and can only relate to it as Eclipse's "breakthough to the bigtime" CD. "Kick Back, Relax," Yes' 80s anthem "Owner of A Lonely Heart," "Keep Pushin' On," the wonderfully romantic "You," "Every Other Time," "My Maria," the classic "Danny Boy," the very funny "McDonald's Girl" and "Always Coca-Cola," the Michael Jackson hit "She's Out of My Life," a stunning cover of the rap hit "Boom! Shake the Room," "Zoot Suit Riot," "All My Life" and bonus tracks "Live It On Up-Remix" and "The Star Spangled Banner." Always very strong vocal percussionists and strong performers in concert, the boys have all their a cappella ducks in a row on "For Show," and the audience, as you will hear, is simply going nuts! These guys are simply stars, "For Show" is one of the best of the year, and we couldn't be happier for these guys! 7461c CD 14.98

Posted by acapnews at 10:44 PM