March 31, 2006
Sweet Adelines Top Quartets 2005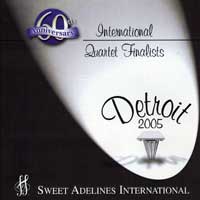 The first week of October, 2005 saw dozens of the best Sweet Adelines Quartets gather in Detroit, MI to compete for the coveted Gold Medals (and, we might add, really cool crowns) that are awarded to the best quartet in the known world! One of our favorite groups, Roseville, CA's Razzcals, took 4th, Elmhurst, IL's Four Bettys were 3rd, Huddinge, Sweden's Salt took the Silver, and four hometown girls, China, MI's Spotlight won it all! This CD features at least 2 songs each by the top 10 finishers, (#10 being Vox from Jarfalla, Sweden, one of 3 Swedish groups in the top 10), 3 songs each by #'s 4, 3 and 2, and 4 tunes by the Champs. Favorites among the 26 cuts are "My Foolish Heart" by Spotlight, "If I Were the Only Girl in the World" by Salt, "Kiss Me One More Time" by Four Bettys, and "Love Medley" by Razzcals. Nice color pix of the 10 groups in the liner notes. 5707 CD 14.98
Listen to "If We Can't Be The Same Old Sweethearts"
Posted by acapnews at 2:17 AM
March 22, 2006
Take 6 - Feels Good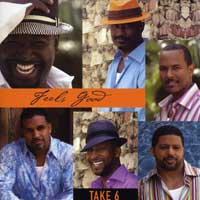 Formed at Alabama's Oakwood College in the early 1980s, Mark and Joey Kibble, Cedric Dent, Alvin Chea, David Thomas and Claude McKnight were signed by Reprise and released "Take 6" nationally in 1988. That year they blew away the '88 Grammy show audience with "Spread Love," and incredibly won Grammies for both best Jazz and best Gospel group. On their way to "Feels Good," their 12th CD, the versatile sextet has broken down barriers between the musical genres of Jazz, Gospel and Soul and built a massive, broad-based group of devoted fans. An accompanied album, "Join the Band" and 1997's "Brothers" both won Grammies. After 20 years with Warner Bros., their final release was "Beautiful World," an album of accompanied re-interpreted pop/soul classics. But in 2006 the group returned to their a cappella and gospel (at least in subject matter) roots with the release of "Feels Good," forming their own label, "Take 6 Records," in the process. The group is poised, tight and energized, breezing through their strongest set, of mostly original material, since their first head-turning releases in 1988 and 1990. Thomas's joyous "Come On" sets the tone, and Mark Kibble's title tune, Dent and Kibble's "Family of Love," the powerful, profound "Lamb of God," the smooth, rhythmic "More Than Ever," the surprising, re-invented cover of "Just In Time," and McKnight's R&B/Pop gem "Set U Free" keeps the party going. The usual perfect harmonies, strong group songwriting (and outside song selection) and arrangements, and Take 6's return to that good old a cappella all left us with a big smile on our face, like we got when we first heard "Spread Love" back in '88. Welcome back, guys, and bless you! 3039 CD 15.98
Listen to "Feels Good"
Posted by acapnews at 2:12 AM
March 21, 2006
The Blanks - Riding The Wave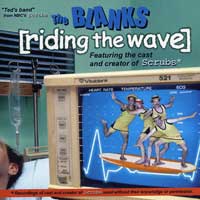 Featured regularly on NBC's hit show Scrubs, where they are known as Ted's Band, this LA-based all male Contemporary quartet The Blanks are a whole lot of fun. We totally enjoyed their dynamic performance particularly the manic "Commandos Attack!," (which won at the Regional Sweepstakes for Best Original Song), which features a talking "action figure," as does "Happy Halloween," which features a talking plastic pumpkin. "Riding" features 34 cuts of various lengths, the shortest being three two-second versions of the notorious 3-note jingle "By Mennen," in G major and D major. The Blanks are big on TV show and sitcom themes, such as "Charles in Charge," The Little Rascals' theme song "Good Old Days," "Facts of Life," "Flipper Theme," "Speed Racer," "Six Million Dollar Man" and the deathless Saturday morning cartoon theme, "Underdog." The invented theme for a fictional cartoon character, "Testy Tiger," returns several times, and a theme is invented for the Broadway show, "The Full Monty." The Scrubs theme "Superman," "The Ballad of Jimmy Durante"—this is all funny, crazed stuff. We admit that we've avoided watching Scrubs for fear of becoming addicted to another great show, but now that we've seen and heard The Blanks, we're tuning in this week. Loads of vocal and comedic talent here—these guys are hot and funny! 2770c CD 14.98
Listen to "A Little Polish"
Posted by acapnews at 1:52 AM
March 20, 2006
The Razzcals - Now Appearing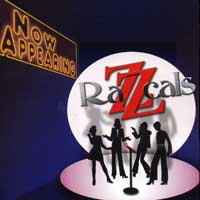 A product of Sweet Adelines' reaching out to young women singers, Sacramento, CA-based Razzcals first began singing together in 1995, in their teens and early 20s. In Sweet Adelines international competition they immediately began making their mark, placing 21st, 15th, 7th, 4th (four times in a row), 2nd and 4th. "Now Appearing," the group's second, is a polished, entertaining collection of 12 songs: "When the Midnight Choo-Choo Leaves for Alabam'," "Keepin' Out of Mischief Now," "You're Nobody Till Somebody Loves You," "Come Rain or Come Shine," "Shangri La," "Love Medley," "Jenny Rebecca," "There Goes My Heart," "The Boy From Ipanema" and the saucy "Hey, Good Lookin'" are particular favorites. Although they have yet to win the #1 ranking, Razzcals are focused and determined, and we fully expect to wake up the morning after the Finals to the four Razzcalls wearing that beautiful Sweet Adelines International Quartet Gold around their necks! 5706c CD 14.98
Listen to "Shangri-La"
Posted by acapnews at 11:56 AM
March 8, 2006
Ro Sham Bo - It's Not Over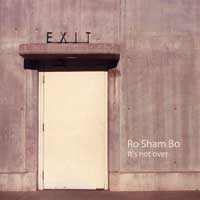 Berkeley, CA's 3 man, 3 woman a cappella jazz ensemble Ro Sham Bo, whose performance at the upcoming Harmony Sweeps Bay Area Regional we look forward to with great anticipation, bring us this impressive debut CD of 12 songs. The sophisticated salsa jazzy "Mas Que Nada" starts the program, the brilliantly arranged "Nature Boy," the jazzy, upbeat "Barney is the Devil," "Why Haven't I Heard From You," "Greasy Granny" and "It's Over," the bluenote, scattish "Anthopology," the Blues standard "God Bless the Child," the moody "Interlude" and the striking bluenote arrangement of "Ballgame," which was a special request that the group sang only one time, are favorites. "It's not over" is a beautifully selected, arranged and performed debut by this talented mixed Bay Area sextet! 7472c CD 14.98
Listen to "Anthropology"
Posted by acapnews at 12:05 AM
March 7, 2006
Ladysmith Black Mambazo - Long Walk To Freedom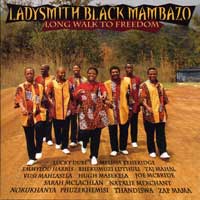 In 1986 Paul Simon's groundbreaking "Graceland" introduced the musical genius and boundless spiritual energy of Ladysmith to the world. Eight years later, thanks in large part to Ladysmith and other South African artists bearing witness, apartheid ended in South Africa. Celebrating the 20th year of their ascendancy to the world stage and the dawn of Democracy, "Long Walk" is a collection of 12 of LBM's greatest hits, performed by the group with guest performances by some of the most progressive voices in the pop music scene, Melissa Etheridge and Joe McBride ("Diamonds On The Soles Of Her Shoes"), Sarah McLachlan ("Homeless"), Natalie Merchant ("Rain Rain Beautiful Rain""), Emmylou Harris ("Amazing Grace," "Nearer My God to Thee"), Taj Mahal ("Mbube"), and Zap Mama ("Hello My Baby"). Also on the guest roster are a who's who of South African artists: Lucky Dube, Hugh Masekela, Nokukhanya, Thandiswa and others, who join to sing the wonderful "Shosholoza." Founder, Leader and Musical Director Joseph Shabalala leads 7-man Ladysmith in this sumptuous rhythmic celebration. "How Long," the title tune ("Halala South Africa") and bonus track "Thula Thula" by Ladysmith alone are all very fine. "Long Walk" is a gift to lovers of Ladysmith, powerful a cappella and freedom, just as Ladysmith has been a gift to us all! 9877c CD 15.98
Listen to "Nkosi Sikelel 'lAfrica"
Posted by acapnews at 10:14 PM