April 26, 2006
m-pact - m-pact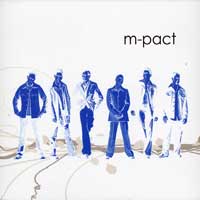 One of our favorite groups on the planet from the first time we saw them on the stage of the Harmony Sweeps Finals, easily taking Audience Favorite and the National Championship, (then 5-man, now 6) jazz-pop m-pact continues to push the a cappella envelope with their unique, amazing sound. "m-pact," their 5th recording, was recorded at m-pact studios in LA, and is proudly distributed exclusively by Primarily A Cappella Records. The tagline on "m-pact," "experience the voice," refers to the pure, sumptuous tenor/soprano of Britt Quentin, whose creative arrangements, production and even engineering are evident on all 14 tracks. Especially fine are his arrangements that reinvent classics such as Cole Porter's "Night and Day," Rogers & Hammerstein's "My Favorite Things," "Over the Rainbow," Lerner & Lowe's "Almost Like Being In Love," "Bluesette," the Four Tops' "Baby I Need Your Loving," and "What Are You Doing the Rest of Your Life." The opening cut is "You Need to Know," a sassy, walking-jazz original by Britt, who also shines on lead. He also wrote (or co-wrote) and sings lead on the mellow finger-snapper "I Found A Love In You" and vocal percussion gem "I Thought You Cared For Me." Trist, Marco, Jake, Rudy and Jeff and their own incredible vocal talents to a smooth, sophisticated recording that surprises and touches on many levels, that we found ourselves replaying again and again to fully appreciate—in short, a masterpiece! 2850 CD 15.98
Listen to "My Favorite Things"
Posted by acapnews at 12:50 AM
April 25, 2006
The Bobs - The Lonesome Pine Special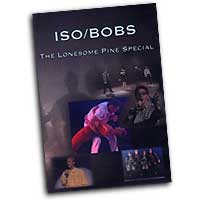 Finally released on DVD the award-winning PBS "Lonesome Pine Special" (part of the Great Performances Series) pairing modern dance company ISO with the Bobs. This well-produced show, filmed and edited in a creative, imaginative, and certainly highly entertaining way. Originaly broadcast in 1990 the DVD features the original Bobs line up and is a must for all Bobs fans. Includes "Pounded On A Rock," "My Shoes," "Welcome To My Fog," "Psychokiller" (with amazing choreography), "Temptation," more. 2463 DVD 19.98

Posted by acapnews at 1:15 AM
April 24, 2006
Hookslide - Bump It Up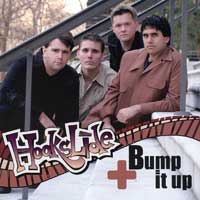 We have enjoyed San Francisco's 4-man Hookslide's dynamic live show at Harmony Sweep's Regional competitions, at the A Cappella Summit and many local venues. "Bump it Up " is the group's third, and features some excellent original material on these 14 cuts, notably group member Paul Anderson's "Whatcha Wanna Do," "Way Past Down," "Superfriend" (written with group beatboxer Jon Pilat), the silly, sassy "Mr. Funky" (co-written by Anderson and tenor Mayank Thanawala, who personally wrote "Two Ways Out"). Covers of the Doobies' "Long Train Running," Chris Robinson's "Ride," Led Zep's "No Quarter," Stevie Wonder's "Higher Ground," Otis Redding's "Try a Little Tenderness," Cake's "Love You Madly" and The Trammps' "Disco Inferno." "Bump it up" is high-energy, fun stuff—an impressive third from local favorites Hookslide! 7702 CD 14.98
Listen to "Long Train Running"
Posted by acapnews at 12:58 AM
April 13, 2006
Praise-apella: Word of Mouth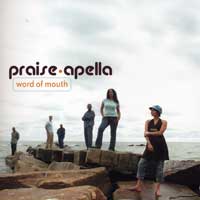 Four men, two women Contemporary Christian Avon Lake, OH-based a cappella group Praise-Apella presents 10 upbeat, vocal percussion-rich originals, two written by group members Brenda Johnstone ("Finding Strength") and Amy Scott ("I Am Here, I Am God"), the rhythmic gem "Knockin' On Heaven's Door," a pair written by Beth & Matt Redman, "Blessed Be Your Name" and "Let My Words Be Few," Bart Millard's "I Can Only Imagine" and "I Could Sing of Your Love Forever" are favorites. This talented sextet is clearly having big fun on their mission to spread the word about their faith, and it shows on "Word of Mouth," one of the best Contemporary Christian recordings we've had the pleasure to review this year! 3053 CD 14.98
Listen to "We Fall Down"
Posted by acapnews at 2:19 AM
April 8, 2006
Voices of Lee - Encore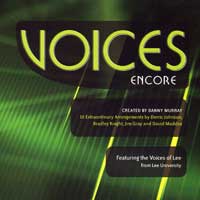 Eight men and six women form the acclaimed Voices of Lee (University of Cleveland, TN), directed since their debut in 1994 by Danny Murray, apply their rich harmonic blend and top-drawer soloists to their fourth winning album. "Encore" begins with Barry Manilow's "One Voice," a jazzy, upbeat "Power in Praisin' the Lord," a striking, powerful vocal-percussion gem, "Mercy Seat," the heartfelt "Ho, Everyone Who Is Thirsty" (arranged by Derrick Johnson), a scattish, bright arrangement of "Lord, I Lift Your Name on High," the Doo-Woppy Gospel number "When God Dips His Love," the traditional hymns "The Old Rugged Cross" and "Have You Met Jesus" (both also arranged by Johnson), and a bonus track of "Mercy Seat," our personal favorite. Ten songs in total, and there's not a weak track among them. Confident solos, solid harmonies, great arrangements—"Encore" just knocked our socks off! It's one of the best Contemporary Christian albums we've heard this year. Match songbook also available. 3059 CD 14.98
Listen to "Have You Met Jesus?"
Posted by acapnews at 2:53 AM