February 17, 2006
SoVoSo - Then and Now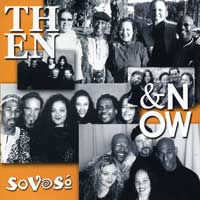 The Bay Area's favorite soulful World/Jazz mixed quintet looks back on a career that began for some members with Bobby McFerrin in his Voicestra. A win at the '97 Harmony Sweeps, many memorable live performances and 5 excellent recordings brings this amazing group to their first independent release, a remarkable "best of" collection of 13 songs. They're all favorites, but Curtis Mayfield's "People Get Ready," the group originals "One Love," "With You," "Hurt So Bad," "Be Of Love," "For The Forest," "Life and Love" and the complex, surprising "Dirt" are especially sweet. Throughout we are continually reminded what a gift SoVoSó has been to us, Then and Now! 4750c CD 14.98

Posted by acapnews at 12:08 AM
Heart to Heart - Lucky Day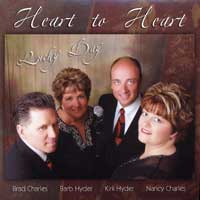 Heart to Heart, a mixed a cappella quartet and pride of Slinger, WI bring us a finely-crafted collection of Barbershop and Pop tunes. Actually a pair of married couples, these four friends have been making beautiful music together for decades, and it shows. Their song selection includes some of our favorites: "Some Lucky Day," "Route 66," The Turtles' "Happy Together," "Choo Choo Ch'Boogie," Billy Joel's "And So It Goes," "When I Fall In Love," the slightly silly "Seaside Rendezvous," the Contemporary Christian song "Mary Did You Know," "Cabaret" and "Operator." Fun stuff from four friends who love to sing, Heart to Heart! 5697c CD 14.98
Listen to "
Posted by acapnews at 12:05 AM
February 5, 2006
Harbour Lights - Almost Acappella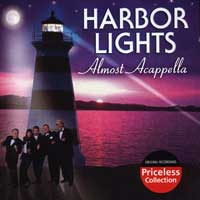 When we want to hear authentic Doo Wop, we think of Indiana. That's right, Indiana—4-man, 1-woman Harbor Lights is the real deal, with the genuine New York Doo Wop sound. On "Almost" they nail Doo Wop standards like "Come Go With Me," "Little Star," "Pretty Little Angel Eyes" and "The Lion Sleeps Tonight." They add a female lead to Ben E. King's "Stand By Me," and reinterpret pop hits like the Temptations' "Just My Imagination" and Peter & Gordon's "I Go To Pieces" becomes an a cappella classic. Ricky Nelson's "Poor Little Fool" is a sweet, nostalgic winner, as is Richie Valens' "Donna." Some accompaniment. "Almost" is the soul of East Coast Doo Wop from America's heartland! 8208c CD 14.98
Listen to "Gee Wiz"
Posted by acapnews at 12:05 AM
The Boulevards - Down The A Cappella Road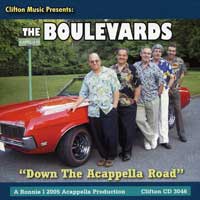 Every member of all male quintet The Boulevards has paid some serious dues. Gary, Brian and Tony, for instance, were raised in the Bronx and started harmonizing at ages 17, 16 and 12 respectively, forming and singing with numerous original Doo-Wop groups. Not surprisingly, their 18-song selection for "Road" concentrates mainly on legendary 1950's NYC area group recordings: the Skyliners' "Lonely Way," the Embers' "Please Mr. Sun," the Belmonts' "Where or When," the Moonglows' "Over and Over Again," the 5 Satins' romantic "To The Aisle," the Students' "I'm So Young," the Harptones' "That's the Way It Goes," the Five Discs' "I Remember," the Dominoes' "Stardust," the Drifters' "What'Cha Gonna Do" and the Teenagers' "Out In The Cold Again." We're hearing a number of these songs for the first time, and there's a lot of good stuff here, sung by the sweet-harmonizing, authentic Boulevards! 8201c CD 14.98
Listen to "To The Aisle"
Posted by acapnews at 12:00 AM
February 4, 2006
Chapter 6 - In Concert (DVD)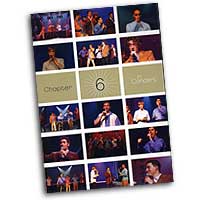 We feel like we know these 7 personable young men from the Chicago area very well. 3-time winners of the Chicago Harmony Sweeps Regional beginning in 2000, they have been onstage regularly at the National Finals, finally winning the whole enchilada in 2004. The liner notes for "In Concert" are about as minimal as they can be—some nice small stills from the DVD on the front, and then a listing of the songs on the back. This seemed curious until we realized that the DVD is aimed at people who have seen Chapter 6 in concert or heard one of their 4 excellent CDs, people like us. We don't need breathless prose to convince us about how wonderful the group is, we know that—let's just get this packaging open, and—cool, there's 2 DVDs, one with 17 hits, and the other with behind the scenes footage. It's all here, Stevie's "Don't You Worry 'Bout a Thing," Freddie's "Bohemian Rhapsody," "Theme and Variations on It Don't Mean A Thing if It Ain't Got That Swing" (which won Best Arrangement in 2004), "Ode to Krispy Kreme" and the hilarious, brilliant 5-minute "Wizard of Oz" that absolutely won them the Finals and drew them another standing O at the A Cappella Summit that year. Great stuff all the way through, and we have to say, stardom couldn't happen to a nicer bunch of guys! 2855 DVD 19.98

Posted by acapnews at 1:01 AM