November 29, 2005
Octapella - Worship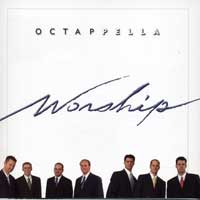 The eight members of Utah-based Octappella met while singing in a college musical ensemble, forming Octappella in the summer of 1999, and now work to promote the popular and growing genre of a cappella music. Specializing in vocal instrumentation and complex, tight harmonies, the group has 2 previous CDs, "The Voice" and "Motion." "Worship" has 17 songs that represent the group's belief in "uplifting, eternal principles." Group member Matt Cropper does most of the arranging, and contributes some nice originals, "Look to God and Live," "Anthem to My King" and "Gloria." "Come, Come Ye Saints," "Keeper of the Flame" "Jesu, the Very Thought is Sweet," "For Always" and traditionals "O Holy Night," "Nearer My God to Thee/Beautiful Savior" and Jean Sibelius' "Be Still My Soul" are favorites. The group has a rich, harmonic choral sound, and the finely-crafted "Worship" touches and moves us on many levels! 7466c CD 14.98
Listen to "Keeper of the Flame"
Posted by acapnews at 11:30 PM
November 27, 2005
Vox One - Pure Imagination
What immediately strikes one upon listening to Vox One's new "Pure Imagination" CD is how good they are – not in a flashy, notice we are brilliant singers kind of way, but in a deeply felt, technically beyond question, born to sing way that shows us all of us lesser talents how its done. After seven years, one of a cappella's most accomplished (and recognized) vocal jazz groups returns to the CD player with a satisfying collection of originals, covers and improvs. Yes, Vox One has matured and is exploring new styles, including Indian ragas and world music tinged vocal jams. For those loyal listeners who loved "Chameleon," "Out There" and "Say You Love Me" and have been waiting for an encore, there are the standards such as "Pure Imagination" (written by Leslie Bricusse and Anthony Newley), and the traditional "Aura Lee," but there are plenty of new songs composed by the group, as well as the six improvised tracks that offer plenty of room for the the five members (Yumiko Matsuoka, Paul Pampinella, Paul Stiller, Jodi Jenkins Ainsworth and Tom Baskett) to stake out new vocal territory. These Berklee College of Music faculty members exemplify what it is to harmonize, blend and intonate with sublime perfection, and we thank them! 9245c CD 15.98
Listen to "Pure Imagination"
Posted by acapnews at 6:19 PM
November 16, 2005
The Isaacs - Bluegrass A cappella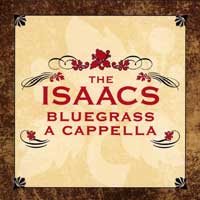 A family group based in Lafollette, TN, the current group members are Lily, Ben, Sonya and Rebecca Isaacs and Rebecca's husband John Bowman. Traveling and singing together for over 30 years, they have a unique style that marries bluegrass music with gospel lyrics. Their concert venues have ranged from the Grand Ole Opry, to Carnegie Hall, and they have won multiple Bluegrass awards for Album of the Year and Gospel Recorded Performance of the Year. We particularly love the spirited original by David Marshall, "Don't You Want To Go To Heaven," three originals by Sonya, "Least I Can Do" (written with Ben Isaacs), the lovely "What Do You See" (sung to the baby Jesus), and "There Through It All" (written with her sister Rebecca); Joe Isaac's "Reaping In the Spirit," and James Hendrix' "I Have A Father Who Can." Covers of "The Star Spangled Banner," "Talk About Suffering" and "Amazing Grace" are fine and soulful. The deep Gospel feeling of these songs goes well with the Bluegrass harmonies, and the pure, simple a cappella voices. "Bluegrass" is the good, authentic stuff, one of the best a cappella Gospel CDs of the year! 3031c CD 14.98
Listen to "Reaping The Spirit"
Posted by acapnews at 1:31 AM
November 15, 2005
Rumors - Something To Talk About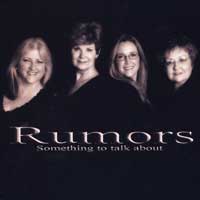 The four talented women of Rumors had been singing together for five years when they were named 1999 International Sweet Adelines Quartet Champions. Since then Charla, Judy, Dale and Peggy have honed and perfected their audience-pleasing a cappella style, and sublime arrangements by premier arranger Anna-Maria Nystrom have added a new dimension to their recordings and live performances. "Something," the group's 4th excellent CD has 12 songs, some favorites are: the Motown classic "Ain't No Sunshine," "Aubrey" (featuring soloist Steve DeCrow), "When She Loved Me" from Toy Story 2, "God Only Knows," Carole King's "I Feel The Earth Move," Sting's marvelous hit "Fields of Gold," the title tune and Harold Arlen and CY Harburg's "Over the Rainbow." "Something" is a winner from Sweet Adelines Champions who have continued to reach for, and achieve, new levels of musical artistry. 5698c CD 14.98
Listen to "Scotland The Brave"
Posted by acapnews at 1:28 AM
November 11, 2005
The Bobs - Rhapsody in Bob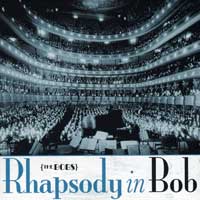 From one of the most inventive vocal groups in history, Rhapsody in Bob has both a classic that truly rocks and classic rock. Gershwin's Rhapsody in Blue concerto premered in New York in 1924 in a program called "An Experiment in Modern Music" alongside pieces incorporating barnyard calls and a tin can. Gershwin originally called the piece American Rhapsody because it was such a melting pot of varied musical elements. So, what better group of artists to revisit this auspicious beginning than The Bobs, with a killer combination of vocal chops, Grammy-nominated arranging, and an inscrutable sense of humor that makes them impossible to categorize? Tallest Bob Ever Dan Schumacher (formerly of Kickshaw) debuts with The Bobs (replacing tenor Joe Finetti) on this album, which also features brand new recordings of six cover tunes ranging from Kurt Weill to Tom Petty to a new Bobs version of Cream's White Room. We love the Bobs! 2955c CD 14.98
Listen to "There Ain't Nobody Here But Us Chickens"
Posted by acapnews at 12:38 AM
November 9, 2005
The Blenders - Most Wonderful Time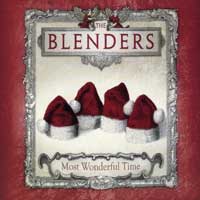 In years past, if we were asked for our favorite Christmas CD, "Nog," by the Blenders came right to the tip of our minds. The all male quartet was the definition of smooth-as-silk, break-your-heart harmonies and Omigod arrangements. But today we found "Time" in our pile of review CDs, and we realized that Santa loves Contemporary a cappella. 12 cuts, all crackling like a yule log with spot-on vocal percussion–the title tune, "Go Tell it on the Mountain," "It Came Upon a Midnight Clear," "Frosty the Snowman/Here Comes Santa Claus" medley, "I Wonder As I Wander," a funky "Deck the Halls," a bluenote "O Little Town of Bethlehem," the walking-jazzy "I Bought You a Plastic Star (for Your Aluminum Tree"), "Away In A Manger," and the Firsesign Theater-ish sound-skit "Christmas Eve," which segues into the incongruous, disco band-accompanied "All Wrapped Up." Each of these songs is a gem that needs a few listens to truly appreciate. The Men in Blend have done it again! 2425c CD 14.98
Listen to "It Came Upon A Midnight Clear"
Posted by acapnews at 11:20 AM
November 3, 2005
Singers Unlimited - In Tune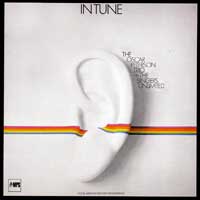 A Classic Reissued! Legendary vocal group The Singers Unlimited, for their third album on Germany's MPS label, recorded a collaboration with the Oscar Peterson Trio. Grammy-winning arranger Gene Puerling wrote the charts and the musicians recorded this remarkable session in 1971 at the storied Villingen studios in the Black Forest. The then latest breakthroughs in studio technology, and the masterful engineer and MPS Records owner Hans Georg Brunner-Schwer, allowed the artists to overdub vocals creating the layered vocals the Singers Unlimited are famous for. Using a sixteen-track deck Brunner-Schwer had bought for the occasion, the group layered on chords, melody lines and solos which we often sung in four or eight part pieces that were later assembled almost magically. The CD sleeve includes rare photos from the session plus both the original LP liner notes and extensive new notes, including many new quotes from Puerling, by noted jazz musicologist James Gaven. A gem of a recording! 4753c CD 11.98
Listen to "Sesame Street"
Posted by acapnews at 3:34 AM