May 25, 2006
Rajaton - Out Of Bounds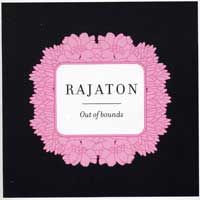 We have heard (and appreciated) many of the songs on "Out of Bounds" by Finnish mixed sextet Rajaton on previous releases. For example, the haunting Irish folk tune "Dobbin's Flowery Vale," the sassy, funny, latin-beat "Un-Wishing Well," "We Walk In A Fog" with its flawless faux horns, a manic cover of Lennon/McCartney's "Lady Madonna" and a gorgeous, floating "Butterfly" are all from the group's 2nd CD "Boundless," but these are not merely reissues. "Dobbin's," the wordless opening cut, has been re-arranged to touch us on an even deeper level, and Swedish Jazz legends The Real Group guest star on "We Walk In A Fog,"—and it's as good as you can imagine. "Vanishing Act" was recorded in Finnish as "Kivinen tie," "Salty Water" as "Venelaulu" and "Snow" as "Lunta" on "Kevat;" all feature spanking new English lyrics. Even the harmonic gem "Mita kaikatat, kivonen?" from "Nova" gets a fresh treatment. New songs include Anuna's Michael McGlynn's "The Wild Song" (originally written for Rajaton, but recorded first by Anuna), Mia Makaroff's jazzy pop "How Little" and a marvelous Sting cover, "I Was Brought to My Senses." If you were possibly kept from falling in love with Rajaton because they weren't "accessible" (you didn't understand Finnish), you are now free to hold in your hand a collection of this amazing group's finest works in perfect English, complete with the harmonies and arrangements that have been blowing us away for five previous CDs (and one hot DVD) now. Enough said! 9880 CD 16.98
Listen to "Un-Wishing Well"
Posted by acapnews at 1:01 AM
May 19, 2006
Blue Jupiter - Live in New York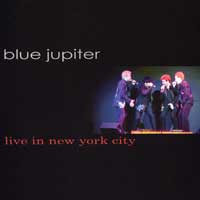 Edgy pop-funk Blue Jupiter, who won Audience Favorite and Best Arrangement at the Washington DC and NYC Harmony Sweeps Regionals 2 years in a row and recently won Oreo's "Milk's Favorite Jingle" contest, which now is all over the radio, brings us their 3rd CD—the first two the critically acclaimed "Ear Candy" and "Scattered Flurries." "Live" has "no tricks, no tracks, just four mouths and four mics," all 12 cuts arranged, performed and recorded by these 4 talented guys in November 2005 in New York City. Smoky Robinson's "Get Ready," Cindy Lauper's "Time After Time," the Turtles' reborn bubblegum hit "Happy Together," a bluesy, funky cover of "Flip, Flop & Fly," the wonderful "Mr. Pinstripe Suit," Carlos Santana's classic "Smooth" and "Wrapped Up In You" from Ear Candy, the vocal percussion drum solo on "Steal My Kisses" and the driving final cut "All The Small Things" are favorites. Inexplicably, there's guitar accompaniment on "Drive," but the crowd is going nuts throughout, and so are we whenever we see or hear this energetic, dynamic quartet—"Live" is a stone winner! 7705 CD 14.98
Listen to "Happy Together"
Posted by acapnews at 2:30 AM
May 5, 2006
Go Fish - Snooze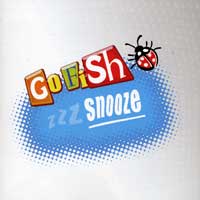 Since they have all married and some have become fathers, the members of one of our favorite Contemporary Christian groups, all-male a cappella trio Go Fish, have released some excellent material directed at their own and other children. "Splash," "Superstar" and the new DVD, "Showtime" are all winners, and "Snooze" is no exception. We were especially impressed with originals by group member Jamie Statema, who wrote the sweet title tune, "Little Buckaroo," "You Are Mine," "You're My Little Girl" and "Awake." We also liked the traditional "SkinnaMarinkyDinkyDink" and a pair of originals by Billy Sprague, "Sail Away" and "Welcome to the World." You can see the love here in the faces of the 3 dads, feel it in their voices as they sing these touching songs, and hear it in the lyrics. "You Are Mine" is a powerful lullabye, letting a child know that they are unconditionally loved and protected as they go to sleep—a big improvement on the fairly scary concept of "If I should die before I wake." Great stuff especially for parents and children from Go Fish! 3057 CD 14.98
Listen to "SkinnaMarinkyDinkyDink"
Posted by acapnews at 12:09 AM
May 4, 2006
Acappella - Radiance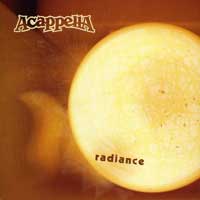 Twenty four years have passed since Tennessee-based Acappella Company first began their quiet ministry together, the dream of a young Keith Lancaster. For years an all-male quartet and now a sextet, Acappella has recorded over 26 excellent CDs and established its reputation as the premier all-vocal group of the Christian music industry. Lancaster again is producer of the album, and we are treated to several more Lancaster originals, "fullness of God," "all men will know," "to whom shall we go," "radiance of God's glory," "be devoted," the wonderful "Lord save me," "no one ever," and the powerful final cut, "a prayer of david." Ten songs in total, all a cappella. Although there are some cool pix of the group hanging out in some sort of greasy spoon in the liner notes, the Acappella Company isn't about glorifying themselves, as even the singers' names are only mentioned once, in small print—the focus is on Jesus and their ministry. Their slogan is, "hear it in our voice," and we can, and so can the millions of people who have seen this great vocal group perform and/or bought a CD. We loved every cut of "Radiance," Contemporary Christian a cappella at its very finest! 3061 CD 14.98
Listen to "Radiance Of God's Glory"
Posted by acapnews at 11:36 PM