July 21, 2006
Gotcha! - At Last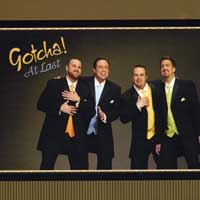 First formed in 1996 by four members of multiple SPEBSQSA Gold-winning chorus the Masters of Harmony, these four young Southern California guys have gained a reputation for hot live performances, ringing chords that last forever and a rainbow palette of loud vests and hankies under matching black suits. First qualifying for the International Quartet contest in 1998 in Atlanta, and placing 20th, the group climbed steadily, placing 12th, 8th, 6th and 2nd in the world before finally capturing Gold medals in Louisville, KY in July of 2004. "At Last" is their 3rd CD winner, following "Again!" and "Right Now!"–all the exclamation points are actually appropriate to describe the energy and spirit of this remarkable group! The songlist includes the inspirational "Pick Yourself Up," "Vict'ry Road" and "Gold," romantic tunes "Somethin' About Ya," "Down By the Old Mill Stream," "More I Cannot Wish You," "Hopelessly In Love" and "I Fall In Love With You Every Day;" and Barbershop standards "I'm Sittin' Pretty In A Pretty Little City," "Luck Be A Lady Tonight" and "Play That Barbershop Chord." This is entertainment, how Barbershop is done by one of the world's finest. 5720 CD 14.98
Listen to "A Blossom Fell"
Posted by acapnews at 2:14 AM
July 20, 2006
Club For Five - Uni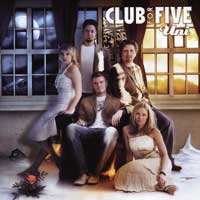 Club for Five, 3 men and 2 women from Helsinki, Finland, was founded in 2001. It consists of musicians with diverse musical backgrounds, Maija, Susanna, Jouni, Tuomas and Tuukka.Their repertoire (both Finnish and English) is mainly self-arranged and/or self-composed pop music containing influences from many musical genres. Their 1st CD, "Eni-ilta" (Premiere) was released in 2004, gained excellent reviews and went Gold in Finland in only a few months. It contained covers of Finnish standards and pop songs with imaginative arrangements. In 2005-2006 they recorded their second album, called "Uni" (A Dream), which is a beautiful, unique collection of 11 all brand new songs. They are all in Finnish, but as with early releases by The Real Group and Rajaton, beautiful, innovative vocal work creates its own language. Listen to songs like "Kun Kaikki muut viela nukkuu," the amazing faux backup band on "Ma tulin sukuun," the poignant, dramatic "Pysahtynyt sunnuntai," the haunting "Kevat uskaltaa" and the surprising, powerful "Ostoskavelylla." Beautiful liner notes, all in Finnish, but the photos also have their own language. This is a very exclusive Club is for five major vocal talents who can sing rings around practically everybody, and have big fun doing it. "Uni" is one of the best contemporary CDs we've heard this year! 1207 CD 15.98
Listen to "Kun Kaikki Muut Viela Nukkuu"
Posted by acapnews at 12:52 AM
Max Q - For The Children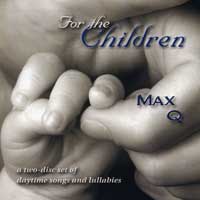 Barbershop supergroup Max Q, Greg, Tony, Gary and Jeff, are all multiple winners of SPEBSQSA gold, with groups like the Vocal Majority, Keepsake, Platinum, Rapscallions and Acoustix, came together to form a barbershop supergroup. At the recent convention in Indianapolis, the group placed 2nd only to Vocal Spectrum, winning Silver Medals against very tought competition. "For the Children is an ambitious 2-CD set of daytime songs and lullabies, dedicated to Tony's niece Christal, who has been courageously fighting cancer since the age of four, and to the group's own 9 children, who receive letters from Daddy in the liner notes. Disc 1 has some wonderful stuff, Disney songs "You Can Fly," Randy Newman's "You've Got A Friend in Me" from "Toy Story," and "Zip-a-Dee-Doo-Dah, "Do-Re-Me" from "The Sound of Music" and "Pure Imagination" from "Willy Wonka and the Chocolate Factory." "Schoolhouse Rock! Medley," "Sesame Street Theme" and "Sing-Along Medley" are all outstanding. Disc 2 has "Brahms' Lullaby, "Jesus Loves Me Medley," "All the Pretty Little Horses," Newman's "When She Loved Me," "Baby Mine" from "Dumbo," "The Five Pennies Medley," "Stay Awake" from "Mary Poppins" and "Hushaby" are all incredible. Great arrangements, harmonies and kid voices (and some occasional light accompaniment) add up to one of the best CDs to turn kids on to singing that we've ever heard. Bravo, guys! 5717 2CDs 24.98

Posted by acapnews at 12:49 AM
July 19, 2006
Fred - The FreDinci Code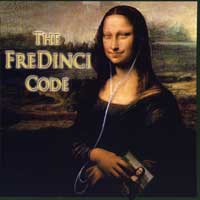 Barbershop Comedy specialists and 1999 SPEBSQSA International Quartet champs Fred have 3 excellent CDs and one DVD under their belts, and "The FreDinci Code" is another winner! Cool graphics on the liner notes include the boys as "Claytino," "Joseppi," "Regetonni" and "Stupido" Fredinci, and have them performing in togas before an amazed, heavily Photoshopped version of DaVinci's "Last Supper." The "FreDinci Code," or songlist, includes 11 straight, or altered, tunes, "Zippitty DooDah," "Me and My Shadow," "What a Wonderful World," "Little Brown Jug," the totally silly Italian lesson "Amore," and "I Gotta Be E," the manic "Can Can," "Sweet Embraceable You," the crazed impersonations of "Fred Vegas Medley" and "Where Did the Time Go." Where indeed? The FreDinci Code needs to be listened to carefully again and again to pick up the jokes, or clues as the case may be. Good, funny stuff. 5718 CD 14.98
Listen to "What A Wonderful World"
Posted by acapnews at 12:37 AM
July 14, 2006
17th Avenue All-Stars - Blend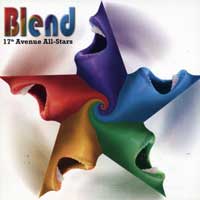 Pride of Denver, CO, and 1993 Harmony Sweeps champs 17th Avenue All-Stars have given us 5 excellent Contemporary CDs, and their 6th, "Blend" is their best yet. One of Colorado's best-loved musical acts, the Stars are real audience-pleasers, whether performing their award-winning Pop Music Show, Dance Party or Doo Wop Show. Formerly a 4 man, one woman quintet, they are now an all male act, adding soulful Jimi Alexander. Blend features 12 finely-crafted covers, some favorites are Christopher Cross's "Ride Like the Wind," one of the best covers we've heard of the Beach Boys' "Good Vibrations," great falsetto leads on Earth Wind & Fire's "Let's Groove Tonight," a fun, seedy take on the Cars' "My Best Friend's Girl," Mr. Mister's "Kyrie Eleison," Richard Marx's "Should've Known Better," Paul Simon's hit "You Can Call Me Al," America's "You Can Do Magic," and Lionel Richie's "All Night Long." Tight vocal percussion, sweet leads and the Stars' shear ability to entertain make Blend a joy to listen to, and another winner for one of our favorite Sweeps champions! 1205 CD 14.98
Listen to "Good Vibrations"
Posted by acapnews at 11:09 PM
July 11, 2006
OC Times - Live From The Contest Stage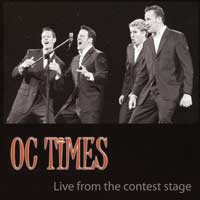 These four fresh-faced, talented young men from (of course) Orange County, CA, inspired by such artists as Michael Buble, Frank Sinatra and Elvis Presley, are reincarnating some of the great swing music songs and rock 'n roll classic hits, with the intention of taking barbershop harmony back to where it started over a century ago, into pop culture. Cutting their barbershop chops as International Chorus gold medalists with the Masters of Harmony as well as section leaders with the local Westminster Chorus, OC Times has been rising like winged cream in International Quartet competition, starting the 2004 contest ranked 46th and rising to 18th at the finish. In 2005 they took the stage at the LDS Conference Center in Salt Lake City, and delivered 6 songs to earn themselves a 5th place International medal. These six songs, "Come Fly With Me," "Honey, Open That Door/Hey Good Lookin' (medley)," "Love Me," "Good Luck Charm," "Put Your Head on My Shoulder" and "Save the Last Dance/Sway (medley)" are live from all three rounds of their award-winning performance. As a bonus, we get to hear the guys as part of the Westminster Chorus (which placed 9th in 2004 and are the youngest chorus every to compete on the international stage) singing "The Way You Look Tonight" and "South Rampart Street Parade." Ringing harmonies, great arrangements, strong leads—the SLC audience loves OC Times, and so do we! 5709 CD 9.98
Listen to "Good Luck Charm"
Posted by acapnews at 1:44 AM