December 15, 2007
An Octave Above - Come on and Take a Sleigh Ride!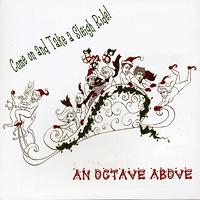 "Sleigh Ride" is the second release from talented mixed-voice (4 men, 4 women) a cappella octet An Octave Above, who were 1st runner-up at the 2005 Chicago Harmony Sweeps Regionals. The group has been gaining fans with live performances at many Chicago venues, and this Christmas album shows off some of their cutting-edge arrangements and tight, jazzy harmonies. 12 songs, some of our favorites are the opening cut "Sleigh Ride," a moody, jazzy "What Child is This" (with a fine solo by Debra), a richly harmonized "Away in a Manger," a bluesy, funky "God Rest You Merry Gentlemen," "Mary Did You Know" (with Melinda's sweet lead), a surreal, '30s-retro "Toyland," a richly Italianesque "Gesu Bambino," a nicely-arranged "O Holy Night," a classic "Silent Night," and an upbeat "We Three Kings" with tight vocal percussion by Scott. Good fun stuff from Chicago sure to brighten your holidays! 7656 CD 14.95
Listen to "Away in a Manger
Posted by acapnews at 12:12 AM
December 8, 2007
The Blenders - Christmas Live in Concert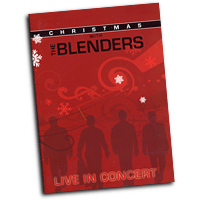 The Blenders have been performing a series of very successful Christmas concerts for many years and now we finally have a chance to see for ourselves what makes the shows so popular. Neither all a cappella nor just Christmas songs the concert is nevertheless a real treat for Blenders fans who enjoy their wonderful harmonies and a blend that can only come after many years of singing together. The all a cappella "Hark The Herald Angel Sings" and "I Wonder As I Wander" are particular treats on this enjoyable live performance footage. 2409 DVD 29.95
Posted by acapnews at 2:39 AM
December 7, 2007
Vocal Majority - Believe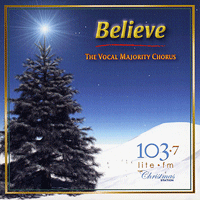 It's not very often that one can say with certainty in the music business that any particular group is the very best of its type in the world. Yet we can say as much with this barbershop chorus as they have 11 gold medals to prove it – more than any other chorus in history. We therefore always have high hopes of their new recordings and expect something close to perfection. Well once again they surpass themselves on this holiday gem. One of the things that always impress is how such a sweet, sometimes so gentle; sound can come from such a large chorus of male only voices. Director (and arranger of many of the songs) Jim Clancy truly has a talent for coaxing the very purest of sound from a chorus. There is the occasional accompanied Christmas ornamentation and some very strong solosby Jay Dennis, Steve DeCrow and Jeff Oxley but it's the harmony that counts, and this recording has some of the best! 5823 CD 14.95
Listen to "Birthday of a King"
Posted by acapnews at 12:56 AM
Voices of Liberty - Christmas in Velvet Vol V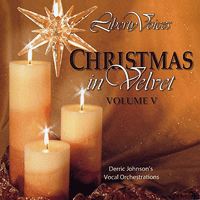 Quite probably the busiest performing a cappella group in the country The Voices of Liberty are also one of the longest running professional a cappella groups as they perform several sets each and every day at Disney World in Orlando, Florida. The group follows in an even longing-running tradition of Regeneration, as both are almost the same as they were both directed by, and perform almost exclusively the arrangements of, the great Derric Johnson. This release follows the four highly successful and still very popular "Christmas in Velvet" recordings and this is a most welcome addition to the series. Derric's arrangements are very distinctive and are seemingly very complex yet very simple all at the same time. One can listen to the songs on different levels either just relaxing and let the voices wash over you or listen intently to every nuance of the arrangement. The company of singers who make up the ensemble are also top-notch and include a barbershop international champion, some rocking contemporary singers and many professional voices that all blend marvelously. If you loved their previous recordings you simply must have this recording. 2468 CD 15.95
Listen to "Let There Be Peace on Earth"
Posted by acapnews at 12:49 AM
Heebee-jeebees - Xmas Nuts!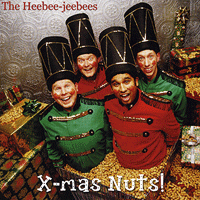 It would hardly be Christmas without a new holiday release from our favorite Canadian merrymakers and the four lads are up to their usual mischief with this highly enjoyable recording. All is fair game as the group twists the lyrics to some Christmas standards along with a healthy dose of Christmas originals highlighting their songwriting skills. Poor Frosty will never be the same, The Merry Gentlemen seem to of gotten lost and ended up on Gilligan's Island and it sounds like The Little Drummer Boy may have been drinking. "Cowboy Christmas" tells quite a tale and I think they make it quite clear what they don't want for Christmas in "Sox & Underwear". It's not all silliness as these guys also show their singing chops on "Huron Carol" and the arrangements are fun throughout. A delightful Christmas title. 2486 CD 14.95
Listen to "Let It Snow! (Mistletoe!)"
Posted by acapnews at 12:49 AM
December 6, 2007
Ambassadors of Harmony - Sounds of the Season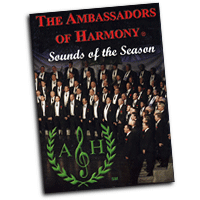 2007 International Silver medalist Chorus (and 2004 International Champions) The Ambassadors of Harmony are an extremely talented 160 voice chorus who really shine under the direction the the very highly regarded director Jim Henry, the bass singers of the International Champion quartet The Gas House Gang. Here we see them perform one of their entertaining live Christmas concerts which was filmed in Touhill Performing Arts Center in St. Louis. A well-produced film which captures the spirit of the season along with both the power and gentleness of such a large male chorus. Includes a special guest appearance from Vocal Spectrum. Recommended. 5768 DVD 19.95
Posted by acapnews at 12:44 AM
Ditchfield Family Singers - A Cappella Christmas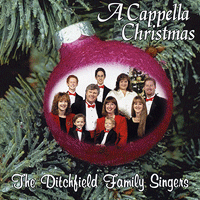 Sarasota, Florida's Ditchfields, inspired by Austria's famous Von Trapps, are actually all members of one family, led by parents Stephen and Bernice, son Nathaneal and his wife Regina, daughter Stephanie, teenage sons Michael and David, and 3 little grandsons, Andrew, Christopher and Joshua. Over the past 14 years the Family has performed the popular music of the '30s, '40s and '50s, show stoppers from Broadway, and the best loved traditional standards. "A Cappella Christmas" comes from their very popular annual Christmas concerts. Thirteen of our favorite carols and hymns: "Carol of the Bells," "Good King Wenceslas," "O Come All Ye Faithful," "In the Bleak Midwinter," "The Little Drummer Boy," "O Come, O Come, Emmanuel," "What Child Is This," "Sweet Little Jesus Boy" and "Silent Night." The arrangements are dramatic and powerful, yet simple and sincere. "A Cappella Christmas" will be a welcome, uplifting addition to your family's holiday celebrations. 87377 CD 14.95
Listen to "In the Bleak Midwinter"
Posted by acapnews at 12:42 AM
December 1, 2007
Praise-apella - The Perfect Gift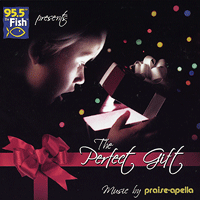 Cleveland, OH based contemporary Christian vocal band Praise-apella are certainly one of the most exiting a cappella groups to emerge over the past few years and this new Christmas release certainly helps further that reputation. Strong individual voices blend seamlessly with interesting arrangements by Ryan Fischer and the group that keeps one's attention. "Do They Know" is a particular treat and "The Angles Medley" will be sure to get you in the Christmas spirit. Sung with feeling this all a cappella recording is indeed The Perfect Gift. 2467 CD 14.95
Listen to "Do They Know?"
Posted by acapnews at 3:25 AM