October 31, 2007
Rajaton - Maa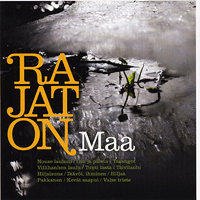 Finnish a cappella ensemble Rajaton, returns to their Finnish folk roots, releasing their 8th CD on the occasion of their 10th anniversary. The Finnish word "Maa," which can be translated as earth, country, dirt, land—complements the return to their roots theme. Here are 12 lovely songs, all in Finnish and all composed and arranged by group members. "Nouse lauluni," which translates "Rise up, my song" (the beautiful full-color liner notes thankfully contain English translations of all the lyrics), "Oin ja paivin," (By night and by day), "Tasangot," (The plains) and "Villihanhen laulu," (Song of the wild goose) are immediate favorites; subtle and mysterious, soft at first and building to crescendos, sweet and heartbreaking. Knowing the translated lyrics is interesting but not really necessary—the feeling of these tunes, the melancholy, longing and depth of these poems touches and moves us. The music for the final track, "Valse triste" was written by the great Finnish composer Jean Sibelius who died 50 years ago, the recording also honors Finland's 90 years as an independent nation. Sibelius' piece is performed wonderfully, in fact we felt the need to listen to each of these 12 vocal gems again to fully appreciate "Maa." 7648 CD 16.95
Listen to "Hiljaisuus"
Posted by acapnews at 12:09 AM
October 26, 2007
Swingle Singers - Beauty and the Beatbox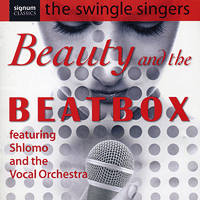 After 44 years of performing in concert and recording, the 2007 version of the Swingles are often asked how the group has changed. The answer is, slowly and naturally they have begun to add vocal percussion, which has made an exciting and indispensable impact on their live shows - and now on "Beauty and the Beatbox," the first Swingles disc where every track contains vocal percussion or human beatboxing. Shlomo, awe-inspiring beatboxer and a great friend of the group who was invited to join the group for an appearance at the London Jazz Festival in 2006, has a major and exciting presence on the album. Included in these 11 tracks are longtime Swingles favorites like "A Fifth of Beethoven, which segues into disco samples (LaBelle's "Lady Marmalade" and the BeeGees' "Stayin' Alive"), "Spain," "Adagio in G Minor," "Bolero," "Cielito Lindo," a hot cover of "Straighten Up and Fly Right" (which has some very fine faux horns), and "Piano Concerto No. 21, 2nd mvt." Besides adding a rich bass dimension to the sweet Swingles leads, Shlomo's beatboxing adds a fresh, irreverent, sassy note to this familiar material that we find very appealing—this is fun, sexy, jazzy, let-it-all-hang-out stuff. Listen to the Starsky & Hutch theme "Gotcha," Ward Swingle's arrangement of Lambert, Hendricks & Lewis's "It's Sand, Man!", and the final cut, the dynamic "Bachbeat," to get a taste of the funky, tasty new Swingles. 7639 CD 17.95
Listen to "A Fifth Of Beethoven"
Posted by acapnews at 2:26 AM