November 27, 2007
The Bobs - Get Your Monkey Off My Dog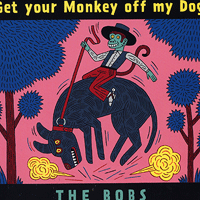 The Bobs' 14th CD is a stunning compilation of 18 new, original songs sprung from the dangerous minds of ASCAP-award winners (and Grammy nominations for vocal arranging) The Bobs. Recorded in Seattle, Berkeley and in Room 144 of the Best Western in Marshalltown Iowa (yep, that's right!), this collection features guest appearances by former Bobs Gunnar Madsen and Lori Rivera. What's the album about? Oh, the usual assortment of obvious topics. Tubas, fast food, feng shui, the wild west, vibration, lame pickup lines, the faux poor, wrong numbers, annoying simians, religious cooking, cow tipping, hope, David Mamet, giant bagels, dating, poverty, and the ability to par-tay... This is classic Bobs guaranteed to please both new and old fans alike. 2457 CD 15.95
Listen to "Never Date a Musician"
Posted by acapnews at 11:27 PM
Octapella - Christmas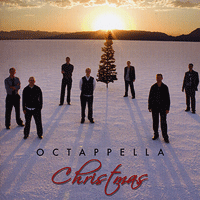 The fourth excellent CD by Utah-based, all male Contemporary octet Octappella, who apply their trademark intricate, tight harmonies, cutting-edge arrangements and bright, solid vocal percussion to 13 Christmas favorites. Jester Hairston's "Mary's Little Boy Child," the wonderful original "Come and See" by group member Matt Cropper (who also does a lot of Octappella's arrangements), a marvelous arrangement of "O Come All Ye Faithful," a sizzling, jazzy rendition of Sammy Cahn's "Let It Snow," Jay Althouse's spirited foot-tapper "Whisper! Whisper!," a pair of innovative Deke Sharon arrangements, "O Come O Come Emanuel" and "Sleigh Ride," "O Holy Night," another nice original, "Christmas Time," by group member Wes Brewer; and the spirited "Child of God" by Emily Crocker are immediate favorites. But "Stars Were Gleaming," "Once in Royal David's City" and "Joy to the World" are also incredible, as if we are hearing these standards for the first time. A brilliant, fun, seemingly effortless, envelope-pushing collection—one of the best we've heard this year! 2447 CD 14.95
Listen to "Whisper! Whisper!"
Posted by acapnews at 1:48 AM
November 24, 2007
Vox Concordia - Making Notes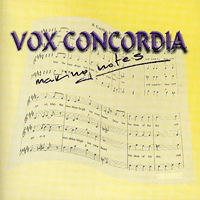 Vox Concordia is a four-man, four-women Vocal Jazz octet from England, who bring us this excellent debut recording of 14 a cappella tunes. They begin with two arranged by Jonathan Rathbone, ex-Musical Director of the Swingle Singers, "Jeepers Creepers" and "A Nightingale Sang in Berkeley Square," a Graham Smith arrangement of the Carpenters' hit "Superstar, a Swingles arrangement of "It Don't Mean a Thing (if it Ain't Got that Swing)," a live, rousing cover of Stephen Foster's "Oh, Susannah!" (with the first faux banjo we've heard)," the very funny live "Adieu, Mon Amour," Irving Berlin's "Puttin' on the Ritz," Randy Newman's touching "When She Loved Me," the pulse-quickening "All Rise," and finally "A Celtic Prayer" with music by Graham Webb are favorites. This is a fine recording and a great addition to anybody's collection. 7649 CD 15.95
Listen to "ASmile"
Posted by acapnews at 12:41 AM
November 22, 2007
Tonis Sol-fa - On Top of the World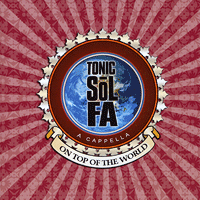 Probably the most rocking and swinging holiday release of the 2007 season this is one fun a cappella Christmas recording. Along with a number of traditional holiday classics the group has written some great original tunes including the infectious "King of Glory", "On This Christmas Night" and the delightful "Come To Save The World". Always known for their high-energy concerts and dynamic stage presence this recording also demonstrates their considerable arranging skills as well. "Happy Holiday", another Irving Berlin Christmas classic, gets a wonderful treatment as does the upbeat "Ay Ay Ay It's Christmas". "Rockin' on Top of the World" will have you dancing around the Christmas tree and the recording closes with a sweet live version of "Baby King". 2446 CD 14.95
Listen to "Ay Ay Ay It's Christmas"
Posted by acapnews at 1:37 AM
November 21, 2007
No Better Cause - Arrival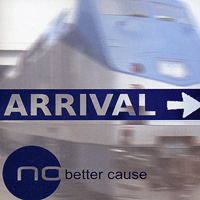 No Better Cause describe themselves as a "five-man pop/rock/funk/Christian a cappella group out of the heartland of America, Lincoln, Nebraska." Although there are some very fine covers on their debut CD "Arrival," notably Sade's "Smooth Operator," Kansas' 'Dust in the Wind," DC Talk's "In The Light," a unky, rhythmic "Rock My Soul" and Earth, Wind & Fire's "Let's Groove;" some of our favorites among these 13 songs are originals, "Q-U-E-E-N," written and composed by group members Lucas Kellison and T.J. Saddler, the powerful "Times Like These" (which won "Best Original Song" at the the 2005 Rocky Mountain Harmony Sweeps Regional), "Valentine," "The Way It Should Be" and "If God Is My Witness," written and composed by group member Nate Kellison. Strong vocal percussion, fresh, innovative arrangements, first-class original material, rich, sweet harmonies—there's a lot to like here. Fast-rising nbc has delighted audiences all across the Midwest, and the aptly-named "Arrival" tells us they're ready to join the elite American Contemporary a cappella groups. 2452 CD 14.95
Listen to "Rock My Soul"
Posted by acapnews at 2:32 AM
November 20, 2007
Go Fish - Snazzy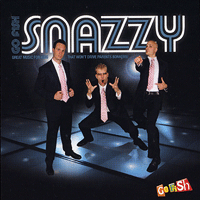 Through six excellent previous CDs, Franklin, TN's dynamic all male trio Go Fish has long become one of our favorite Contemporary Christian groups. "Snazzy," their 7th, continues a trend that began with "Splash" when the "Go Fish Guys" became parents and directed their considerable musical writing, arranging and performance talents to turning on kids to Jesus. "Superstar," "Snooze," and the Showtime DVD, all excellent, followed, and "Snazzy" is every bit as powerful and innovative—we have to report, however, that the whole album is heavily percussioned and accompanied. That said, you and your kids will love these 13 songs, which "rock out," and do it well, more than any Contemporary Christian recording that we've ever heard. The title tune, "Stories," "Superhero," "Bible Book Bop," "Gotta Move," "Saved" and "Love Like This" all have an upbeat, hip Christian message that boogies down. "American Kid" is a patriotic anthem for kids that might have been written and performed by Aerosmith. The funky "Itsy Bitsy Spider" is one of the best arrangements on the album, "The Mom Song" is a hip love letter that everyone can relate to, and the refrain of "Jammies," "Get your jammies on--wash your face, brush your teeth, say your prayers, then go to sleep" is more good advice, that rocks, from Go Fish. 2254 CD 14.95
Listen to "Love Like This"
Posted by acapnews at 2:47 AM
T Minus 5 - Road Trip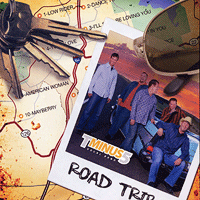 We know we're in for a good time with the first rock-solid vocal percussion beats of War's "Low Rider" come on T-minus 5's "radio," which segues into Sly and the Family Stone's rock anthem "Dance to the Music," an electronic-funky, faux-horned masterpiece. Group member Shawn Satterthwaite contributes the sweet, romantic "Your Love," other nice originals are "Wrapped Up In You" by Wayne Kirkpatrick, and " Midnight Daze" by T Minus 5. Excellent covers of Lennon/McCartney's "When I'm Sixty-Four," "Mayberry," Barry Manilow's "One Voice," "He Still Loves Me" (arranged by our friend Richard "Bob" Green, and The Guess Who's "American Woman" add to the good feeling. We loved T-Minus 5 at the 2001 Harmony Sweeps Finals, and their great harmonies and down home song selection have only gotten better. Every song on "Road Trip" is a winner! 2434 CD 14.95
Listen to "American Woman"
Posted by acapnews at 2:43 AM
November 8, 2007
Tone Rangers - We Think You Love Us (But We've Been Wrong Before)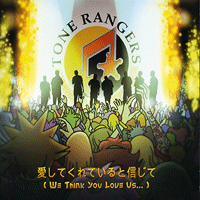 Pride of Washington, DC, the all male a cappella octet Tone Rangers put on a great performance at the 2002 Harmony Sweeps National Finals, and have been delighting audiences across the country ever since with their rich harmonies, fine arrangements and wonderful sense of humor ever since. Beginning with a brilliant send up of the Partridge Family's "I Think I Love You," this album continues with a Crosby, Stills, Nash & Young "Find the Cost of Freedom"/"Southern Cross" medley that's sweet enough to bring tears to the eyes of us old time CSNY fans, and a breathtaking, silly tale of hippie love, "Ariel." Continuing this spirited collection of 13 songs are a "Brown-Eyed Girl" that Van probably didn't have in mind, a rendition of "Unchained Melody" that has a little too much moonshine before going horribly astray, a manic "Sweet Talkin' Woman," a reasonably straight cover of "Rock the Boat," and an incongruous, lovely take on the romantic British folk tune "Down by the Salley Gardens" that could descend into silliness at any moment but doesn't."Viva Las Vegas" begins with the cloying sound of slot machines and features a nice "Elvis" lead in front of decidedly "non-union" background singers. The live cut "Wild Thing" begins as a hilarious Gregorian chant, and "I Need You" somehow samples "Meet the Flintstones," and the "Jetsons' Theme." The Rangers are funny, talented, always surprising--you've just gotta love these guys. (We think!) 2419 CD 14.95
Listen to "I Feel Fine"
Posted by acapnews at 3:05 AM
November 2, 2007
Wo'xang - One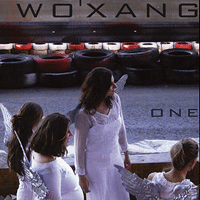 FInes, Nicole, Sylvia and Marina are members of the fast-rising new Austrian a cappella quartet WO'xang, and One is, appropriately enough, their first release. These talented, beautiful young women have a fresh, avant-garde sound with elements of Folk, Jazz, Pop, and Choral with many original arrangements, compositions and lyrics that catch and hold our attention. Favorites are "Sweet Temptation," with lyrics by Nicole added to a Venezuelan traditional melody (with some non-vocal percussion); "Sunday," "I don't know" and "Just for Yourself," with music and lyrics by Marina, the powerful "Black Dog" and "Tickles" by Nicole Weiser; and "Supervibe" with music and lyrics by Sylvia. Strong covers of Judie Tzuke's "For You," Tori Amos' "Leather," Joni Mitchell's "Shadows and Light" and George Michaels' "Father Figure" mesh perfectly with the original material. The final cut, "Kyrie," joins the music of Marina with Nicole's lyrics, and is guitar accompanied. All songs are in English. Beautiful voices that stand alone and harmonize effortlessly, wonderful, provocative lyrics—"One" impresses and moves us in so many ways—one of the best debut CDs of the year! 2439 CD 15.95
Listen to "Leather"
Posted by acapnews at 12:41 AM