October 31, 2009
Bella Voce - Now Let Us Sing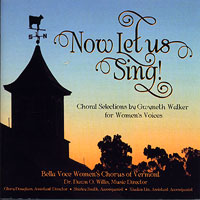 Founded in 2004 by Dr. Dawn Willis, Bella Voce consists of 40 to 45 auditioned singers, performing existing and newly-commissioned sacred and secular works for women's voices. The ensemble is drawn from four counties throughout Vermont, many of whom also sing in a variety of school, church and community choruses across the region. One of the highlights of the last few years for Bella Voce has included several collaborations with Gwyneth Walker. The members have enjoyed working closely with this gifted composer, whose catalog includes over 170 commissioned works, reflecting both serious and light-hearted musical styles. These 17 works are surprising, refreshing, witty, innovative and inspiring. Some favorites are "Women Should be Pedestals," the dramatic "How Can I Keep From Singing," "Gifts From The Sea," the delicate "Mornings Innocent," the a cappella tune "The Name is Changeless," the joyous "Love Is A Rain of Diamonds," the love song "I Will Be Earth," the lovely a cappella song "So Many Angels," "Walk That Valley," "Never Sit Down," the traditional songs "Crossing the Bar," "Peace I Ask of Thee, O River" and the title tune. There is some light accompaniment on most songs. The beautiful liner notes contain all the lyrics. An uplifting treat from Bella Voce and the wonderful composer Gwyneth Walker, that will touch and move you from beginning to end! 4235 CD 15.95
Listen to "Walk That Valley"
Posted by acapnews at 1:06 AM
October 26, 2009
Anuna - Sanctus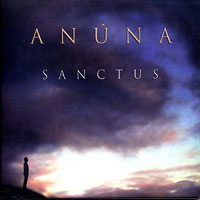 Sanctus features seven tracks, including the famous "Miserere Mei Deus" by Allegri. This sublime piece features stratospheric soprano vocals and runs to just under 13 minutes in length. The album includes four original pieces by Michael McGlynn, including his "Agnus Dei". Four of the tracks have been previously released, however over two thirds of the album features newly recorded material. 4867 CD 15.95
Listen to "Mariam Matrem Virginem"
Posted by acapnews at 11:45 PM
October 21, 2009
Santa Fe Women's Ensemble - Music Is Our Joy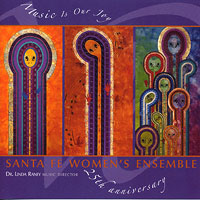 Santa Fe Women's Ensemble has been singing together for New Mexico audiences since 1981, and has performed all its Christmas concerts in the acoustically magnificent Loretta Chapel in Santa Fe. The 14-voice group performs seldom-heard and challenging music from all periods, and has commissioned 22 new works. The pieces on this Christmas album are from Christmas and Spring Offering concerts from 2003 to 2005. Dr. Linda Raney has directed the SFWE since 1988 and is director of music and organist at the 1st Presbyterian Church in Santa Fe. There are 24 songs, some lightly accompanied, in this generous, eclectic collection. Jim Leininger's soaring "Deo Gracias," Karl Henning's "Alleluia in D," William Byrd's "Non Nobis, Domaine," Samuel Coleridge-Taylor's "What Can Lambkins Do," Daniel Gawthrop's dissonant "There Is Sweet Music," Pavel Chesnokov's "Otche nash" and Stuart McIntosh's "Baloo Baleerie" are lovely, rarely-heard, unexpected selections for a Christmas album, but they work. Michael Larkin's "Ave Maria," "Carol of the Drum," Palestrina's "Hodie Christus Natus Est," "Four Noels," "Il est ne, le divin Enfant," "Polish Christmas Carols" and Handl's "O magnum mysterium" are more familiar and no less enjoyable. "When the Savior Christ is born," "He is sleeping in a manger," "Sleep Thou, my Jewel," Keith Christopher's "Beyond Winter," Naomi Stephan's "Hodie" and Uzee Brown Jr.'s "Oh, the Savior's Comin, Hallelu" are all relatively new to us, lovely and fine. A beautiful, impressive, eclectic holiday collection from one of New Mexico's finest women's ensembles! 5786 CD 15.95
Listen to "Beyond Winter"
Posted by acapnews at 12:00 AM
October 17, 2009
James Jordan - Evoking Sound 2nd Edition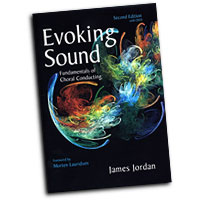 Evoking Sound set new standards for its vision of the choral conductor's role when it was published in 1998. Now significantly revised and expanded, James Jordan's groundbreaking book incorporates more than ten years of new conducting insights, pedagogy, and philosophy to create a resource that is not only informative but transformative. Unique to this edition is the inclusion of a revolutionary DVD with Dr. Jordan and Eugene Migliaro Corporon of the University of North Texas. For the first time, a conducting text contains visual examples of patterns that—with the help of state-of-the-art animation and multiple camera angles—guide you to a deeper understanding of how conducting gesture influences sound. You will come away from Evoking Sound with a renewed sense of the totality of the conducting experience and also an understanding of how to better evoke honest and meaningful sounds from your choir. 5573 Book & DVD 49.95
Posted by acapnews at 12:00 AM
October 9, 2009
The Sixteen - Sounds Sublime - The Essential Collection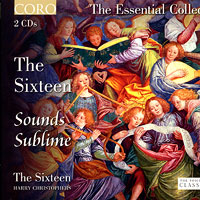 Some of the most celebrated recordings from Harry Christophers and his award-winning ensemble, in a beautiful 2-CD digipak set. Equally appealing to fans of The Sixteen as well as listeners who are unfamiliar with the group, this set provides a definitive collection of familiar classics and lesser-known treasures. 9134 2CDs 16.95
Posted by acapnews at 12:00 AM
October 3, 2009
BYU Women's Chorus - Wondrous Love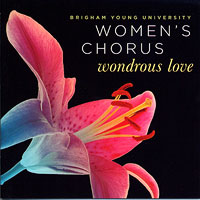 Emerging with beauty and grace, well-known Utah choral conductor Jean Applonie has ushered the BYU Women's Chorus into the ranks of BYU's premier auditioned choirs, featured on Tantara Records. Heard previously on best-selling Tantara CDs A Thanksgiving of American Folk Hymns and The Road Home, the BYU Women's Chorus presents its first complete CD with the beautifully executed Wondrous Love. 8934 CD 15.95
Posted by acapnews at 12:03 AM
St. Louis Children's Choir - 30th Anniversary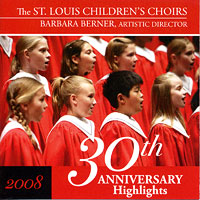 Artistic Director Barbara Berner leads the various permutations of the 500 strong St. Louis Children's Choirs in this accompanied, 2-disc collection of 38 songs, which features eight new works commissioned to celebrate the Choirs' 30th anniversary. These include the Concert Choir, Children's Choir, Music Makers, Chorale, Chamber Singers, Young Men's Ensemble and Alumni of these smaller choirs. These commissioned works are among our favorites: Imant Raminsh's "The Path That Leads to Nowhere," Lee Kesselman's "Rad Halaila," "Dream Angus," arranged by Mandy Miller, Rollo Dilworth's "A Symphony of the Heart," David Brunner's "Psalm of Praise," David Gawthrop's "Repose," Bob Chilcott's "Red Boots On," and Andrea Ramsey's "Cover Me With The Night." Each of these choirs has its own personality and sound, and the well-chosen songlist is a joy from beginning to end. Meet us in St. Louis for this beautifully recorded, feel-good collection! 9169 2CDs 19.95
Posted by acapnews at 12:01 AM