May 18, 2007
Dale Warland Singers - Lux Aurumque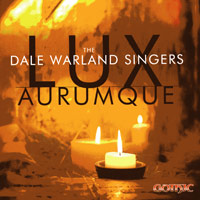 Grammy-nominated Dale Warland Singers' final concert, on May 30, 2004, concluded 31 years of concerts, tours, radio broadcasts and critically acclaimed recordings. The Singers, a 40-voice professional choir based in Minneapolis/St. Paul, were recognized as one of the world's best a cappella choral ensembles. "Lux" is a collection of popular 19th and 20th century sacred music that shows just how high Dale Warland's standards were in creating and working with his renowned group. Picking favorites from this strong program isn't easy, but certainly Gretchaninoff's "Of Thy Mystical Supper," Vytautus Miskinis's "O sacrum convivium," Chesnokov's "Salvation is Created," John Rutter's "Hymn to the Creator of Light," the title tune by Eric Whitacre, Dominic Argento's "To God" (In Memoriam M.B.), and Nikolai Golovanov's "Otche Nash." The Dale Warland Singers has long been a favorite of ours for their bright, powerful harmonies and strong direction; "Lux Aurumque" is a beautiful, appropriate swan song for this great ensemble. 8621 CD 15.95
Listen to "Otche Nash"
Posted by acapnews at 1:49 AM
May 10, 2007
Lionheart - El Siglo De Oro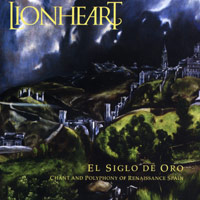 Great recordings of the Spanish Renaissance composers Francisco Guerrero and Cristobal de Morales are often hard to find. Luckily, Lionheart has simplified the task by taking matters into their own hands - they recorded their own album. Perfectly balanced and blended voices are qualities to which every vocal ensemble aspires, but not everyone acquires. Lionheart does. If you love the Renaissance Period or you're wanting something other than the usual Mozart and Beethoven, Lionheart's El Siglo de Oro is just the album for you. 8498 CD 16.95
Posted by acapnews at 11:54 PM
May 6, 2007
Chanticleer - And On Earth, Peace: A Chanticeer Mass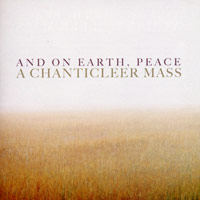 With its seamless blend of twelve male voices, ranging from countertenor to bass, the San Francisco-based ensemble Chanticleer, celebrates the life of their founder Louis I. Botto on the 10th anniversary of his death. Five composers create a mass that evolves organically, as if written by one hand and the ensemble brings it to life. Using Gregorian Chant as a foundation this Mass evolves organically, as if written by one hand. These composers bring international prestige to the project as well as vastly different life paths and points of view. Israeli-born composer Shulamit Ran wrote the Credo to the Hebrew text "Ani Ma'amin." Well-known television composer Douglas Cuomo contributed the Kyrie. Turkish-American Kamran Ince composed the Gloria section in to a sufi text, while Ivan Moody, drawing from the Greek Orthodox tradition, delivered the Sanctus. The Irish folk and medieval music-influenced composer Michael McGlynn (Anuna) composed the Agnus Dei. To seamlessly travel from one composer to the next, Chanticleer offers haunting and beautiful pieces by Gesualdo, Part, Binchois, and Gabrieli. 8627 CD 16.95
Listen to "O Salutaris Hostia"
Posted by acapnews at 12:42 AM
May 5, 2007
Kansas City Chorale / Phoenix Bach Choir - Eternal Rest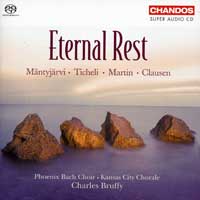 Finnish composer Jaakko Mäntyjärvi (b. 1963) writes some of today's more innovative choral music. It's not only creatively interesting but it also maintains the qualities of tonal/harmonic accessibility and text-centered immediacy that allows it to register with a broad spectrum of listeners. His collections of Shakespeare Songs, More Shakespeare Songs, and No More Shakespeare Songs show a composer at once in love with his subject and fully in tune with his audience - and one clearly in possession of a sense of humor! On this recording we hear a profoundly serious work, in memory of the victims of a terrible Baltic Sea tragedy in September, 1994, in which the luxury ferry Estonia sank in a storm, killing 852 passengers. Canticum Calamitatis Maritimae incorporates elements of Psalm 107 ("They that go down to the sea in ships...") with news accounts of the disaster (taken from a Latin-language Finnish radio broadcast), employing dramatic, rich-textured choral utterances (including the whispered prayers of the opening and closing bars) along with chant-inspired passages and an occasional folk-song-like melody, all of which culminates in an extended passage of beautiful and often surprising harmonies, ideally defining the text at the end of the Psalm: "He maketh the storm a calm, so that the waves thereof are still..." This is a moving and memorable work, one that these choirs perform with care and confidence under Charles Bruffy's artful direction. Frank Martin's Mass for double choir has been recorded many times--and mostly very well--and this is another fine rendition of a work that seems to register its "classic" credentials more impressively every time you hear it. René Clausen's In pace, cut from the same vibrant-colored harmonic cloth as the Ticheli, is another work that deserves repertoire status, and again, Bruffy's singers perfectly capture its nuances of texture and dynamics and give full measure to the big sonorities. The complementary acoustics of Camelback Bible Church in Paradise Valley, Arizona, expertly recorded for this hybrid SACD, complete a program that should have strong appeal to all choral music fans. 8497 SACD 23.95
Posted by acapnews at 12:39 AM