November 29, 2006
Concordia Choir - O Come All Ye Faithful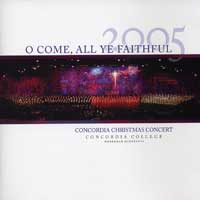 With almost 20,000 attendees at their annual Christmas series of concerts and the airing on PBS television and radio stations across the nation has certainly made the Concordia Choir a great Christmas tradition for many. The 400 voices celebrates the birth of Jesus Christ with some spectacular arrangements including "Gesu Bambino" and the title track "O Come All Ye Faithful". Two new compositions by director Rene Clausen, who has over the 26 years he has been directing the choir become world-renown, are superb. Always top-notch this choir continues to build upon it's already excellent reputation. 8463 CD 15.98
Listen to "Hodie Christus Natus Est"
Posted by acapnews at 2:02 AM
Nordic Choir - The Road Home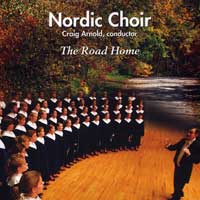 This CD is a compilation of performances by Nordic Choir throughout the Midwest, including their own Center For Faith and Life at Luther, Chicago's renowned Orchestra Hal, director Craig Arnold's hometown of Brainerd, Minn., the birthplace of Lutheranism in Wittenberg, Germany; and the regional concert landmark, Orchestra Hall in Minneapolis. The repertoire is a great selection of some of the 20th century's finest choral composers including Randal Thompson, Stephen Paulus and Ralph Vaughn Williams. This great choir with it's long and accomplished history releases yet another quality recording that's bound to please. 8462 CD 15.95
Listen to "Why Oh Whyt"
Posted by acapnews at 1:05 AM
November 21, 2006
Washington Men's Camerata - Brother's Sing On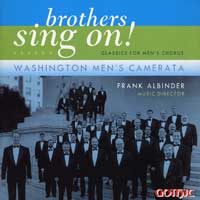 The ancient art of men's choral singing began early in the history of western music. From its roots in Jewish liturgical chant and the monastic chants of the early Christian church, through groups of troubadours in Medieval France and the male singing societies of nineteenth-century England and Germany, the male chorus has a rich and varied history, influenced by many of the world's most important cultures and religions. In modern times, male chorus traditions are carried on by collegiate and community choruses in dozens of countries around the world. With this program, the Washington Men's Camerata begins a series of recordings of some of the timeless gems of our repertoire, with the hope that this lasting testament to the power of men's voices raised in song will serve to inspire future generations of singers. 8404 CD 15.98
Listen to "Down By The Sally Gardens"
Posted by acapnews at 11:38 PM
November 15, 2006
King's Singers - Landscape and Time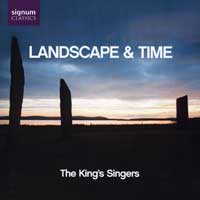 The King's Singers present a disc of some of their best and most requested repertoire. We are all shaped, perhaps unconsciously, by the landscape and time in which we live. This evocative and spiritual programme, which contains five King's Singers commissions, explores the links between human life and it's surroundings through the different personal languages of poets and composers. Music from the Orkneys to the American desert, from Finland, Estonia and England to Hungary and Japan makes this one of the King's Singers finest recordings in years. 8451 CD 16.98
Listen to "Onnis on inimene"
Posted by acapnews at 3:07 AM
November 14, 2006
Cambridge Singers - Lighten Our Darkness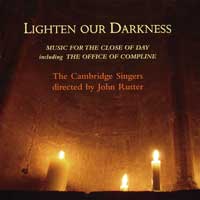 The service of Compline is the last of the seven daily services observed in monastic communities, taking place immediately before bedtime. This CD gathers together 18 of the many lovely a cappella choral motets, mainly from the Renaissance period, which were written to adorn the evening worship of the church. Composers featured include William Byrd, Orlando de Lassus, John Sheppard and others. In some traditions it became the custom to include a Motet of the Virgin Mary within Compline. Here we have four examples by de Victoria and a beautiful Ave Maria by Rachmaninov. The Cambridge Singers, directed by John Rutter, sing as well as ever and the clear and cool acoustic of the Lady Chapel at Ely Cathedral make it the perfect setting for Compline. In addition there is a 22 minute bonus disc in which the Office of Compline, sung in English with its traditional chants, is given in its entirety with John Harte as Reader and Simon Wall as Precentor. 8399 CD 15.98
Listen to "O Gladsome Light"
Posted by acapnews at 11:09 PM
November 2, 2006
Die Singphoniker - German Folksongs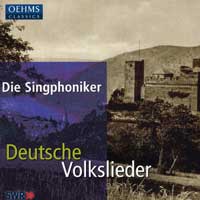 Their repertoire ranges from Gregorian chant to contemporary music – all the way to easy listening. After 25 years in the limelight, the six-voice vocal ensemble can look back on over 1000 concerts throughout the world. For the first time, however, the Singphoniker are releasing a CD with German folksongs. Their program consists of works by Silcher, Brahms and Reger, each of whom had a completely different approach to handling old tunes. Their common goal, however, was a desire to reacquaint their contemporar-ies with the vast treasures in the folk repertoire. The Singphoniker's CD will contribute to making known as well as unknown folksongs – which are not very at-home in the concert hall – resound again in the private environment: singing or humming along is expressly desired! 8444 CD 15.98
Posted by acapnews at 1:09 AM