November 28, 2007
New York Polyphony - I Sing The Birth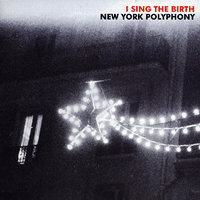 New York Polyphony is rapidly gaining a reputation as one of the finest new classical vocal ensembles. Fusing elegant vocalism with expert ensemble singing, its four male voices consistently deliver dynamic performances of music spanning nearly a millennium in a range of styles, combining historically-informed interpretive style with their own unique artistry. From the simplicity of plainchant to the dense chromaticism of contemporary works, the New York Polyphony sound is unified, energized and distinctive. The musical landscape traversed on this disc of music for the Advent and Christmas season is broad, from 12th century conductus to a 21st century carol, though the musical center is firmly polyphonic and rooted in the late Medieval world. The group is joined by a women's trio in several works written for more than four parts. The sound is clean and present, with appropriate resonance for this material. For the listener looking for a collection of contemplative Christmas music that steers clear of the most obvious selections and introduces intriguing new repertoire, as well as for the fan of early music vocal ensembles, this album has much to offer. 8761 CD 16.95
Posted by acapnews at 10:50 PM
Chanticleer - Let It Snow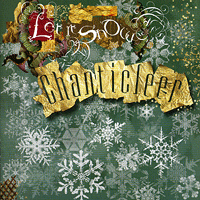 Chanticleer - Known for their moving interpretations, spiritual insight and outstanding musicianship, Chanticleer has released several top-selling Christmas recordings . . . but none like this! This spectacular Christmas record is packed with holiday favorites with the additional treat of a couple of commissioned Gene Puerling arrangements. Clare Fischer and Bill Finegan also deliver upbeat arrangements for this lively holiday CD that is sure to be a family favorite for years. Most songs are a cappella with just a couple of tracks having full orchestra and swing band selections. This is a wonderful Christmas recording and is highly recommended. 8677 CD 16.95
Listen to "The Christmas Song"
Posted by acapnews at 12:03 AM
November 27, 2007
Choir of All Saints Church, Beverly Hills - Be Still, My Soul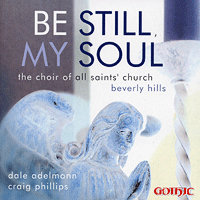 A stunning program of contemplative sacred texts set to some of the most beautiful singing we've heard. Slow, focussed intensity creates a strong emotional response from many listeners. The Martin piece alone is worth the price of admission. With premiere recordings of new anthems by Craig Phillips and Roland Martin, this CD is also the first recording of the widely admired Choir of All Saints, Beverly Hills, under its new director, Dale Adelmann. The Choir specializes in music of the Anglican cathedral and American Episcopal choral traditions and is equally at home singing the great masters of the European Continent.
8674 CD 16.95
Posted by acapnews at 1:17 AM
November 23, 2007
Latvian Radio Choir: Glorious Hill - Gavin Bryars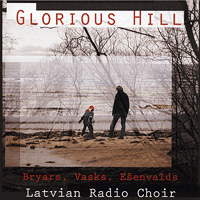 In recent years Gavin Bryars has concentrated to a great extent on writing for the human voice - and a great deal of this is choral music. He has a close relationship with ensembles from the Baltic, especially the Latvian Radio Choir, now without doubt one of the world's greatest choirs. His first collaboration with them on GB Records was the superb On 'Photography', which was an Editor's Choice in Gramophone and extensively played on BBC Radio 3. This very fine choir is at home in all forms of contemporary music, but also in music from the baroque as well as early music. Many of Gavin Bryars' works on this recording take forms from early music, and some pieces originate in collaborations with early music ensembles - such as the Hilliard Ensemble and Trio Mediaeval. Here we have the stunning female voices of the Latvian Radio Choir in 9 and 11 part laude; the whole choir a capella in Glorious Hill and, in Cadman Requiem, accompanied by Riga Cathedral's magnificent organ in the cathedral's stunning acoustic. As on the first recording with the Latvian Radio Choir, Gavin Bryars has included works by Latvian composers close to his heart. Eriks Esenvalds is a young composer whose work recorded here was awarded first place at the 2006 International Rostrum for Composers. Peteris Vasks is perhaps the best known of all living Latvian composers. The work of both composers has a profound concern for the spiritual, which has led it to be linked with the music of composers such as Arvo Pärt or Giya Kancheli.
8751 CD 15.95
Posted by acapnews at 11:26 PM
November 20, 2007
Portland State University Chamber Choir - Veljo Tormis on American Shores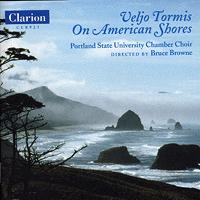 Every recording has a story behind its genesis. In 2003 Estonian Composer Veljo Tormis heard the Portland State Chamber Choir while they were on tour in his country. Tormis was so taken with the brilliant artistry and expressive power of the ensemble he requested that Bruce Browne and his singers do a recording of his music sung in English. For almost two years the Singers, their conductor and the composer worked together on this project. Tormis was very prominent in the interpretation. He supervised the learning of the music in preparation for the Chamber Choir's appearance at the Northwest Convention of the American Choral Director's Association 2006. Veljo Tormis, On American Shores is a recording with a significance of strong integrity by both Composer and Artist. Bruce Browne is emeritus Professor of Music and Choir of the Vocal and Choral area at Portland State University. He is also Conductor Emeritus of the Portland Symphonic Choir and founder and director of the professional choir, Choral Cross-Ties. The Portland State Chamber Choir is recognized as one of the top University Chamber ensembles in the United States.
8744 CD 15.95
Posted by acapnews at 2:39 AM
November 14, 2007
American Boychoir - Harmony - American Songs of Faith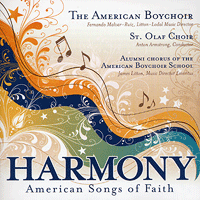 American Boychoir - The newest release from The American Boychoir, directed by Fernando Malvar-Ruiz, is a wonderfully eclectic collection that reflects the faith that has been expressed consistently across different backgrounds, religions and races since the founding of this country. This fine recording includes familiar camp songs, Sunday School melodies such as "This Little Light of Mine", praise songs and beloved hymns that sprang from American soil such as "Happy Land" and "Amazing Grace". Also featured are three tracks sung with the renowned St. Olaf Choir conducted by Anton Armstrong. The Alumni Chorus of the American Boychoir School, conducted by Music Director James Litton, makes a special guest appearance on the album as well. 8701 CD 15.95
Posted by acapnews at 10:49 PM
November 9, 2007
Trio Mediaeval - Folk Songs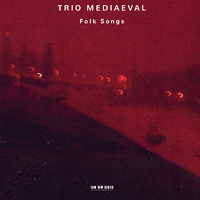 Trio Mediaeval - The Norwegian women's ensemble Trio Mediaeval specializes in early music, but also sings new music, and in this album it branches out to arrangements of folk songs. Folk musician Tone Krohn and group member Linn Andrea Fuglseth made the arrangements, which are magical and lovely. Given the constantly evolving conventions of the folk repertoire, the trio and arrangers are under no constraints to discover and follow an authentic performance practice for the songs, so the arrangements are stylistically and idiomatically varied. They retain the simplicity of a folk song, but the harmonies frequently push the folk style toward a heightened expressivity through the judicious (and highly effective) use of dissonance. One of the most striking characteristics of the arrangements is the textural variety they achieve -- it's frequently hard to believe that only three voices are able to create such a rich contrapuntal web. The group sings with great purity and excellent blend, so the tart harmonies really ring, and their rhythmic incisiveness keeps the music lilting. Birger Mistereggen accompanies them on various percussion instruments, drums, and jew's harp. His contributions are discreet, but add immeasurably to the color and atmospheric variety of the music. ECM's sound is characteristically immaculate, with good resonance. The beautifully performed and produced disc should appeal equally to lovers of folk music, women's voices, and contemporary music for small vocal ensembles. 8728 CD 16.95
Listen to "Dance, Do Not Cry"
Posted by acapnews at 1:10 AM