June 29, 2006
Collegium Regal - Lassus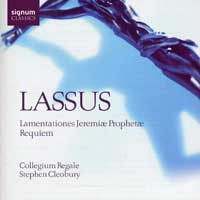 During the last thirty years of his life, Orlande De Lassus was the most celebrated composer in Europe. From the time that he took up the duties of maestro di cappella in the court of the Dukes of Bavaria at Munich, he began to be called 'prince of musicians' and 'the divine Orlande'. The pieces selected for this recording represent Lassus's treatment of them of death during the mature period. The first group considers the death of Christ; the second, the death of a Christian. Stephen Cleobury is associated with two of the most famous choirs; as Director of Music at King's College, Cambridge and Chief Conductor of the BBC Singers. 8325 CD 15.98

Posted by acapnews at 12:01 AM
June 26, 2006
Orlando Consort - The Rose, The Lily & the Whortleberry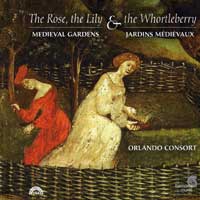 In celebration of the floral imagery used by many of Europe's greatest composers over a span of 300 years to depict both earthly and heavenly love, the Orlando Consort sings poetic texts ranging from the sacred to the downright suggestive. Includes essays by Sir Roy Strong, Susan Hitch; and a garden design created by Christopher Bradley-Hole. Also included is a handsomely illustrated book full of beautiful medieval paintings and photographs of surviving gardens. Additional notes are contributed by Sir Roy Strong, President of the Garden History Society of England; Susan Hitch, an expert in medieval literature and a BBC Radio 3 presenter; and Christopher Bradley-Hole, one of the world's top garden designers, who contributes a plan for your very own neo-medieval garden. 8335 CD 16.98

Posted by acapnews at 11:57 PM
June 17, 2006
Optina Pustyn Male Choir - Russia's Most Beautiful Songs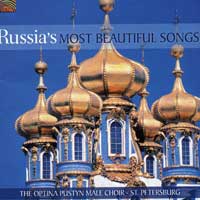 The Optina Pustyn Male Choir consists of six to nine professional musicians trained at the St. Petersburg Conservatory. The choir tours and has produced five CDs to date, but they are also part of the regular monastic choir at the Optina Pustyn Monastery in St. Petersburg. Singing in the tradition of the world famous Don Cossack Chorus directed by Sergei Jaroff the choir sings Russian traditional songs including favourites such as the 'Volga Boat Men' and the 'Legend of the Twelve Robbers' and others. Information in English, German, French and Spanish, plus complete lyrics in Russian with English translations. 8328 CD 14.98
Listen to "Little Cuckoo"
Posted by acapnews at 2:44 AM
June 6, 2006
King's Singers - Colouring Book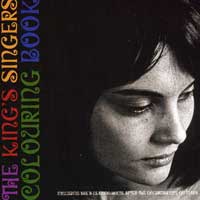 The King's Singers were the first to apply choral technique to popular material and Colouring Book concentrates on their unforgettable arrangements of international pop hits of the sixties and early seventies. Some of the selections are drawn from their sessions with Beatle's producer George Martin including the remarkable 'She's Leaving Home'. Several of their Lennon and McCartney recordings are well represented here alongside songs written by the other giants of contemporary pop; Bob Dylan, Brian Wilson, David Bowie and Neil Young. To these diverse writers, the King's Singers bring their beautiful tone, balance and synchronisation with equally marvellous effect. 8323 CD 15.98
Listen to "Michelle"
Posted by acapnews at 1:19 AM
June 1, 2006
VocalEssence - Hymn to Potatoes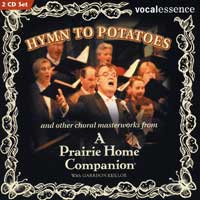 Who knew a choir could be this funny? Garrison Keillor, Philip Brunelle and the VocalEssence Ensemble Singers dish up a generous helping of Potatoes a la Schubert, run away to Europe to indulge their "Shenandoah" habit, and enlighten us on the T.U.L.I.P. doctrine. This two-CD set of the best choral skits and bits from 10 years on A Prairie Home Companion includes the often-requested "Julia" (John Lennon) and a rare choral interpretation of "Karma Chamelon" (Boy George). 8318 2CDs 19.98

Posted by acapnews at 12:40 AM