December 15, 2008
Phoenix Choir - Spotless Rose: Hymns to the Virgin Mary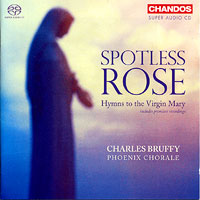 'Choral singing just doesn't get much better than this. When it comes to purity of tone, daunting precision and superfine blend, Charles Bruffy's remarkable Phoenix Chorale have it all – and then some!' - Gramophone Magazine. Praise indeed for this multiple Grammy nominated recording. Unified by its Marian idea, the program mixed classic British and contemporary American pieces in a novel way, and it provides an excellent window for the world on the vigorous tradition of a cappella choral music that has evolved independently of academic trends and their strictures. All the music here exploits, to a greater or lesser degree, the acoustic effects possible with an a cappella chorus in a large space, and Chandos, turning its engineers loose in an Arizona desert megachurch called the Camelback Bible Church, achieves spectacular results. The standout is perhaps the final four-movement Electa, by Kansas City composer Jean Belmont Ford, with its intense passages of overlap between a solo soprano tone and the choir and its haunting use of solo timpani and bass drum, the only instruments heard anywhere on the disc. Both the Ford work and the Two Marian Pieces by Spanish-born Javier Busto are world premieres, and both are likely to be eagerly adopted by other choirs. The singers shine equally in the subtle dissonances of the first of Busto's pieces and in the tricky artlessness of Benjamin Britten's A Hymn to the Virgin. This is a triumph of engineering, of choral singing, and of conducting on the part of Charles Bruffy, a protégé of fabled American choral conductor Robert Shaw, who, like his mentor, has achieved impressive, sensuously irresistible results in a city without a deeply ingrained tradition of classical singing. Booket notes are in English, French, and German. 8948 SACD 19.95
Listen to "A Spotless Rose"
Posted by acapnews at 9:53 PM
December 10, 2008
Mormon Tabernacle Choir with King's Singers - Rejoice and Be Merry!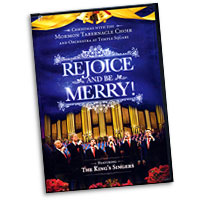 "Rejoice and Be Merry!" is the 2007 Christmas concert recorded in Salt Lake City by The Mormon Tabernacle Choir and special guests, The King's Singers. Recorded in high-definition video and 5.1 Surround Sound, this DVD is a smorgasborg for both the eyes and ears. These massive concerts, given as a free gift to the community each year, and broadcast by PBS, are both joyful and reverential. This DVD offers the full experience of the concert, with a 'you-are-there' viewpoint and behind the scenes interviews that can be viewed again and again. The choir is joined by the 120-member Orchestra at Temple Square, as well as The Bells at Temple Square, plus a score of dancers who perform an opening processional, and take part in the charming, complete presentation of "The Twelve Days Of Christmas" which has to be seen to be believed. This DVD offers another half an hour of music, as well as bonus interviews with The King's Singers and the creators of the concert. A perfect Christmas gift for your family, which can be enjoyed year after year. 8947 DVD 22.95

Listen to "Rise Up, Shepherd, And Follow!"
Posted by acapnews at 12:26 AM
December 6, 2008
Cambridge Singers - Christmas Festival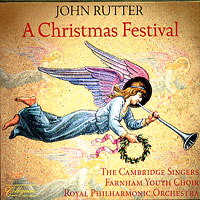 The first all-new Christmas recording from John Rutter and the Cambridge Singers for almost 20 years. John Rutter directs the Cambridge Singers, The Royal Philharmonic Orchestra, and the award-winning Farnham Youth Choir alongside guest soloists Melanie Marshall, Clara Sanabras and Elin Manahan Thomas, for an unforgettable festival of Christmas music. 8943 DVD 22.95

Listen to "Born On A New Day"
Posted by acapnews at 12:19 AM
December 5, 2008
The King's Singers - Live at the BBC Proms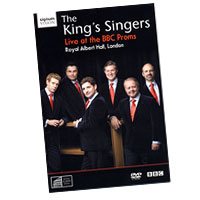 The King's Singers celebrated their 40-year anniversary in 2008 with a live BBC Proms performance from the Royal Albert Hall. This disc demonstrates the skill, flair, versatility and on stage charm you would come to expect from a King's Singers performance, sampling the best from their vast repertoire. The King's Singers have maintained their place at the apex of a cappella singing and are amongst the world's elite classical performers. This disc also includes interviews with the members, a glimpse into the King's Singers' past, and a special audition for the group! Reviewing this concert, The Daily Telegraph said "every edge was bevelled smooth", and the Guardian described it as "flawlessly realized". 89875 DVD 22.95

Listen to "The Little Green Lane"
Posted by acapnews at 12:03 AM
December 3, 2008
Harvard Glee Club - American Choral Music for Male Voices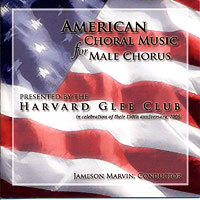 "American Choral Music" celebrates the 150th anniversary of the 60-strong Harvard Glee Club, the oldest college chorus in America. These 20 songs are a sampler of the wonderfully varied repertoire of this great male chorus. Our favorites include a pair by Randall Thompson, "Stopping By Woods on a Snowy Evening" and "The Pasture," both lightly accompanied; Charles Fussell's dissonant "A Walt Whitman Sampler," Steven Sametz' "Shall I Compare Thee," Morten Lauridsen's "Ave Dulcissima Maria," Rodney Lister's "The Oxen–To the Meads," Aaron Copeland's exuberant "The Little Horses," Chris Tapani's mysterious, a cappella "The Sea is Awash With Roses," Irving Fine's eclectic "McCord's Menagerie, Four Variations for Male Voices, II. Jerboa and IV. Clam (or Whose Ooze)." Other favorites are the American Sea Shanty "Lowlands," Stephen Foster's lovely, lightly-accompanied "Gentle Annie" and the Welsh folksong "All Through the Night." "American Choral Music" shows off the varied but consistently excellent vocal talents of one of America's oldest and best Collegiate choral groups, the Harvard Glee Club! 8982 CD 15.95

Listen to "Almighty Father"
Posted by acapnews at 12:02 AM
December 1, 2008
BYU Singers - Eric Whitacre 2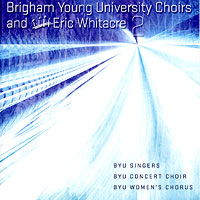 In 1999 the BYU Singers, conducted by Ronald Staheli, performed two Whitacre pieces - "When David Heard" and "Water Night" - as part of their solo premier at New York's Carnegie Hall. The success of the BYU Singers: Live at Carnegie Hall recording, demand for more Whitacre music, and the fruitful partnership between the composer and BYU Singers led to Whitacre's request for the group to record his complete a cappella works in 2001. As a result of the enormous response to that album, the Singers are pleased to release a companion volume, Eric Whitacre 2. This CD was recorded in the spring of 2008, is essentially volume two of Eric Whitacre: The Complete A Cappella Works. That recording, released by the BYU Singers, continues to be one of the best-selling choral CDs worldwide. This recording includes some of Whitacre's compositions for accompanied choir, but is mostly his a cappella pieces written since 2001. The varied nature of these pieces in this second compilation led to the Singers' collaboration with the BYU Concert Choir, conducted by Rosalind Hall, and the BYU Women's Chorus, conducted at the time by David Thomas. A very highly recommended release! 8680 CD 16.95

Listen to "Larov"
Posted by acapnews at 10:37 PM