February 28, 2006
Polyphony - Eric Whitacre - Cloudburst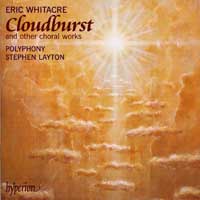 At the age of only 35, Eric Whitacre has already gained a reputation in the United States that many composers strive for a lifetime to achieve. The American Record Guide named his first recording one of the top ten classical albums in 1997, and the Los Angeles Times described his music as having 'electric, chilling harmonies; works of unearthly beauty and imagination'. His Water Night (included on this new recording) has become one of the most popular choral works of the last decade, and is one of the top-selling choral publications of all time. Whitacre's published works have sold well over 350,000 copies worldwide. And who better to represent an innovative young choral composer than Stephen Layton and Polyphony, award-winning exponents of twentieth-century choral music? Under Layton's directorship, Polyphony handles Whitacre's evocative and soulful music with consummate artistry; from the quiet intensity of Sleep to the breathtaking exuberance of With a lily in your hand, by way of the tender innocence of This Marriage (one of three premiere recordings on the disc), this new recording is a stunning showcase both for an up-and-coming young composer and also for the awesome talents of one of the UK's leading choirs. 7968 CD 18.98
Listen to " With A Lily in Your Hand"
Posted by acapnews at 11:42 PM
February 26, 2006
Libera - Visions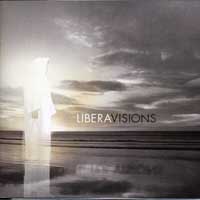 The twenty-four boys aged seven to sixteen who make up the vocal band Libera, and who meet several hours each week at a church in South London to rehearse and perform, have been described as "normal" and "ordinary". However, as their new EMI CD amply demonstrates, the music the produce is truly extraordinary. With shimmering, mystical chords and ecstatic harmonies, they are unlike any other group you have ever heard. Of the twelve tracks on Visions, Libera's second album for EMI Classics, a few will sound familiar, including Locus Iste, which is based on the well-known Pachelbel Canon, the hymn Abide with me, and Ave Maria. The remaining tracks are entirely original, with titles like New Day, Sing for ever and Something sings. The singers of Libera attend local primary schools and come from a variety of backgrounds. Although they are boys and they sing, they do not think of themselves as choirboys, but rather as an alternative kind of boy band. While the unique sound of Libera may be impossible to pigeonhole, its universal appeal has endeared the group to fans all over the world, particularly in the US, the UK, Korea and Japan, where their previous CDs have topped the mainstream and classical charts. 8101 CD 16.98
Listen to " New Day"
Posted by acapnews at 12:27 AM
February 25, 2006
Los Angeles Master Chorale: Steve Reich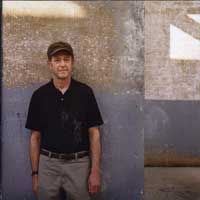 Steve Reich recalls the approach and sound of some of his most celebrated early work - groundbreaking repertoire like The Desert Music, Tehillim, and Music For 18 Musicians - while creating vital, spiritually stirring new music for right now. The four-movement title piece, written for voices and live instruments and performed by the Los Angeles Master Chorale, premiered at the Walt Disney Concert Hall to extraordinary reviews. Steve Reich recently was hailed as "America's greatest living composer." (The Village Voice), "the most original musical thinker of our time" (The New Yorker), and "among the great composers of the century" (The New York Times). 8102 17.98

Posted by acapnews at 2:13 AM
February 22, 2006
King's Singers - Tallis: Spem In Alium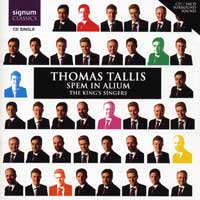 "Spem in alium," not just the greatest of Tallis's compositions but one of the greatest of all time, is based on a liturgical text, written for 40 independent voices, and was first performed in England in 1573. A work for 40 voices is not one that would usually be associate with the legendary all male sextet The King's Singers. Through modern recording technology, flexibility and experimentation, the six have become 40, a true harmonic convergence that occurs when the pairs high, sweet voices throw the sound across the space between them until finally all voices join for a full culmination of the work. "Spem" is a stunningly beautiful piece, although very short, eight minutes and 22 seconds to be precise, and we listened to it several times to truly appreciate it. The piece is followed by a 6-minute interview with the Singers, who discuss the experience of recording it. A short sublimely beautiful piece, recorded by one of the world's finest choral ensembles. SACD 7984 11.98

Posted by acapnews at 1:44 AM
February 18, 2006
Cambridge Singers - The Sprig of Thyme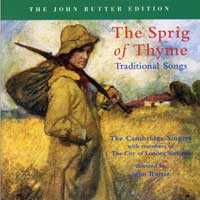 "For children growing up in postwar England as I did, traditional songs still form a common musical currency. These songs brought me delight and pleasure then, and they still do now, though pleasure has become tinged with nostalgia because, for the most part, they are forgotten and gone from our lives, perhaps forever. This album is an affectionate tribute to their composers and poets; a few were renowned, most were obscure or unknown, but the songs they created were famous, and I remember them fondly." - John Rutter 7972CD 11.98

Posted by acapnews at 12:12 AM
February 5, 2006
Children's Chorus of Washington - 2004 - 05 Season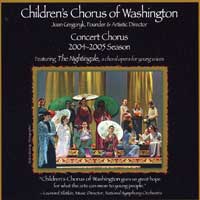 Now in its 9th season, the CCW, 130 singers ages 9-17 in 2 performing ensembles, the Concert Chorus and Treble Chorus is among the finest choral ensembles in the country and has appeared with symphonies like the National Symphony Orchestra and National Philharmonic, and has toured extensively in the US and Europe. All accompanied, "2004-2005 Season" has 19 cuts, beginning with a live Holiday Concert by the Concert Chorus, the Christmas medley "Salvator Mundi," the spirited "Ma Navu" and "Mayim, Mayim," and the joyous "Christmas natus hodie;" the Chamber Ensemble's "Up! Good Christian Folk, and Listen" and the combined Choruses' "It's the Most Wonderful Time of the Year." Cuts 9-19 are a live Spring Concert of "The Nightingale," an orchestrally-accompanied Choral Opera for Young Voices, based on the fairy tale by Hans Christian Andersen. Robert Tudor, baritone, Robert Baker, tenor and Katherine Caughlan, soprano have some nice solos in this dramatic, romantic tale. Very professional, impressive material from the CCW, founded so recently by the talented Ms. Gregoryk. 7968 CD 15.98

Posted by acapnews at 12:25 AM
February 4, 2006
Handel and Haydn Society - All Is Bright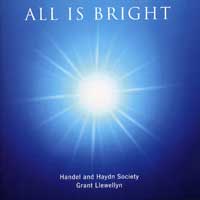 Boston's Handel and Haydn Society is one of America's leading choral ensembles. Under the direction of recently appointed music director Grant Llewellyn, the Society has expanded its repertoire to encompass a broader range of music, including contemporary works. Their first recording for Avie, "Peace," was one of 2004's best-selling choral CD's appearing for a number of weeks on the Billboard Classical Chart. The Society's newest recording, "All is Bright," celebrates the music of the festive season, combining repertoire from the Baroque era and traditional carols with Christmas works by twentieth century composers including beautiful works by prominent American composers including Ned Rorem, Virgil Thompson, Charles Ives, Jennifer Higdon and Daniel Pinkham. The Beauty of the Society's singing, the uniqueness of the program and the audiophile quality sound give "All is Bright" the same elements that made "Peace" a best-seller with widespread appeal in 2004 7967 CD 15.98

Posted by acapnews at 1:22 AM
St. Olaf Choir - O Come To Us, Abide With Us Our Lord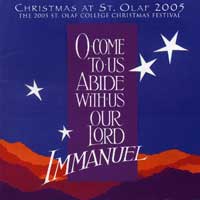 For many people over the years, the celebration of the Advent-Christmas-Epiphany season has begun with the annual St. Olaf Christmas Festival, a cherished tradition of the college for nearly a century. The first festival, in 1912, was a worship service in song for the college community, planned and directed by F. Melius Christiansen, founder of the St. Olaf, a college of the Evangelical Lutheran Church in America.. Performing both as individual groups and as a massed ensemble are: The St. Olaf Choir, directed by Christopher Aspaas; The St. Olaf Cantorei, directed by John Ferguson; the Manitou Singers, directed by Sigrid Johnson; and the St. Olaf Orchestra, directed by Steven Amundson. 7988 2CDs 24.98

Posted by acapnews at 1:18 AM