March 27, 2009
Old Miss Choirs - Whitacre conducts Whitacre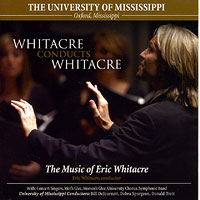 The University of Mississippi Department of Music offers a unique opportunity to experience Eric Whitacre's music as he conducts the University of Mississippi Concert Singers, Men's Glee, Women's Glee, University Chorus, and Symphonic Band in cooperation with rehearsal conductors Bill DeJournett, Debra Spurgeon, and Donald Trott. This project was the result of a campus visit in April 2007 with Eric Whitacre including rehearsal time, a recording session, Q&A with students, and culminating in a concert for the public. This recording is a mixture of live and recording session performances. 9018 CD 15.95
Listen to "With a Lily in Your Hand"
Posted by acapnews at 12:04 AM
March 20, 2009
Hopewell Valley Central High School - Sings Hatfield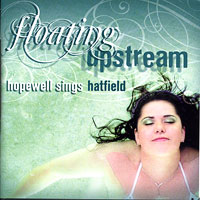 Floating Upstream is the first studio recording of Canadian choral composer Stephen Hatfield's music in several years, and showcases much of the eclectic composer's newest and best work. It is also the first such CD ever made by a public school choral music program in collaboration with and at the invitation of the composer. Music educators (as well as fans of Hatfield's music) will be particularly interested in this recording because the performing choirs range the gamut from grades six through twelve and the CD features both auditioned and non-auditioned groups. The beauty of Stephen's music shines through in the performances of both the advanced and younger ensembles. The physical package includes a 32-page booklet of texts, translations, and in-depth liner notes by the composer. Of this CD, Stephen Hatfield writes, "Floating Upstream turned out to be my most varied and eclectic CD yet, a real magic carpet ride through a cosmos of interconnecting musical worlds. I know that sounds a bit much, but that's how I feel when I listen to this CD." 9027 CD 18.95
Listen to "J'ai vu le loup"
Posted by acapnews at 11:51 PM
March 19, 2009
Wells Cathedral Choir - Burgon: Choral Music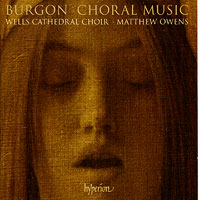 British composer Geoffrey Burgon has managed to carve out a career as a composer without becoming pigeonholed into a particular genre or musical style. He is perhaps best known for his scores for Monty Python's Life of Brian, and BBC's Brideshead Revisited, and an excerpt from his score for the film Tinker, Tailor, Soldier, Spy appeared on Britain's Top Ten pop charts. He is equally at home writing for voice and chorus, and a significant part of his catalog is devoted to choral music, some of which is collected on this CD. Burgon's graceful and idiomatic choral writing makes use of contemporary harmonies, but his musical language is basically tonal, rooted in centuries of liturgical tradition; as the program notes aptly describe it, it "manages to sound both timeless and strikingly modern." "At the round earth's imagined corners," using a text by John Donne, and his setting of the Nunc Dimittis are particularly effective in their conjuring of mystery and complex emotion using very simple musical means. The Wells Cathedral Choir, a men and girls choir, conducted by Matthew Owens and accompanied by organist David Bednall, gives unaffected and direct performances, singing with pure and rapt tone. The soloists, members of the Choir, are of variable quality. Hyperion's sound is spacious, but not too resonant to obscure the comprehensibility of the texts. 9009 CD 18.95
Posted by acapnews at 12:00 AM
March 18, 2009
Henry Leck - Creating Artistry Through Choral Excellence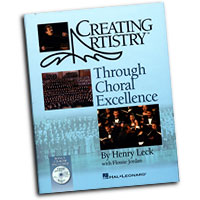 Henry Leck, Founder and Artistic Director of the Indianapolis Children's Choir and Director of Choral Activities at Butler University, has influenced thousands of young musicians and teachers through his dedication to choral excellence and the idea that children can perform music with artistry and understanding. This comprehensive text, written with Dr. Flossie Jordan, is an insightful guide for choral directors in the field and in training to help develop the teaching skills, leadership abilities, conducting technique, knowledge of repertoire and organizational skills necessary for success. As an added bonus, the book includes a CD-ROM with dozens of helpful forms and documents from the Indianapolis Children's Choir covering organizing a children's choir, auditions, governing documents, managing volunteers, fundraising, grant writing and much more! 6664 BOOK & CD 34.95
Posted by acapnews at 12:00 AM
March 17, 2009
Sandra Snow - Choral Conducting / Teaching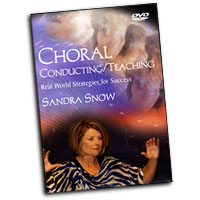 On this extraordinary DVD, master conductor Sandra Snow outlines a new paradigm for choral teaching and rehearsing within performance-based classes. Through emphasizing how to develop teaching strategies from the podium, Dr. Snow presents a systematic, pragmatic approach. The heart of this DVD features 38 mini-rehearsal segments of Dr. Snow, Jonathan Reed, and colleagues teaching and leading a variety of mixed, women's, and men's choirs at the high school and college levels. These segments model how to continually analyze and respond to the sounds being produced by an ensemble. Extensive, full-color animated graphics support the score study and analysis sections of this DVD, as well as the helpful, step-by-step demonstrations of the process of improving keyboard and perceptive listening skills. For any practitioner of the choral arts, this DVD takes a groundbreaking approach to the role of the conductor/teacher, helping to bring true growth to the musicianship of choral singers. Sandra Snow is Associate Professor of Music Education and Choral Conducting at the Michigan State University College of Music. She is a nationally known choral clinician, conductor, and music 6666 DVD 29.95
Posted by acapnews at 12:02 AM
March 12, 2009
King's Singers - Romance du Soir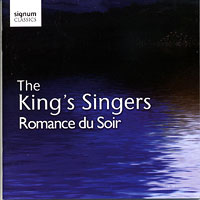 Combining perennial favorites with wonderful new discoveries, these immediately appealing pieces reflect the much-loved repertoire at the heart of a King's Singers program with the skill and flair that distinguishes the group as one of the world's most popular a cappella ensembles. Includes works by Elgar, Schumann, Schubert and Saint-Saens, as well as a new piece by popular American composer Libby Larsen. This latest venture between Signum Classics and The King's Singers follows hot on the heels of a Live DVD and CD release of their 2008 performance for the BBC Proms in the Royal Albert hall and the 2008 Grammy-nominated album Simple Gifts. 9003 CD 16.95
Listen to "O Happy Eyes"
Posted by acapnews at 12:00 AM
March 11, 2009
John Alexander Singers - Shenandoah: Songs of the American Spirit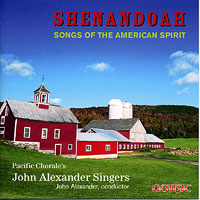 John Alexander takes the listener on a musical tour of American historical touchstones, celebrating the diverse folk culture of the United States, as well as the emotions and experiences of pioneer life. The John Alexander Singers, one of America's rising professional chamber choirs, captures the essence of the American spirit in this inspirational recording. The history of our country is written in our song, and what a variety of song it is! War songs, tunes from Appalachia, gospel—all have been mined over the years by composers and arrangers of every era. This recording offers a varied program of these American works, from the well known (Shenandoah, Buffalo Gals) to the less familiar, expertly arranged for choir and sung by this nationally acclaimed American choir. 9004 CD 16.95
Listen to "Down To The River"
Posted by acapnews at 12:00 AM