December 15, 2007
Harmonies Hispanic Girls Choir - Navidad en Espanol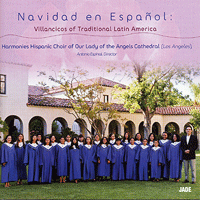 This album is a special collection of rare Christmas songs and arrangements from all over Latin America, including traditional and recent renditions of tunes and melodies from Mexico, Cuba, Puerto Rico, Colombia, Ecuador, Chile, Paraguay, Peru, Brazil, and the Dominican Republic. These songs are performed by Harmonies, a girls choral group based in Los Angeles, comprised of girls ages 8 through 18 under the musical direction of Orchestral and Choral Conductor Maestro Antonio Espinal, founder of the choir. 8835 CD 15.95
Listen to "Por el Valle de Rosas"
Posted by acapnews at 1:48 AM
December 13, 2007
Voces8 - From Gibbons to Gershwin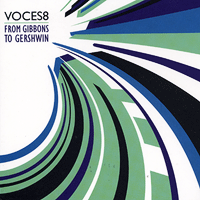 Voces8 - The marvelously varied repertoire of Voces Cantabiles Music's 6-man, 2 woman a cappella ensemble Voces8 is highlighted on this collection of tunes that have been wowing audiences and judges across Europe, making the group one of the most highly sought after vocal ensembles around. The group's links to Westminster Abbey are clear in the first two cuts, "O Clap Your Hands," a polyphonic work by former organist Orlando Gibbons (1583-1625), and Richard Dering's (1580-1630) Italian canzona "Factum est Silentium." William Byrd's "Haec Dies" continues the Italianate theme, and returning to Westminster Abbey we hear from another former organist, Henry Purcell (1659-1695), his 8-part "Hear My Prayer, O Lord." Other fine classical works follow, among them "Gaude Virgo, Mater Christi" by Josquin de Prez, Claudio Monteverdi's "Cantate Domino," Josef Rheinberger's "Abenlied" and Robert Pearsall's "Lay a Garland." Two spirituals, the plaintive "Steal Away" and "Didn't my Lord Deliver Daniel," Louis Armstrong's jazz recording of "Mack the Knife" hears the ensemble imitate an 8-part big band, "Maria" from "West Side Story" and "Who Will Buy" from the musical "Oliver" follow. The final cut returns to an Armstrong recording of Gershwin's 1930s classic, "I Got Rhythm." A wonderful, stunning collection, and another winner for Voces8! 7662 CD 15.95
Listen to "Cantate Domino"
Posted by acapnews at 12:05 AM
December 8, 2007
Yale Schola Cantorium - Bertali: Missa Ressurectionis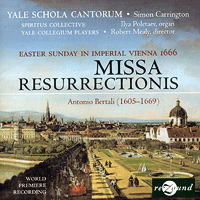 According to a note on the cover of the original manuscript, which survives in the Castle Archives at Kromeriz in the Czech Republic, Bertali's Missa Resurrectionis was performed in Vienna, seat of the Holy Roman Emperor Leopold I, on Easter Sunday 1666. The Missa Resurrectionis is one of several dozen settings by Bertali that include all five sections of the Common of the Mass: Kyrie, Gloria, Credo, Sanctus & Benedictus, and Agnus Dei. This was by no means always the case - various religious feasts required only a Missa brevis (Kyrie and Gloria only), while others also included a setting of the Credo. Two motets by the North German singer-composer Christian Geist (1670–1711) set suitable Easter texts: Resurrexi et adhuc tecum sum is the Introit for Easter Sunday, while Surrexit pastor bonus comes from the Matins service for Easter Monday. Directed by former King's Singer Simon Carrington this is a most fascinating recording. 8675 CD 15.95
Posted by acapnews at 12:04 AM
December 5, 2007
Vocalessence - The Songs We Sang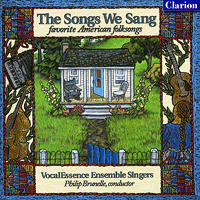 Vocalessence - Reflecting the shared American heritage like a patchwork quilt, this is a charming collection of folksongs performed by conductor Philip Brunelle and the 32-voice VocalEssence Ensemble Singers with guitar, harmonica, accordion, bass and piano. Whether passed along by tradition or composed by a known songwriter, all of these songs have a melody that you can hum, sing and remember! Thanks to Norman Luboff, Edwin Fissinger, Jack Halloran, and the dynamic team of Alice Parker & Robert Shaw, there are wonderful arrangements that capture the atmosphere of each in choral settings. 8742 CD 15.95
Listen to "Dixie"
Posted by acapnews at 12:43 AM
December 1, 2007
Chor Leoni - Circle of Compassion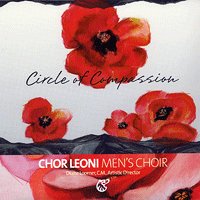 Chor Leoni is well known for its Remembrance Day concerts, and this latest addition to its CD catalogue is a compilation of works performed at its most recent November concerts. "Is is dedicated to the citizens of all nationalities and faiths who have experienced loss and who deserve our compassion," writes conductor Diane Loomer. The singing is sensitive and beautiful as always, and the selections range from classics such as Schubert's setting of Psalm 23 and Randall Thompson's Choose Something Like a Star to works written for Chor Leoni, including the premiere recording of Stephen Smith's moving Pensive on Her Dead Gazing. And just try to stay dry-eyed during Bring Him Home from Les Misérables! 8715 CD 15.95
Posted by acapnews at 12:20 AM