March 25, 2005
Concordia Choir - Endless Grace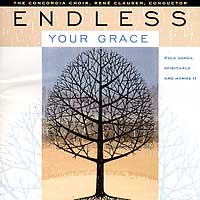 Renowned conductor/arranger (since 1986) of the Concordia Choir Rene Clausen's firm touch is clear on every note of "Endless Your Grace." For more than 80 years The mixed voice Concordia Choir has affirmed its reputation as one of nation's finest a cappella choirs. 16 wonderfully arranged songs are included in this inspirational, feel-good recording. The Moses Hogan-arranged "Ezekiel Saw De Wheel," "What A Wonderful World," "Come and Taste," "Daniel, Daniel, Servant of the Lord," "Gracious Spirit," "This Little Light," the rousing spiritual "Ain't Got Time to Die," "Didn't My Lord Deliver Daniel," "Give Me Jesus" and "My God, How Wonderful Thou Art" are favorites, but "Endless" is an impressive, spirited treat throughout!
Listen to ""E'en so, Lord Jesus, Quickly Come""
7574 CD 15.98
Posted by acapnews at 10:47 PM
King's Singers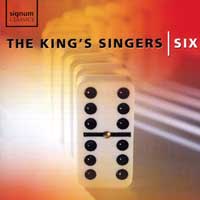 After years at the pinnacle of a cappella chorale music, the King's Singers show no sign of slowing down, as their creativity and number of appearances throughout the world remain undimmed. In what has been described as their 3rd generation, "Six" is a tasty sampler spanning the life of the group since their founding in the explosive rock decade of the 1960s. The spiritual "Down In The River To Pray" appeared in the movie "O Brother, Where Art Thou?", arranged by Singer Phillip Lawson, who also arranged this sublime cover of Billy Joel's "Lullabye (Goodnight My Angel)." Lennon/McCartney's "Blackbird" is one of the most-requested encores in the KS' live concert repertoire. "The Wishing Tree" by former Divine Comedy member Joby Talbot, was commissioned by the KS and the BBC. Irving Berlin's moody jazz classic "Blue Skies" is sung in a cool and reflective arrangement by Singer Richard Bennett. The final cut is a soaring, surreal arrangement of Neil Young's deathless, "After the Goldrush," which takes our breath away and leaves us wanting to hear much more. One forgets just how exceptional the King's Singers are, until one is able to see them live, or one settles back next to the stereo in a comfortable chair and lets the beauty of these "Six" wash over him like a subtle, perfect tide.

Posted by acapnews at 2:48 PM
March 20, 2005
St Olaf Choir: Charles Ives - The Celestial Country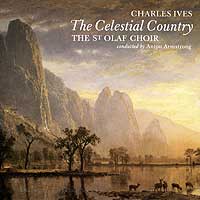 The Celestial Country was composed sometime before 1900, probably when Ives was organist at the fashionable First Presbyterian Church in Bloomfield, New Jersey, and it was scored for choir, strings and organ. This dramatic, symphonic work uses choruses, an a cappella chorus and instrumental interludes, and bold unresolved dissonances. Ives strives for a modern, more streamlined expression, though indulging in a Wagnerian finale, as much Wagner as he would ever display in a lifetime of composing. The veteran 75 mixed-voice St. Olaf Choir brings a fresh, immediate feel to this material, as if we are present for the first performance of this work in April, 1902 at Central Presbyterian Church in NYC. First we have the 12 movements of "Celestial Country," then 9 movements of "Silence Accompanied," written in the final years of Ives' creative life, the aftermath of WWI and the defeat of Wilson's plan for the League of Nations. "Aria for Baritone, "Chorus A Cappella," "Double Chorus A Cappella," "Aria for Tenor" and "Chorale & Finale" are particularly fine from "Celestial Country;" "Afterglow," "The Collection," "Duty/Vita/Duty," "Carol," "Sunrise" and "Mists" in "Silence." Beautifully illustrated, complete liner notes tell us all about the composer, the music and the Choir.
Listen to ""Double Chorus A Cappella""
7576 CD 15.98
Posted by acapnews at 10:45 PM
March 19, 2005
Phoenix Bach Choir - Shakespeare In Song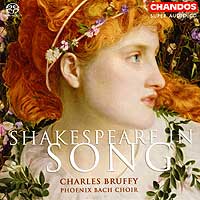 Founded in 1958 as the Bach and Madrigal Society, the Choir originally focused on Renaissance and baroque period music, but today is equally dedicated to the creation and performance of new music. They are conducted by Charles Bruffy, one of the most highly respected choral conductors in the US. The CD features 23 songs, beginning with 7 cuts from Matthew Harris' "Shakespeare Songs," and 5 "Songs of Ariel from Shakespeare's 'The Tempest.' Steven Sametz' lovely "When He Shall Die," Jaakko Mantyjarvi's "Four Shakespeare Songs," Nils Lindberg's minor-key "Shall I Compare Thee to a Summer's Day," Dominick Argento's "Sonnet No. LXIV," Alan Murray's "O mistress mine," and the CD finishes strong with Ralph Vaughan Williams' "Three Shakespeare Songs." The Choir beautifully takes us into the drama, moodiness, pathos, romance and celebration of these songs, most of which are new to our ears. A worthy project, and a winning CD for Bruffy and his talented Phoenix Bach Choir! Extensive, colorful liner notes.
7347 SACD 23.98
Posted by acapnews at 10:58 PM
March 18, 2005
Children's Choir of Saint Marc - Recital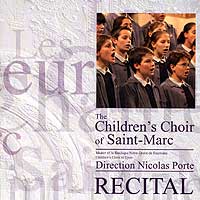 Founded in 1986, the Children's Choir of Saint-Marc, who have brought their music to many countries, such as the US, Canada, Russia, Lebanon, Greece, Ivory Coast and Japan. They have regularly taken part in the the masses of la Basilique Notre Dame de Fourviere in Lyon. Revealed to a much larger audience by the film "The Chorus," the Choir usually involves 55 children, but can grow to as large as 130 children with the addition of the preparation choir and a choir of teenagers. The song selection by director Nicolas Porte ranges from sacred music like Caccini's lovely "Ave Maria," Mendelssohn-Bartholdy's "Richt mich Gott" (Psaume 43) and John Rutter's "Open thou mine eyes" and "The Lord bless you and keep you," to secular songs like Giaoacchino Rossini's spirited "La Fede" and "La speranza," Gilles Vigneault's "Berceuse pour Julie," Jacques Prevert's "La Seine," and Charles Trenet's "Mes jeunes annees." Some piano accompaniment. The full-color liner notes show the Choir in period schoolboy uniforms, in concert. A remarkable movie has brought to our attention a very special and talented group of boys and their director.
Listen to ""Pie Jesu""
7519 CD 15.98
Posted by acapnews at 10:41 PM
March 17, 2005
Glen Ellyn Children's Chorus - 40th Anniversary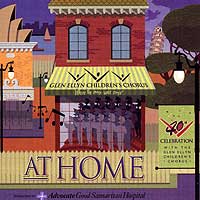 Founded in Chicago in 1964 by Barbara Born and led to international recognition by Music Director Dr. Doreen Rao, "At Home" celebrates the 51-member `GECC's 40th Anniversary. This is a "best of" collection of 20 songs, 14 live performances from 1999 to 2004 under the direction of Emily Ellsworth, and six classic recordings from 1984 under the direction of Dr. Rao. Some of our favorites were commissioned by the GECC: Stephen Paulus' "Sing Creations Music On," Lee Kesselman's lovely "Briar Rose," Astor Piazzolla's "Libertango," Waylon Rogers' "The Truly Great," and "Angels are Everywhere," "The Angel on the Cloud," by Daniel Pinkham. Others are Nick Page's "Fairest Lady," Bach's "Herr, du siehst statt gutter Werke," the spiritual "My Lord, What A Morning" and John Denver's "All This Joy." There is piano accompaniment throughout. Singing with poise and confidence beyond their years, the GECC and "At Home" are American classics!
7348 CD 15.98
Posted by acapnews at 11:01 PM
March 16, 2005
Boys of King's College - Heavenly Voices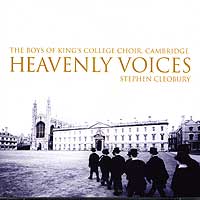 The 16 young, fair-faced boys in their red and white robes with crisp, white collars and dark ties, file into the magnificent cathedral, as they have done for some 550 years now since King Henry VI, no older than an undergraduate himself, founded King's College and their choir. Here are 17 selections, possibly the greatest sacred choral music written since that time: Cesar Franck's "Panis Angelicus" and "Alleluia," Felix Mendelssohn-Bartholdy's "I Waited For The Lord" and "Lift Thine Eyes," Gabriel Faure's "Pie Jesu," "Ave Maria" and the 4 movements of his "Messe Basse," Verdi's "Laudi Alla Vergine Maria," the 2 movements of Sigfrid Karg-Elert's "Dritte Sinfonische Kanzone," Schubert's "Gott Ist Mein Hirt" and others. Light organ accompaniment. This is the music that has filled cathedrals like this one for centuries, with worshippers wanting to hear the voices of angels in a place where they would certainly be found. Soaring, beautiful music from the Boys of King's College!
7523 CD 15.98
Posted by acapnews at 10:56 PM
Les Choristas - Soundtrack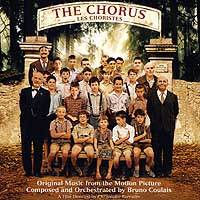 This is from the soundtrack of "The Chorus" (Les Choristes) starring Jacques Perrin and Gerard Jugnot. The movie uses a "Dead Poets Society" formula, where a teacher, Clement Mathieu (played by Jugnot) goes to a poverty-stricken French boarding school in 1949, where troubled boys don't like him, but he ends up, through music, winning their hearts and teaching them about life. The music they perform is excellent (actually dubbed by "Les Petits Chanteurs de Saint-Marc," a professional chorus directed by Nicolas Porte), ranging from the kids' songs mocking the teachers, to original songs Mathieu wrote (like the Oscar-nominated "Look To Your Path" ("Vois Sur Ton Chemin") to well-known songs by famous authors. There are 21 songs, most accompanied, and some cuts are all dramatically instrumental, like "Pepinot" and "Les Partitions." The a cappella "La Nuit," "Caresse sur l'Ocean," "Lueur d'Ete," "Cerf-Volant," "La Desillusion," "Action Reaction," and "In Memoriam A Cappella." "Nous sommes de Fond de l'Etang" is an a cappella scene from the movie about Mathieu's initial efforts to teach the boys. The colorful liner notes have wonderful movie stills, and translate the songs line for line. This is fun stuff that makes us want to see the film!
Listen to ""La Nuis""
7357 CD 15.98
Posted by acapnews at 2:49 PM
March 12, 2005
Sixth World Symposium on Choral Music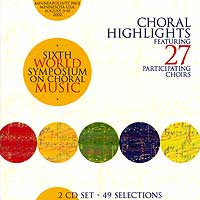 The 6th World Symposium on Choral Music took place in Minneapolis and St. Paul, MN, in August of 2002, hosted by the American Choral Director's Association. The Symposium takes place every 3 years and features prominent choral specialists and choirs from around the world in lectures and concerts. This 2-CD set features live recordings of 27 choirs from around the world, beginning with Chanticleer's "I Dream of Jeannie," and ending with the combined choirs singing "What A Mighty God." Representing the US, besides Chanticleer, are AmericaFest, singing "One By One (from the Lion King)," Michigan State U. Children's Choir, singing "My Lord, What a Morning" and "Billy and Ming do the Be-Bop Thing," the St. Olaf Choir, singing the Moses Hogan-arranged "This Little Light of Mine," Dale Warland Singers, with "Snow (The King's Trumpeter)", and VocalEssence Ensemble Singers, singing "Antiphon for the Virgin." There is so much amazing music on this CD, we will mention a handful of other favorites: Cantoria de Merida of Venezuela's "El Gavan," Univ. of Pretoria Concert Choir's "A Selection of Traditional African Folk Music," Garganta Profunda of Brazil's jazzy "O pato," National Youth Choir of Namibia's "Sangena" and The Norweigian Soloists Choir's "Mon Dieu, mon adore." But if you are interested in the best of Contemporary Choral music, "Choral Highlights" is for you! Some light accompaniment, beautiful, extensive liner notes.
7713 2CDs 24.98
Posted by acapnews at 10:51 PM
March 3, 2005
Albert McNeil Jubilee Singers: The Best Of Jubilee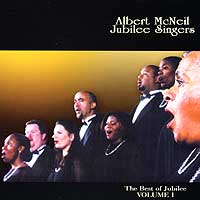 An LA-born native Californian, Albert McNeil earned Bachelors and Masters degrees at UCLA and did his doctorate studies at USC, the Westminster Choir College of Princeton and the Univ. of Lausanne, Switzerland. He has been conducting groups and church choirs for most of his adult life, and has dedicated himself to upholding a tradition of choral excellence as Founder/Director of the McNeil Jubilee Singers in 1968. Since then the Singers have earned international acclaim for their vast repertoire of African-American folk music, focusing on the rich genre known as Negro Spirituals as well as gospel, secular folk songs, calypsos and other African-Caribbean and African vocal forms. Their repertory also consists of concert works by distinguished African-American composers and arrangers along with Classical Opera, Sacred Music and Musical Theater. The 15 selections in "Best of Jubilee" draw on the best performances of one of the most honored choral ensembles. It's understandably hard to pick favorites, but the South African freedom song "Siyahamba'ekukhanuen'kwenkhos" (We are marching in the light of God), "Glory, Glory Hallelujah," "Open the Window, Noah," "Hallelujah! (Been Down Into The Sea)," "Oh, Mary Don't You Weep," "Oh Make Me Holy," "All My Trials," "Walk Together Children" and "Rocka My Soul" are particularly fine. Inspirational and moving songs, every one the best of the best!
2893 CD 14.98
Posted by acapnews at 12:15 AM