May 7, 2009
Mirinesse - Sing Creation's Music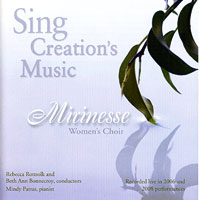 Delighting audiences in Seattle and around northwest Washington since 2006 with the beautiful sound of classically-trained women's voices singing a diverse repertoire of historic and contemporary music, the Mirinese Women's Choir brings us another excellent live recording of 18 songs. Favorites are Gyorgy Orban's 4-part, piano-accompanied "Mass No. 6," H. Hollanders' a cappella "Exultate, justi, in Domino," Stephen Paulus' "Sing Creation's Music On," Claude Debussy's lovely "Beau Soir," Bob Chilcott's "Skye Boat Song" and "White Waves on the Water" (these last four are piano-accompanied, as are most songs on the album), Sarah Hopkins' "Honour the Earth as Your Mother," the spiritual "Ain't No Grave Can Hold My Body Down" and Rene Clausen's "Set Me As A Seal." A powerful collection from this talented, wonderfully-directed ensemble! 9020 CD 15.95
Listen to "Set Me As A Seal"
Posted by acapnews at 12:15 AM
May 1, 2009
Luther College Nordic Choir - In The Beginning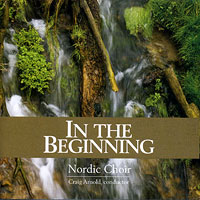 Of all the dynamic music programs (seven choirs, three bands, three orchestras, two jazz bands and nearly 1,000 student musicians) that have flourished at Decorah, Iowa's Luther College, the very first, the flagship choral ensemble, is the 70-strong, mixed-voice Nordic Choir. In 1948 Weston Noble began a 57-year tenure that would bring the choir into national and international acclaim as one of the best Collegiate choral ensembles. In 2005 Dr. Craig Arnold became the director of choral activities and conductor of the Nordic Choir. "In the Beginning" is a collection of 15 contemporary Christian pieces, beginning with Alice Parker and Robert Shaw's arrangement of "I Will Arise," John Rutter's "Hymn to the Creator of Light," the lovely, 15-minute long title tune by Aaron Copland, Stephen Paulus' "The Old Church," the premiere of Brooke Joyce's "The Revelation of St. Julian," F. Melius Christiansen's "Psalm 50," the premiere of student Patrick Burzlaff's "Psalm 50," "Rise Up, Shepherd, and Follow," Paul Tschesnokoff's "O Lord God," and Carl Orff's 5-part, piano-accompanied "Carmina Burana." Beautiful solos and harmonies on this often difficult material by one of the oldest and most respected Collegiate choirs! 9014 CD 16.95
Listen to "I Will Arise"
Posted by acapnews at 12:08 AM