December 7, 2006
Cantus - There Lies The Home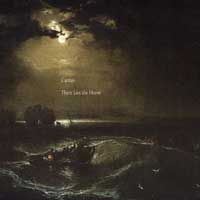 Minnesota-based 11-strong all-male ensemble Cantus, since their founding at St. Olaf College in 1995 have had great fun performing around Minnesota, the country and the world, and recording excellent CDs ("There Lies The Home " is their 10th). The authentic folk songs and sea chantys in "Home" are popular choices in the group's repertoire. Some favorites are "Break, Break, Break," "Songs of the Sea," "Jonah's Song," "Shenandoah," "Lowlands," arranged by Alice Parker and Robert Shaw," Gordon Lightfoot's "Wreck of the Edmund Fitzgerald" and Sting's "Valparaiso." Beautiful liner notes, some light accompaniment. Powerful and evocative music! 8394 CD 15.98
Listen to "Jonah's Song"
Posted by acapnews at 2:57 AM
December 3, 2006
The Choral Project - Winter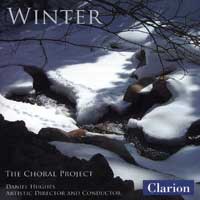 The 45-voice ensemble Choral Project under the direction of David Hughes is rapidly developing a solid reputation for choral excellence and this release of Christmas music and songs inspired by the season is a delight. The recording includes the first commercial release of Eric Whitacre's composition "Winter" which makes for fascinating listen along with works by Avro Part, Jester Hairston and David Maddux. A particular favorite is the Greg Smith arrangement of "The 12 Days of Christmas" which is sung with great panache by this top-notch choir. 8418 CD 15.98
Listen to "In Dulce Jubilo"
Posted by acapnews at 12:35 AM
December 2, 2006
Estonian Philharmonic Chamber Choir - A New Joy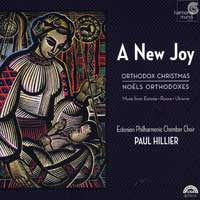 Drawing upon the rich treasury of 19th and 20th century liturgical hymns and carols of the nativity feast, this unique collection of Orthodox music from Russia and the Urkraine includes several first recordings of music by composers who were suppressed by the Soviet government. At the end of the 19th-century, Alexander Kastalsky founded the world-famous Moscow Synodal School of Church Singing. Bolshevik persecution of the Russian Orthodox Church forced the closing of the school and the disbanding of the choir. Georgiy Izvekov, a priest and well-respected composer of liturgical music, was arrested in 1931 for 'anti-Soviet activities' and was executed by firing squad. Important choral composers in the Ukraine met with similar fates - for example, Vasyl Barvinskyi was sentenced to ten years' imprisonment by the Soviet government. Paul Hillier leads the Estonian Philharmonic Chamber Choir in this gloriously atmospheric collection of Christmas music, which begins with the tolling of the bells of St Alexander's cathedral in Tallinn, Estonia. 8429 CD 18.98
Listen to "A New Joy"
Posted by acapnews at 3:03 AM
Peninsula Women's Chourus - Winter Patterns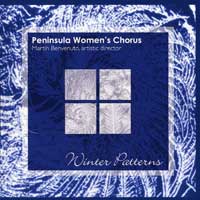 TThe 60-voice Palo Alto, CA-based PWC is known for adventurous programming, seeking out music written especially for women, and frequently commissioning new works. "Winter Patterns" is a Christmas collection of sacred works such as Chesnokov's "Dostoyno yest" (It is truly fitting) and "Svete tihiy" (Gladsome Light), Daniel Pinkham's 3-part "Christmas Cantata," Rebecca Clarke's "Ave Maria," Charles Griffin's "Agnus Dei," Poulenc's "Litanies a la Vierge Noire" and Veljo Tormis' 4-part "Talvemustrid" (Winter Patterns). There are also carols, Franz Gruber's "Silent Night," and the lesser-known "Salvator Mundi, A Carol Sequence" by William Mathias, which includes "Make we Merry," "Mirabile Mysterium," "Susanni," "Lullay" and "Welcome, Yule." "Patterns" is a rare and beautiful collection of sacred music from one of the world's best women's choral ensembles. Some accompaniment. 8481 CD 15.98
Listen to "El Grito"
Posted by acapnews at 2:59 AM