January 13, 2007
Ensemble 96 - Immortal Nystedt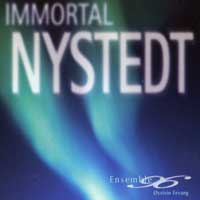 Nominated for two GRAMMY awards this release contains recent works by the Norwegian composer Knut Nystedt (b.1915), and was released in conjunction with his 90th birthday. Ensemble 96 is conducted by Øystein Fevang. Bærum Vokalensemble makes a guest appearance on the recording. For the last fifty years Knut Nystedt has occupied a unique position in Norway's music life. Also in the USA, Germany and Japan his works are an important part of the classical repertoire. This release offers some of his very best compositions for a cappella choir. Knut Nystedt draws his inspiration from all ages, creating his monumental choral art with a Christian perspective and wide, humanistic appeal. It is rare to find a disc of modern repertoire where all three constituent elements (the composition itself, the performance and the production) conspire to produce a work of amalgamated excellence" wrote the British magazine Choir and Organ. 8499 CD 19.95
Listen to "Nytt Er Livet"
Posted by acapnews at 1:29 AM
January 6, 2007
Javier Busto - Hondarriba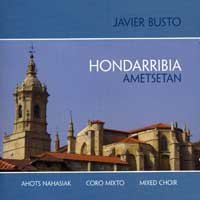 Renowned composer and conductor Javier Busto Sagrado, creator and founder, in 1995 of the women's choir Kanta Cantemus Korua, was born in the city of Hondarribia in the Basque country of Spain. For "Hondarribia, Ametsetan," an eclectic collection of 16 largely sacred works, most sung in Spanish, Busto directs a mixed-voice a cappella ensemble of 32 voices. "Himno a la virgen," "Ave Maria," "Laudate Dominum," "Laudate Pueri," the lovely "Soinuen itsasoa," "O Sacrum Convivium," "Ametsetan," "Porrusalda," "Esta tierra," "O Magnum Mysterium" and "Hodie Christus natus est" are some of our favorites, but it's hard to choose. Busto's nod to his hometown in the title in this fine collection is apropos, as all sacred music strives to bring us home. Lovely and touching choral works, by Javier Busto, one of the world's best conductor/composers. 8479 CD 15.98
Listen to "Esta Tierra"
Posted by acapnews at 12:34 AM
January 5, 2007
St Olaf Choir - Mozart Requiem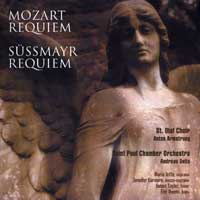 Celebrating the 20th anniversary of their founding in 1986 as a co-ed a cappella rock and pop group from the University of Pennsylvania, the Loafers have appeared over the years on a number of excellent compilations of the best of collegiate a cappella; and on their own CDs, such as 1997's "Diesel," 1998's "Ride!," 2000's "On the Floor," 2002's "Stealing Time" and 2004's "Barely Legal." "Quicksand" has 14 rich, beautifully-arranged covers; a pair by Snow Patrol, "Chocolate" and "Run;" Maya Varthi has a wonderful lead on Aimee Mann's "Humpty Dumpty," and there's a pair of hot covers of Kelly Clarkson's "Because of You" and "Addicted," again featuring Varthi. Beck's "Girl," Chantal Kreviazuk's "Time" and Sia's "Breathe Me" are other favorites. The Loafers have a full, rich, confident sound with some of the best soloists we've heard at the collegiate level. Treat yourself to "Quicksand" and fall in love with the '05-'06 Penny Loafers! 8483 CD 15.98
Posted by acapnews at 1:28 AM