July 29, 2005
BYU Singers / University of Miami Chorale - Music of Eric Whitacre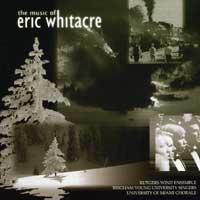 This CD begins with a 3-part, eclectic, dramatic, rich-in-special-effects all-instrumental piece by Eric Whitacre, the "Ghost Train Trilogy," about a supernatural machine that roars through the western US, played by the Rutgers Wind Ensemble. Following that is "GAWD$ILLA EATS LAS VEGAS," a piece Whitacre wanted to write that was "really out there," that includes amazing, all-instrumental dramatic West Side Story and Gershwin samples. A sweet piece by the Rutgers Wind Ensemble follows, "Rak Hahatchala," featuring soprano Hila Plitmann. Then we have the University of Miami Chorale perform Whitacre's beautiful "little tree," (accompanied) with text by e.e. cummings, and two lovely Whitacre pieces by the BYU Singers, "Water Night" and "Cloudburst," both with text by Octavio Paz. These last two a cappella pieces are difficult, eclectic, soaring and lovely. Eric Whitacre is a surprising composer who takes many chances in his work, which is why listening to "The Music of Eric Whitacre" never fails to delight and challenge us. 7791 CD 15.98

Posted by acapnews at 3:43 AM
July 21, 2005
Tuskegee Institute Choir - Spirituals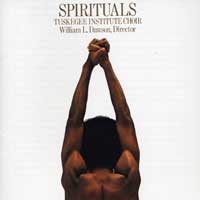 The Tuskegee (Alabama) Institute Choir, whose first singers were organized by school founder Booker T. Washington, is steeped in more than a century of pride and the richest of choral traditions. Booker insisted on the singing of African American spirituals by everyone at the weekly chapel worship services, a tradition that continues today. The Choir's most renowned director, composer and education William L. Dawson led the Choir into a new era in 1932, with their appearance at the opening of Radio City Music Hall in NYC, which would lead to performances before Presidents, radio and television audiences and worldwide prestige. There are 15 spirituals here, with innovative arrangements, powerful harmonies and solos; all sung with deep feeling and spirit. Simply the best versions we've heard of classic standards "Ezekiel Saw De Wheel," "Deep River," "There is a Balm in Gilead," "Ev'ry Time I Hear the Spirit," "Were You There," "Ain'a That Good News," "Mary Had A Baby" "King Jesus is A-Listening" and "Rockin' Jerusalem." One of the best, most authentic Gospel CDs of the year, by one of America's oldest and most respected Gospel choirs! 7753 CD 15.98
Listen to "There Is No Rose"
Posted by acapnews at 11:45 PM
July 20, 2005
Polyphony - Lauridsen - Lux Aeterna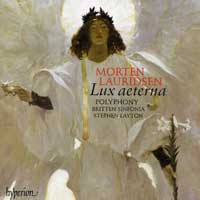 Stephen Layton directs his 21-mixed-voice Polyphony, which he founded in 1986 at King's College, Cambridge, in some of Morten Lauridsen's most beloved works, accompanied by the Britten Sinfonia. The 5 movements of title tune are first, and is as lovely (accompanied, of course) as we have ever heard it. "Madrigali: Six Fire Songs on Italian Renaissance Poems" follow, exuberant, spirited a cappella pieces. The recording concludes with Lauridsen's beautiful a cappella "Ave Maria," haunting, chantlike "Ubi caritas et amor" and the classic "O magnum mysterium." Lauridsen is pictured in the extensive liner notes giving his personal direction to the making of this very fine CD. The best of Lauridsen from talented Polyphony, directed by Layton, and with a wonderful Pre-Raphaelite painting of an angel on the cover—who could ask for more? 7786 CD 16.98
Listen to "Ave Maria"
Posted by acapnews at 9:58 PM
Conspirare - Through The Green Fuse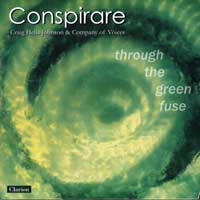 Talented 34-mixed voice, Austin-based Conspirare Company of Voices, directed by renowned conductor Craig Hella Johnson, bring us a fine, varied collection of 17 pieces that range from Stephen Foster's "Hard Times Come Again No More" and the lovely spiritual "Deep River" to Eric Whitacre's "Sleep," Donald Skirvin's 4-part "Alchemy" and the Gaelic Hymn "Spirit Seeking Light and Beauty." Also very fine are Rautavaara's "With Joy We Go Dancing," Paul Ayre's "Ruth," Wm. Averitt's spirited "Afro-American Fragments" (some piano), Jean Sibelius' deathless "This Is My Song—Finlandia" and Jon Nordal's sweet "Mavinir fagrir." The songs, from varied times and traditions segue easily into one another because of the arrangements, some by Johnson, and the poised, confident talent of Conspirare. Beautiful, colorful liner notes have the complete lyrics, and tell us, for instance that the "green fuse" is from a poem by Dylan Thomas. 7777 CD 15.98

Posted by acapnews at 3:25 PM