June 25, 2008
Concordia Choir - Evocations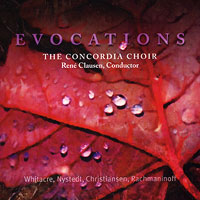 Pride of Moorhead MN's Concordia College for more than 80 years, the renowned, prolific Concordia Choir has been consistently adding beautiful CDs to the best choral recordings in the PAC catalog, 21 titles to date. Well-known composer/arranger Rene Clausen has been conducting the group for over 20 years. "Evocations" features 20 sacred selections, favorites are Eric Whitacre's "Lux Aurumque," David Childs' unpublished "Purge Me From My Sin," Paul Christiansen's "Vidi Aquam," Knut Nystedt's "Be Not Afraid," Sergei Rachmaninoff's "Come, Let Us Worship" and "Bless the Lord, O My Soul," Felix Mendelssohn's "Psalm 2," and "Psalm 50, Movement 2 and 3," by former Choir director F. Melius Christiansen. Beautiful, soaring music from one of the great choirs of all time! 8871 CD 15.95
Listen to "Psalm 50, Movement 3"
Posted by acapnews at 12:52 AM
June 14, 2008
King's Singers - Simple Gifts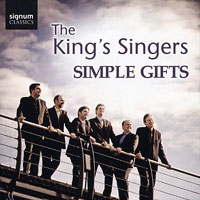 "Simple Gifts" is a very rare and special gift to us, as it represents the first full a cappella studio album by the legendary King's Singers in 10 years. Arguably the most popular a cappella group of all time, whose flawless harmonies grace over 30 finely-crafted CDs and a slew of songbooks in the Primarily A Cappella online catalog, we will assume that you know how good these six British men really are. So let's talk about some of the 16 carefully-selected songs: Billy Joel's classic "She's Always A Woman," James Taylor's sublime "You Can Close Your Eyes," the traditional joyous round "The Gift to Be Simple," Stephen Stills' harmonic CSN&Y gem "Helplessly Hoping," some wonderfully-arranged spirituals, "Swing Low, Sweet Chariot," "Deep River," "The Water is Wide" and "Steal Away," all of which feature some sweet deep bass leads. Randy Newman's poignant "When She Loved Me," Sting's "Valparaiso," Paul Simon's "April Come She Will"…these are some of our picks for the most beautiful songs of all time. They are arranged by group member Phillip Lawson, Bob Chilcott and Peter Knight, and then sung as beautifully as you can imagine by the King's Singers. The King's Singers incredible blend and tuning goes to ensure that this is probably their finest recording in a long time. Enough said! 8907 CD 16.95
Listen to "April Come She Will"
Posted by acapnews at 12:58 AM