May 24, 2008
Netherlands Chamber Choir - Bach: Motets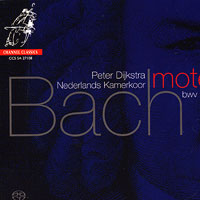 For the conductor Peter Dijkstra, "these works are among Bach's greatest compositions for vocal ensemble. The rhetorical power of Komm, Jesu, komm, the thrilling double-choir passages in Singet dem Herrn ein Neues Lied, the musical signature B-A-C-H at the end of Fürchte dich nicht, every one of these demonstrates Bach's mastery and his ability to bring a text to vivid life." This analysis of the relationship between text and music is of great importance to Dijkstra, who leads The Netherlands Chamber Choir in thrilling new performances of the six Motets 8911 SACD 24.95
Posted by acapnews at 1:06 AM
May 23, 2008
I Fagiolini - Monteverdi, Fire & Ashes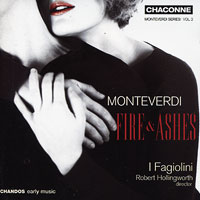 Monteverdi's madrigals are a theatre of the senses: touches, glances, scents, the textures of fabrics, of lips and skin, the shining gold of hair, the deep blue of eyes, the sounds and vistas of nature, the coolness of water, the sun's warmth, the ecstatic agony of fire and ice. The second volume in I Fagiolini's Monteverdi conspectus allows us to trace this evolution from the early Mantuan a cappella madrigals that made his reputation to the late concerted madrigals of the 1630s written for the Viennese court – styles seemingly worlds apart, yet both forged by the same desire, to confront and master afresh in each new work the ever-present tension between mere art and real life.
8913 CD 18.95
Listen to "Batto, Qui Pianse Ergasto"
Posted by acapnews at 12:02 AM
May 16, 2008
Estonian Philharmonic Chamber Choir - Scattered Rhymes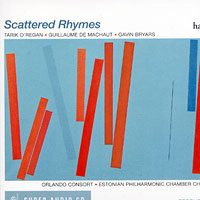 On this fascinating recording, Paul Hillier leads the Orlando Consort and the Estonian Philharmonic Chamber Choir in the world premiere recording of Scattered Rhymes – a vibrant and powerful new work by Tarik O'Regan (born 1978). O'Regan, a two-time British Composer Award winner, was educated at Oxford University and completed his postgraduate studies at Cambridge, where he was subsequently appointed Composer in Residence at Corpus Christi College. O'Regan now divides his time between Trinity College, Cambridge and New York City, where he has held the Fulbright Chester Schirmer Fellowship in Music Composition at Columbia University and a Radcliff e Institute Fellowship at Harvard. In Scattered Rhymes (2006), the composer combines two fourteenth-century texts that toy with the ambiguities of intertwining sensuous and divine love. To reinforce the work's medieval connections, Scattered Rhymes is designed to be framed or paired with Guillaume de Machaut's Messe de Notre Dame (circa 1364). This seminal work is brilliantly performed here by the Orlando Consort. Completing this inventive program are two motets: Ave Regina Coelorum by Guillaume Dufay (c. 1400–1474) and the haunting Super Flumina by Gavin Bryars (born 1943). 8882 SACD 19.95
Posted by acapnews at 12:03 AM
May 13, 2008
Ensemble Amarcord - Album Francais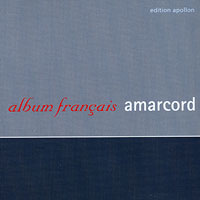 After three extremely successful CDs with vocal music of the Middle Ages and Renaissance, amarcord turns this time to the wonderful French vocal music of the nineteenth and early twentieth centuries. The exquisite singers from Leipzig once again demonstrate their amazing versatility. Starting in the second half of the 19th century, amarcord present some less well-known facets of the works of Rossini and Saint-Saëns. Meanwhile the 1920s with their pioneering spirit are represented by compositions by Cras, Milhaud, and the young Poulenc, whose entire works for male voices recorded here stretch into the post-war period. But one thing that all the items in this album have in common is their deep rootedness in France and the French: in for instance tradition, dialects, dances, incidents, feelings and savoir vivre. In a nutshell, this album is 'très français'! 8917 CD 16.95
Listen to "Clic, clac, dansez sabots"
Posted by acapnews at 2:29 AM
May 9, 2008
Holst Singers - Tormis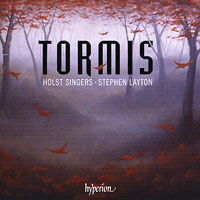 The Holst Singers are acclaimed as one of England's greatest non-professional choirs. The talent and commitment of the individual members and the leadership of their mercurial conductor, Stephen Layton, ensure that their performances are always of the very highest standards. Veljo Tormis (born 1930) is - along with Arvo Pärt - Estonia's most famous living composer, holding an almost mystic status in his home country. He is also the passionate and practical torch-bearer for folk-singing revival, and the integration of an ancient cultural inheritance into thoroughly modern, post-Soviet lives. Interestingly, he trained at the Moscow Conservatory and was steeped in Soviet instruction during his early musical life. His music is almost all written for choirs; few other composers have been so committed to one genre. Tormis's choral specialization marks him out from Bartók, Kodály, Vaughan Williams and Grainger, whose pioneering interest in folksong was ultimately limited to the use of textless tunes in instrumental or orchestral works. For Tormis, the words and the music are inseparable. The Holst Singers have recently been invited to Estonia to perform Tormis's music - a great honor, and a mark of their mastery of this repertoire. 8910 SACD 19.95
Posted by acapnews at 1:29 AM
May 6, 2008
Saint Mary's College Women's Choir - Across The Bar..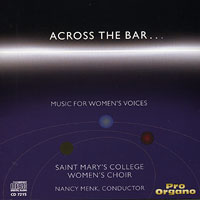 On the leading edge of the choral art, The Saint Mary's College Women's Choir, under the leadership of conductor Dr Nancy Menk, have assembled a program featuring fine new music from many of the most talked-about new choral composers. American composers William Hawley, Michael Sitton, Frank Ferko and Gwyneth Walker, and Finnish composer Jaakko Mantyjarvi, are just some of the names we'll be hearing about in fine choral music for this generation and the next. The works of these composers, as well as some classics, are assembled and presented here by one of the finest collegiate women's choirs in the U.S. 8906 CD 15.95
Posted by acapnews at 10:59 PM
Choir of New College, Oxford - Nicholas Ludford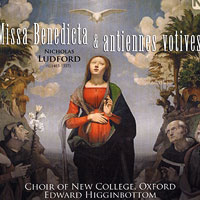 The deeply expressive music of Nicholas Ludford (c. 1485-1557) has been re-discovered only relatively recently. Few composers of his stature - comparable to that of John Taverner - have been so comprehensively and so unjustly ignored for nearly fi ve centuries. Recorded in the glorious acoustic of Saint-Martin de Hoff, Sarrebourg - a perfect environment for this extraordinary music - the disc features the Missa benedicta et venerabilis, one of Ludford's most accomplished festal Masses, with its plainsong propers, and two of his extended votive antiphons: Domine Jesu Christe and Ave cuius conceptio. Under the leadership of Edward Higginbottom, the Choir of New College, Oxford, has gained a worldwide reputation and is known particularly for its stylish performances of Renaissance and Baroque music 8909 CD 18.95
Posted by acapnews at 1:26 AM