November 29, 2005
Nordic Choir - Tidings of Great Joy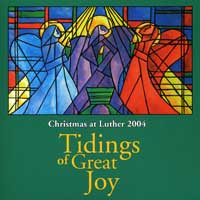 One of the most magnificent in the world, the 4-day Christmas Festival at Decorah, IA's Luther College features the 85-member Symphony Orchestra and hundreds of talented members of Luther's Nordic Choir, Pike Kor, Cathedral Choir, Norsemen and Cantorei singing 20 beautiful pieces. From the orchestrally-accompanied "Gracious Spirit Dwell With Me" and Dominik Argento's "Hodie, Christus Natus Est" to the dramatic a cappella "Hodie, Christus Natus Est" and the traditional carols "The First Noel," "Angels We Have Heard on High" and "Hark the Herald Angels Sing;" to the rarely heard "Little Lamb," "Choral Fanfare for Christmas," "O Nata Lux," "O Come Little Children" and Eric Whitacre's "Lum Aurumque," this is a joyous and memorable Christmas CD. The wonderful a cappella "Natus est Emmanuel" (a glee of angels at the Birth), was written by Libby Larsen for the celebration. 7947 CD 15.98

Posted by acapnews at 11:36 PM
November 23, 2005
Boys Choir of Harlem - Precious Lord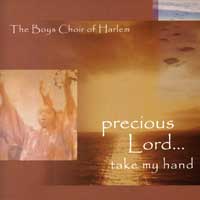 Harlem's finest, and one of America's finest boys' choirs, brings us a powerful collection of 14 authentic spirituals. The arrangements are by some of the best in the world. "Everytime I Feel the Spirit," "Go Down Moses," "Little David Play On Your Harp," "Ride On King Jesus" and "I Can Tell the World," all arranged by Moses Hogan, "Ezekiel Saw De Wheel," arranged by William Dawson, "If I Got My Ticket, Can I Ride," arranged by Robert Shaw, and a pair arranged by Howard Roberts, "Kumbaya My Lord" and "Oh Freedom," are a few of many favorites. Some light piano accompaniment, like on the lovely Don Sebesky-arranged "Amazing Grace," but mostly sweet, spirited a cappella. "Precious Lord" is inspirational and moving on many levels, given the accomplishments of Executive Producer J. Walter Turnbull and many others, molding and teaching the talented children of Harlem. 7811 CD 15.98
Listen to " Everytime I Feel The Spirit"
Posted by acapnews at 2:19 AM
November 19, 2005
Trio Mediaeval - Stella Maris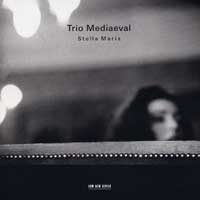 Anna, Linn and Torunn, the 3 beautiful women who are Oslo, Norway's brilliant, ethereal Trio Mediaeval, bring us their second CD. The group's chosen repertoire of polyphonic medieval music from England and France, and contemporary works is represented here by 7 haunting polyphonic pieces from 12th and 13th century England (favorites being 2 odes to the Virgin Mary, "Flos regalis virginalis" and "O Maria, stella maris;" the group-arranged "Dou way Robyn/Sancta Mater," and 3-voice conductus "Veni creator spiritus" and "Beata viscera;" and 2-voice conductus "Dum sigillum." In addition there are the 5 movements of a contemporary work by Korean composer Sungji Hong, "Missa Lumen de Lumine," dedicated to Trio Mediaeval and written for 3 voices. The ringing tones and soaring harmonies take us to a sublime soundscape of wonder and meditation. 7941 CD 16.98
Listen to " O Maria, stella maris, conductus"
Posted by acapnews at 3:16 AM
November 15, 2005
Crystal Children's Choir - 10 Years of Singing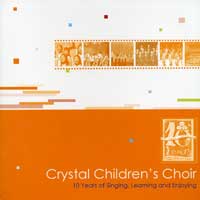 Crystal Children's Choir: 10 Years of Singing, Learning and Enjoying Founded in the SF Bay Area in 1994, and now boasting over 750 choristers of all ages, in 18 classes that rehearse weekly and perform a wide repertoire of choral music. The CCC's cultural mission is blending the best of Eastern and Western musical traditions. Crystal Choir has toured Canada, Hong Kong, Austria, Hungary and both coasts of the US. It has performed at Carnegie Hall, Davies Hall in SF, and has won many awards. The first half of the recording is 9 Eastern songs, such as "Ode to the Eight Stallions," "In a Far Away Land," "The Riddle Song," "Happy Gathering," "Life on the Railway Gang" and "Jasmine." The second half is 10 Western songs, such as "Gloria," Rimsky-Korsakov's "Flight of the Bumblebee," "The Water Is Wide," "Old Joe Clerk," "Amazing Grace" and "Battle Hymn of the Republic." Some piano and other light accompaniment. Crystal has a bright, spirited sound that lends itself well to this material. An impressive debut CD! 7849 CD 15.98
Listen to "Ode To The Eight Stallions"
Posted by acapnews at 2:12 AM