September 27, 2006
Creative Voices - Cafe Buenos Aires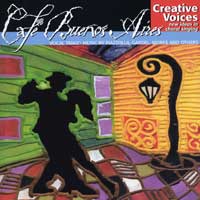 Creative Voices is a 18-strong, mixed-voice a cappella ensemble, conducted by Argentinian maestro Eduardo Mendelievich, dedicated to studying and performing rarely-performed musical repertoire, providing vibrant and innovative performances that introduce audiences to the healing and transformative properties of vocal music. "Café" is a treat, presenting Latin-flavored masterworks we've never had the pleasure of hearing before. Calling it "vocal tango music" they start with Castillo-Stampones' "El Ultimo Café," Mariano Mores' dramatic "Taquito Militar" and Cadicamo-Cobain's romantic "Niebla del Riachuelo," and closing with Astor Piazzolla's lovely 4-part "Angel" series ("Introduccion al Angel," "Milonga del Angel," "La Muerta del Angel" and "Resurreccion del Angel," these 14 songs form a striking, touching collection. Other favorites are Piazzolla's" "Calambre" and "Decarissimo," Jose Mores' sweet "Gricel" and Homero Esposito's romantic "Naranjo en Flor." Creative Voices is off to a strong, memorable start with "Café Buenos Aires!" 8419 CD 16.98
Listen to "Soledad"
Posted by acapnews at 11:54 PM
September 22, 2006
Choral Project - One Is The All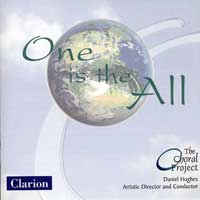 Founded by Daniel Hughes in 1996, the 46-strong, mixed-voice Choral Project has gained an excellent reputation for performing high-level choral literature in concerts, interfaith services and choral festivals and invitationals in Northern California and across the country. This is the San Jose, CA-based ensemble's 5th CD, including the critically acclaimed "Water and Light," featuring the music of Eric Whitacre. 17 songs, beginning with Stephen Swartz' soaring "Keramos" and the Ward Swingle-arranged "De Puta y Taco," "One is the All" impressively progresses through a varied and eclectic songlist. Roberto Valera's joyous "Quisiera," the brooding, dissonant "War Song," the lovely "So we'll go no more a roving," Charles Stanford's soaring "The Bluebird," Harry Belafonte's dynamic "Turn the World Around," Joan Szymcko's "It Takes A Village," Jaako Mantyjarvi's spirited "El Hambo," and Joshua Shank's dramatic "Musica animam tangens" are favorites. The poise and vocal maturity of the ensemble, a beautifully arranged and selected songlist and strong direction by Hughes add up to another very special CD from the Choral Project! 8409 CD 15.98
Listen to "De Punta y Taco"
Posted by acapnews at 10:47 PM
September 18, 2006
Estonian Philharmonic Chamber Choir - Arvo Part - Da Pacem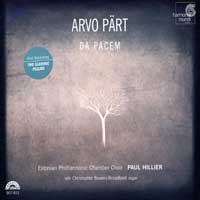 This collection of shorter sacred works by Arvo Pärt is the third harmonia mundi recording devoted to the music of the great contemporary Estonian composer. Da pacem includes some of his newest compositions as well as a sampling of works from earlier in his career. Led by Pärt's longtime collaborator and biographer Paul Hillier, the Estonian Philharmonic Chamber Choir, along with organist Christopher Bowers-Broadbent, illuminate the very essence of Part's "holy minimalism," with its roots in early-Medieval polyphony and deep engagement with text. A survey of the work of three decades, Da pacem illustrates the development of Pärt's triadic, bell-like "tintinabulation" style as the composer explores new colors and texture. The disc features the lovely Magnificat (1989), with its call and response form and the Salve Regina (2001/2002), with its unexpected underlying waltz rhythm. Also included are Pärt's Dopo la vittoria (1996/1998), a "piccola cantata" commissioned to celebrate the 1,600th anniversary of the death of Saint Ambrose and the title track, Da pacem Domine (2004) - a prayer for peace rendered with an astonishing stillness, in which, says Hillier, "each pitch is carefully placed in position like stones in a Zen garden." Of special note is the world premiere recording of Pärt's Two Slavonic Psalms (1997) - the first a-cappella work the composer wrote using the "tintinnabuli" style. 8409 CD 18.98
Listen to "Psalm 117"
Posted by acapnews at 10:48 PM
September 16, 2006
Women's Chorus of Dallas - Our Turn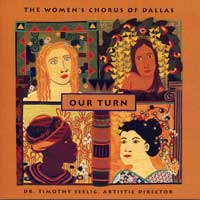 The 90 singers of the WCD, ably directed since 1994 by Dr. Selig, present a subscription concert series in addition to touring nationally. "Our Turn" is a sampling from their 5th Anniversary concert in June of 1994 called "We're Five!" There are 16 songs, with some light accompaniment by piano and other instruments. "Echo Song," "Sound the Trumpet," Mozart's "Alleluia," Brahms' "Ave Maria" Arron Copland's joyous "Ching-A-Ring Chaw," John Rutter's "For the Beauty of the Earth," Rossini's "Duetto Buffo di due Gatti," "Women's Medley," featuring the title tune, Helen Reddy's "I Am Woman" and David Shire's "I Want It All;" Suzanne Buhrer's hilarious "God Loves A Woman," Walter Hawkins' spiritual "I'm Goin' Up A Yonder," "Les Miserables" and Henley and Silbar's "Wind Beneath My Wings" are favorites. "Our Turn" is a strong collection of sweet sounds from the Lone Star State! Some light accompaniment. 8363 CD 15.98
Listen to "Echo Song"
Posted by acapnews at 12:36 AM