December 10, 2005
BBC Singers - One Star, At Last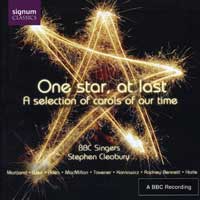 When an ensemble like the BBC Singers, renowned for its commitment to the music of our time, sets out to record a Christmas CD you can be sure that the repertoire will include material rather different from the usual run of popular standards and arrangements! One star, at last includes eight new carols (six of them specially-commissioned by BBC Radio 3), several premiere recordings, and a selection of music – serious and light-hearted, contemplative and joyful – by some of the leading British, European and North American choral composers of the day. Composers include Martland, Weir, Ades, MacMillan, Tavener, Kornowicz, Rodney Bennet and Harle. 7963 CD 15.98
Listen to " Make We Joy"
Posted by acapnews at 12:29 AM
December 9, 2005
Choir of King's College - On Christmas Day, New Carols From King's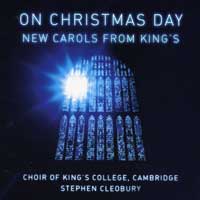 The Choir of King's College has recorded this new disc of contemporary Christmas carols commissioned especially for them. The new carols sung by the Choir each Christmas Eve are always eagerly awaited by audiences. Stephen Cleobury has developed a long-standing commitment to bringing contemporary compositions to the Choir's repertoire alongside the very traditional and he and the Choir are well known for their great support of new music and feature here a programme of pieces by a wide variety of modern composers. Among them, "The Gleam", a new piece by Gramophone Award-winning artist Harrison Birtwistle, "In Wintertime" by Lennox Berkely and "Bogoróditse Dyévo" (Mother of God and Virgin), which was a special gift to the Choir and Stephen Cleobury from Estonian composer Arvo Pärt. The disc also includes the Winter Solstice Carol, written by Giles and the carol "What Sweeter Music" by composer John Rutter. 7964 2CDs 16.98
Listen to " The Birthday of Thy King"
Posted by acapnews at 10:57 PM
December 2, 2005
Voz en Punto - Mexico en Navidad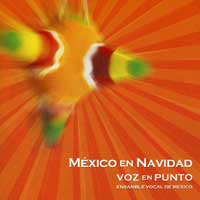 Three-Man, two women a cappella ensemble from Mexico, Voz en Punto is a spirited, talented quintet with fine harmonies, arrangements and a nice, clean sound, and the extensive liner notes have all lyrics and lots of info about the group. Unfortunately for this English speaker, all this information, as well as everything on all the websites about the group we found, is in Spanish. But certain things are pretty clear: There are 18 cuts and most of the material is traditional and sacred music, for example Tomas Luis de Victoria's "Ave Maria," Hernando Franco's "Sancta Maria," "Dios Itlaconantzine," "Jesos de mi goracon," "Eso rigor e repente" and "Mano fasiquivo." Some of it is funny in a manic sort of way; examples of this are Jose Galvan's "Navidad mexicana," "El nacimiento," "Elintercambio" and Son Veracruzano's "El tilingo navideno." The bottom line is, Voz makes fine harmonies, looks young and attractive, has a good sense of humor, and judging by the number of websites about them, has a legion of appreciative fans! 7773 CD 15.98
Listen to " Las Posadas"
Posted by acapnews at 12:28 AM