August 30, 2005
Crouch End Chorus - Choral Cinema Classics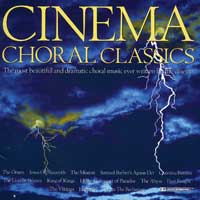 "Classics" is a collection of 14 songs related to movies from classic films, beginning with the powerful, moody "O Fortuna" from "Excalibur," "Prelude & Birth of Christ," from "Jesus of Nazareth," and "Agnus Dei" from "The Scarlet Letter." We have the suite from The Lion in Winter, "Ave Maria: Guarini" from "The Mission," "Funeral and Finale" from the Kirk Douglas film "The Vikings," the dramatic "Never Surrender" from "First Knight," and the ethereal ''The Abyss." "The Lord's Prayer" from "King of Kings" segues into "Riders of Doom" from "Conan the Barbarian," and the suite from "The Omen" segues into "Non Nobis Domine" from "Henry V." A surprising, eclectic, all-accompanied collection from the collaboration of London's renowned Crouch End Festival Chorus and the talented City of Prague Philharmonic. 7787 CD 12.98

Posted by acapnews at 12:42 AM
Moscow Boys Choir - Crescendo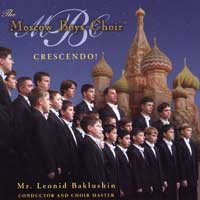 Founded in 1957, the MBC is one of the most prestigious all-male choirs, directed by Leonid Baklushin. Members are selected for the touring company from over 400 students, the group has earned an reputation on tours of Russia, Europe, Canada and South Korea. The Choir's distinctly Russian sound blends soaring soprano voices with rich bass and baritone. "Crescendo!" has 13 varied tunes, combining Christmas songs ("All the Angels in the Sky Rejoiceth," "O! Holy Night," Handel's immortal "Hallelujah Chorus" and "Twelve Days of Christmas" with Russian folk songs "The Mountains," "Dushechka," "Calm Down Wild Winds," "Evening Bells," "Ochi Tchiornye" and "Kalinka." The group adds "America the Beautiful," and the pop tune "Swing"–a varied, incongruous repertoire, but it all works–great stuff! 7817 CD 15.98

Posted by acapnews at 12:40 AM
August 27, 2005
Robert Shaw Festival Singers - A Cappella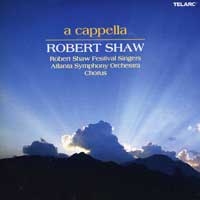 Since his death in 1999, Robert Shaw continues to be revered by American choral directors and music lovers, and his recorded interpretations are regarded as the gold standard among all those available. His numerous Grammy Awards attest to the regard in which he was held by his fellow musicians. This collection of seventeen choral selections are in recognition of Shaw's stellar body of work and were recorded during his last decade. These tracks are considered the best of the best, exquisite examples of the deep spiritual rapport Shaw achieved with unaccompanied choruses. One piece, the Verdi "Ave Maria," is performed by his 200-voice Atlanta Symphony Orchestra Chorus in one of their rare opportunities to engage in a cappella singing. The remaining sixteen tracks were recorded by the smaller ensembles he formed in his final years—the Robert Shaw Festival Singers, who performed and recorded at his summer choral festivals in the south of France, and the Robert Shaw Chamber Singers, which brought together the best of his Atlanta voices for concerts and recordings during the winter months. 7793 CD 15.98
Listen to "Away"
Posted by acapnews at 1:54 AM
August 10, 2005
Mediaeval Baebes - Mirabills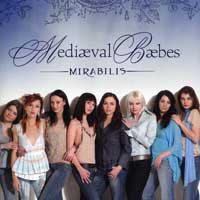 "Mirabilis" is a Latin word with pre-Christian or pagan origins that was used in the Mediaeval period to describe a supernatural force on the fringes of this world. Eight beautiful women with equally beautiful voices and a fetish for stunning costumes (which they model in the exquisite full-color liner notes and which are now approaching the size and complexity of costumes created for SF's "Beach Blanket Babylon") continue to prove that 13th-15th century English music and poetry are totally hot and sexy. The Baebes, now down to 8 members, bring us another exotic collection of 18 songs largely from early English sources, with music and arrangements by Katherine Blake and other group members. Most songs are lightly accompanied by percussion, dulcimer, zither, saxophone, guitar, keyboards, strings and other instruments. Particularly wonderful are "Musa Venit Carmine," "Lhiannan Shee," "Umlahi" (with words and music by Blake), the haunting "Tam Lin," a sweet and lively cover of "Scarborough Fayre," the folk tune made famous by Simon & Garfunkel, the rhythmic "Come My Sweet," "This World Fareth As A Fantasye," and the ethereal "Away" which features Blake on lead vocal. "Mirabilis" is the 6th recording by the Baebes to grace our PAC catalog, and we have noticed 3 things--each album is excellent, each seems better than the last, and the Baebes are having as much fun dressing up and creating this magical music as we are, seeing and listening to them! 7809 CD 15.98
Listen to "Away"
Posted by acapnews at 10:59 PM