October 25, 2006
Los Angeles Children's Choir - Voices Raised in Song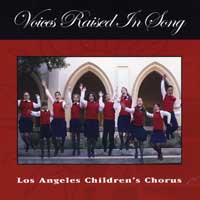 The latest release from this wonderful children's choir includes the highlights from their 2005-05 season, their most successful season to date. Under the direction of Anne Tomlinson the choir continues to grow and has developed into one's of the nation's finest. The recording features some choral classics such as "Come Ye Makers of Song" and Vivaldi's " Domine Deus, Agnus Dei", some folksongs and a nice selection of Christmas carols from around the world. 8452 CD 15.98
Posted by acapnews at 1:48 AM
October 21, 2006
Elektra Women's Choir - Sacred Places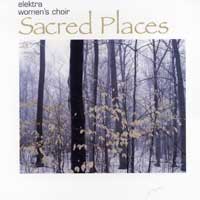 Elektra Women's Choir unveils an eloquent collection of sacred works for treble voices. The repertoire encompasses contemporary settings by composers from Hungary , Canada , the United States , and Spain . The collection includes György Orbán's Mass No. 6; psalm settings by the late Srul Irving Glick; Eleanor Daley's assured Os Justi; the haunting lullaby Durme, Durme arranged by Alice Parker; the glorious Set Me as a Seal by Richard Nance; Eva Ugalde's dramatic Miserere; and Gwyneth Walker's I Thank You God. This moving collection highlights the very essence of Elektra - complete with transcendent harmonies, thrilling melodies, and the full spectrum of the vocal palette. 8355 CD 15.98
Listen to "Os Justi"
Posted by acapnews at 3:19 AM
Cantus - Live Vol 2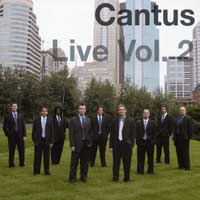 Cantus presents recordings from some of their recent concerts. Highlights include collaborations with the Saint Olaf Choir ("Beautiful Savior" and "Our Father"), guest conductors Dale Warland and Anton Armstrong and performances by Cantus' tenth anniversary reunion choir (Alleluia," "Ave Maria," and "Salvation is Created"). Also included on this eclectic disc is the premiere of "Private First Class Jesse Givens," a setting of a letter from a fallen U.S. soldier in Iraq by American composer Lee Hoiby. Cantus has rapidly developed into one of the finest male choral ensembles performing today and this recording accurately captures that talent. 8449 CD 15.98
Listen to "Remember Me"
Posted by acapnews at 3:16 AM
October 4, 2006
Kantorei - Small Blue Marble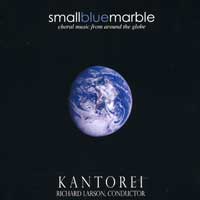 Richard Larsen and his choir Kantorei have been garnering great acclaim in recent years and their latest release shows why. The lovely name of the recording "Small Blue Marble" refers to the world as it showcases choral music from around the globe including songs from Thailand, South Africa, Nigeria, Spain, Scotland, Cuba, Israel and many others. Larsen has selected some intriguing compositions that celebrates the unity and diversity of cultures thru choral music and the choir singing is top-notch even when challenged to imitate a variety of Latin American percussions instruments while navigating dense choral structures. 8430 CD 15.98
Listen to "Barbara Allen"
Posted by acapnews at 2:24 AM