April 28, 2009
St. Olaf Choir - My Spirit Sings of Wondrous Things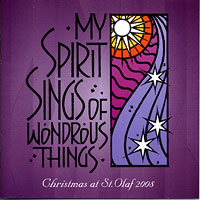 One of the most enduring musical Christmas traditions, Northfield, Minnesota's St. Olaf College celebrated its 97th Annual St. Olaf Christmas Festival in December of 2008. This massive event features the St. Olaf Choir, St. Olaf Cantorei, Manitou Singers, St. Olaf Chapel Choir and Viking Chorus, performing both as individual groups and as a massed ensemble with the St. Olaf Orchestra. The program is narrated, telling the story of the birth of Christ, "illustrated" by carols, spirituals, classical Christian pieces and original songs such as the final cut, "Beautiful Savior," written by the founder of the Festival and St. Olaf's musical program, F. Melius Christiansen. Presenting this 32-part event in its entirety requires two CDs, beginning with Steven Amundson's "The Gift," and it's hard to pick favorites. Certainly the 6-part "Carols from Around the World" medley needs to be included, the a cappella "How Great Are Thy Wonders," Z. Randall Stroope's accompanied "There Is No Rose," the Basque Carol "The Angel Gabriel," the Irish traditional "Canticle of the Turning," Jester Hairston's "Mary's Little Boy Child," Gian Carl Menotti's "Shepherd's Dance," and the Danish tune "Bright and Glorious is the Sky." A tremendous event, filled with joyous singing and the telling of a wonderful story. Entensive liner notes give us the lyrics to all songs, and details about the music and St. Olaf College. 9025 2CDs 24.95
Listen to "Welcome, All Wonders"
Posted by acapnews at 11:36 PM
April 3, 2009
Alamire - Henry's Music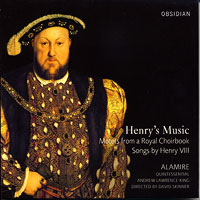 Alamire won the British Library contract to record the soundtrack for their 2009 exhibition celebrating 500 years since the coronation of Henry VIII. 'Henry's Music' includes a world premiere recording of the contents of MS Royal 11.e.xi (a royal choirbook gifted to King Henry in around 1518), which is to produced in full-colour facsimile by the Folio Society, and tribute motets by Robert Fayrfax, Philippe Verdelot, and John Taverner. Alamire is joined by the cornet and sackbutt ensemble QuintEssential and gothic harpist Andrew Lawerence-King. 9010 CD 17.95
Listen to "England Be Glad"
Posted by acapnews at 12:00 AM
April 1, 2009
Princeton Singers - Choral Music of Steve Sametz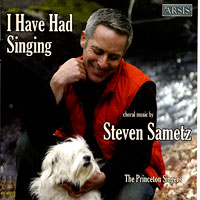 Steven Sametz has been called "one of America's most respected choral composers." His compositions have been heard throughout the world at the Tnaglewood, Ravinia, Salzburg, Schleswig-Holstein, and Santa Fe music festivals. His in time of appears on the Grammy award-winning CD by Chanticleer, Colors of Love, and his work may be heard on six other Chanticleer CDs, as well as several by The Princeton Singers. Sametz has received commissions from the National Endowment for the Arts, the Connecticut Council on the Arts, and the Santa Fe Music Festival, creating new works for Chanticleer, the Dale Warland Singers, Philadelphia Singers, Pro Arte Chamber Choir, the Santa Fe Desert Chorale, Connecticut Choral Artists, Los Angeles Master Chorale, and the King of Thailand. Sametz is an exciting new voice in modern American choral music and a great fresh addition to choral repertoire. Includes 24 page booklet and most of the arrangements are published. 9024 CD 15.95
Posted by acapnews at 12:00 AM