January 29, 2009
Bob Chilcott - Making Waves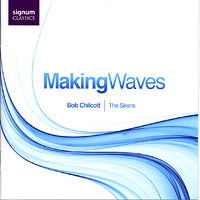 A new disc of works by the world renowned choral composer Bob Chilcott. Bob has been involved in choral music for most of his life and since he became a professional composer in 1997 he has had over 100 works published by Oxford University Press. He was hailed by Gramophone magazine as "one of the finest choral composers at work in Britain today." This CD includes tracks with The Sirens, an ensemble of young professional women's voices specially created for this recording. Also featuring are a jazz trio with Alexander Hawkins on piano, Michael Chilcott on bass and Dereck Scurll on drums. The works included here reflect the strong support and interest that Bob's vocal music generates, with commissions from a wide variety of choral societies, children & youth choirs and professional choruses. 9002 CD 17.95
Posted by acapnews at 12:01 AM
January 22, 2009
Bowling Green State University Men's Chorus - Reconciliation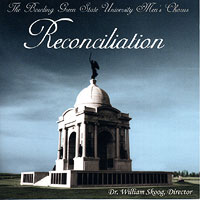 The Men's Chorus, open to students from all majors at BGSU, has a motto and a well-deserved reputation as being "America's Finest Singing Machine." Founded in 1923, the BGSU Men's Glee Club began touring Ohio, sang as far away as Chicago and Niagara Falls, and was doing very well until World War II pulled most of its singers away. Reuniting again after the war, the group contained only 15 members when it disbanded in 1953. Beginning again under the baton of Prof. Richard D. Mathey in 1971, the group grew into the active, touring group it is today. After 29 great years, Mathey retired and passed off the leadership of the ensemble to Dr. William Skoog in 2000, under whose direction the group is thriving today, with a membership of over 100 talented men. There are 21 tracks on "Reconciliation," with some lovely, powerful spiritual songs like Randall Thompson's "The Last Words of David," Michael Cox' "I Sought the Lord" and "The Fear of the Lord," Charles Gounod's "Sanctus," Uzee Brown Jr.'s spiritual "I'm Building Me a Home," Glad's "God is My Rock;" popular and folk tunes like Timothy Takach's "The Highwayman," the Irish folk song "Dulaman," Richard Nance's "When I was 1-and-20" and "Loveliest of Trees" from "Songs of a Young Man;" and the title tune, a moving, trumpet-accompanied anti-war requiem. There is some light accompaniment on several of these cuts, but the voices and the effortless, soaring harmonies are the focus and beauty of this wonderful ensemble. 1171 CD 15.95Listen to "God is My Rock"
Posted by acapnews at 12:06 AM
Choir of Trinity College - Choral Music of Edward Elgar
Richard Marlow's final recording as director of the Trinity Colleg echoir (Cambridge, England)! The choral works of Edward Elgar are gems of the English Romantic tradition. Under the direction of Marlow, the choir of Trinity College was the first mixed choir in a Cambridge college. As an adult mixed choir, they have the distinctive, clear English sound we admire, but with the power that only mature voices can produce. Highly recommended! 8995 CD 16.95
Posted by acapnews at 12:01 AM
January 16, 2009
Concordia Choir - Come To The Living Water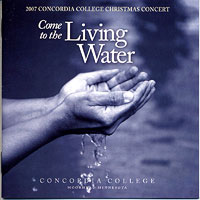 The Concordia Christmas Concert has always sought to illuminate through music, art and the spoken word the rich tapestry of parable, theology, and the story that is the interaction of God and humankind that is found in the Holy Bible. Throughout Biblical history, Christ is referred to as the living water. "Come to the Living Water" is about the image of Christ and the coming of Christ into this barren and thirsty world. Concordia's world-renowned musical groups and ensembles, The Concordia Choir, The Concordia College Orchestra, The Concordia Chapel Choir, Mannerchor and Cantabile, and Bel Canto, bring us this magnificent annual live narrated Christmas event in 26 parts. The title cut, "Come to the Living Water," is a dramatic, powerful depiction of the creation of earth, followed by "The Heavens Are Telling of the Glory of God" and the hymn "All Creatures of our God and King." The story of Christ's birth is told with traditional carols like "Ave Maria," "O Little Town of Bethlehem," "Silent Night," "What Child," "Infant Holy, Infant Lowly," and "I Saw Three Ships," but also included are less familiar pieces like Philipp Nicolai's lovely a cappella piece, "Wake, Awake," Rene Clausen's "Calm On The Listening Ear of Night," Eleanor Daly's "Sunny Bank," the Swedish carol "When Christmas Morn is Dawning," and Knut Nystedt's "Cry Out and Shout." Mostly orchestrally accompanied, the joyous "Come to the Living Water" is the next best thing to being at this wonderful event! 8991 CD 15.95
Posted by acapnews at 12:06 AM
January 15, 2009
RIAS Kammerchor - Mendlessohn Choral Works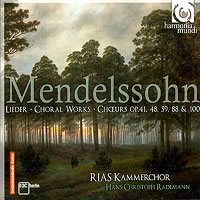 Mendelssohn once said, "The most natural music of all occurs when four people go out together in the woods or in a boat, and carry the music with them and inside them!" These pieces for chorus, sparkling musical miniatures, are perhaps the fi nest illustration of this profession of artistic faith. Mendelssohn's lovely choral music tends to get overshadowed by that of Brahms and by Mendelssohn's own works in other genres. This disc makes a strong case for a reassessment of the musical merit of his work in this genre. Berlin's RIAS-Kammerchor has established itself as a world-class ensemble which owes its reputation chiefl y to the performance of a cappella works. Led here by their new principal conductor, Hans-Christoph Rademann, the group continues its tradition of heartfelt music making. 8959 CD 18.95
Posted by acapnews at 10:29 PM
January 14, 2009
Male Ensemble Northwest - Sweet Rivers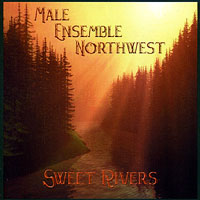 14-strong M.E.N. was formed in Longview, Washington in 1982, by choral musician and educator Howard Meharg. His mission was "to celebrate the art of male choral singing, to inspire men of all ages to musical artistry, and to encourage young men in leadership and example among their colleagues in music." The ensemble has been honored by invitations to sing as state, regional and national conventions of the ACDA. Unique among male choruses, each member of Male Ensemble Northwest is a conductor as well as an outstanding vocal musician. There are 13 richly harmonic tunes here, some of our favorites are some spiritual tunes, "Shout for Joy," "Alleluia," "When I Hear The Trumpet Sound," "City Called Heaven;" and Andrew Crouch's "Soon and Very Soon" (arranged by Randy Crenshaw); a pair of Lennon/McCartney songs, "I Will" and "Eleanor Rigby;" 5 Celtic Folk songs by Vijay Singh, "Timor et Tremor," "Fergus an' Molly," "Lament of a Fisher's Wife" and the delightful "Finnan Haddie;" "Sweet Rivers" and the lovely, traditional "Irish Blessing." There is occasional light piano and guitar accompaniment, but the voices, with their rich, bright harmonies, are the focus here. Powerful, beautiful material from this talented, veteran men's chorus! 8992 CD 15.95
Listen to "I Will"
Posted by acapnews at 12:09 AM