February 24, 2007
Polyphony - Lauridsen, Noctunes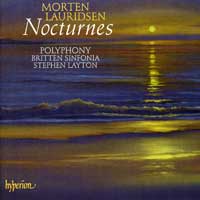 As their recording of Eric Whitacre had a chart-topping run on both sides of the Atlantic, Stephen Layton and Polyphony returned to the studio and put down a second disc devoted to the choral music of Whitacre's compatriot Morten Lauridsen. The popular cycles Mid-Winter Songs and Les chansons des roses (the final number of which, "Dirait-on," caused something of a publishing sensation on its first appearance) are joined by four premiere recordings: two early Psalm settings, and two new works written during the preparations for this recording. Performances from Layton and musicians are every bit as polished as we have come to expect. Polyphony is joined by the Britten Sinfonia for the Mid-Winter Songs, Andrew Lucas for the organ-accompanied Psalm and the composer himself on finger cymbals for Ave, dulcissima Maria. This new disc is certainly a worthy successor to the same forces' GRAMMY© nominated Lux aeterna. 8549 CD 18.95
Listen to "I Will Lift up Mine Eyes"
Posted by acapnews at 2:57 AM
February 23, 2007
Stile Antico - Music For Compline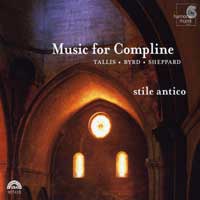 For their spectacular debut recording, the exciting young British early-music vocal group Stile Antico presents a program of English Renaissance music associated with the office of Compline (absorbed by the Anglican Church into Evensong), the service that ends the monastic liturgical day. A who's-who of 16th-century British composers, including Thomas Tallis, William Byrd and John Sheppard, are represented here by hymns, antiphons, responsories, motets and psalms—the occasion not only for music of intimacy, elegance and reflection, but for flights of breathtaking canonic and contrapuntal invention and harmonic daring. 8539 CD 18.95
Posted by acapnews at 12:57 AM
February 10, 2007
Viking Chorus - When Love is Found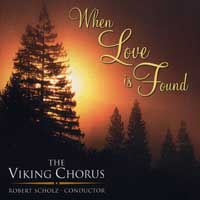 Northfield, MN's St. Olaf College boasts many fine vocal and instrumental ensembles. The Viking Chorus, founded in 1935, is a group of 60 first-year student men who perform motets, cantatas and anthems, as well as contemporary choral pieces, spirituals, and folksongs. The 26 songs of "When Love is Found" are largely classical sacred music such as Hovland's "The Glory of the Father," Pitoni's "Adoramus te" (We Adore Thee), Byrd's "Agnus Dei," Petrich's "First Born of Creation," Biebl's "Ave Maria" (Angelus Domini), and Gretchaninoff's "Only Begotten Son," the title tune and "Our Father." The beautiful folk song "Down by the Sally Gardens," the sea shanty "What Shall We Do With the Drunken Sailor," the Irish anthem "Danny Boy," the driving Israeli tune "El Yivneh Hagalil," and the spirituals "Were You There" and "Ain'-a That Good News" bring this very strong collection to a close. Some light accompaniment. A touching blend of sacred and secular music from this renowned ensemble. 8517 CD 15.95
Listen to "If Ye Love Me"
Posted by acapnews at 2:13 AM