June 17, 2005
The King's Singers - Treason & Dischord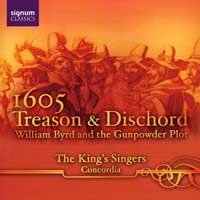 On November 5, 1605, Guy Fawkes was caught preparing to detonate 36 barrels of gunpowder under the House of Lords, unveiling and act of attempted treason that shocked the whole of Europe.Commemorating the 400th anniversary of the Gunpowder Plot, the Kingís Singers and Concordia illuminate the dangers of hearing Mass in secret, of conspiracy and downfall, and the protestant relief and great joy. The music, structured around Byrdís perfect 4-part Mass, contains motets by catholic composers, protestant anthems celebrating the downfall of the plot, and a commission from the British composer, Francis Pott, Master Tresham: His Ducke. A script, drawing on historic texts and reproduced in the CD booklet, uses the dramatized persona of William Byrd, the most celebrated composer of his age, to recreate the atmosphere of change and hope in the Jacobean court. 7790 CD 15.98
Listen to "Sanctus/Benedictus from Mass for 4 voices"
Posted by acapnews at 12:40 PM
June 7, 2005
Cambridge Singers - Sea Change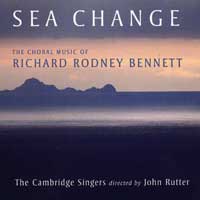 Choral fans will be very excited about the meeting of two of the most versatile musical minds of their generation, Rutter and Bennett in a CD that is Gramophone Magazine's Editor's Choice for May 2005 and on many lists for Choral disc of the year. The title work, "Sea Change," set to texts by Shakespeare, Andrew Marvell and Edmund Spenser, is 4 pieces, sometimes Britten-esque, dramatic, swirling, agitated, emotional, dissonant and always interesting. "A Farewell to Arms," written for the ensemble VocalEssence for a cappella choir and solo cello, are poignant poems of an old soldier's recollection of war. "A Good-Night " is a lovely motet written in memory of Linda McCartney. The last 8 tracks feature some of Bennett's most accessible works, which happen to be Christmas songs. "There is no rose," "Out of your sleep," "That younge child," "Sweet was the song," "Susanni," "Lullay mine liking" and "What sweeter music" are simply beautiful. The Cambridge Singers, directed by Rutter, are perfect, handling this difficult material with ease. "Sea Change" is a rare, very special recording! 7507 CD 15.98
Listen to "There Is No Rose"
Posted by acapnews at 9:59 PM