October 27, 2005
Estonian Philharmonic Chamber Choir - Baltic Voices 3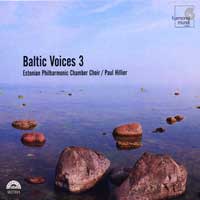 Acclaimed conductor Paul Hillier and the Estonian Philharmonic Chamber Choir conclude their exploration of the choral riches of the Baltic region with a third and final volume of the Baltic Voices series. The disc features music of established figures in the genre (Bergman, Górecki, Gudmundsen-Holmgreen) and recent works by the younger generation (Saariaho, Tüür). Baltic Voices 3 includes CD premieres of works by Saariaho, Górecki and Tüür. Hillier proves time and again that there's a huge quantity of highly effective new choral music out there that's not only entertaining and beautiful but also distinctive and not anachronistic. Highly recommended. 7898 CD 16.98

Posted by acapnews at 12:13 AM
October 26, 2005
Cantus - Comfort and Joy Vol 2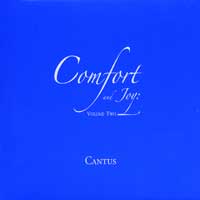 Minneapolis/St. Paul's ten-strong, all-male Cantus has impressed us with their excellent earlier recordings and continue to do so with "Comfort and Joy: Volume Two," their second Christmas recording. Song selection and arrangements (and, for that matter, the elegant liner notes) are particularly fine here. Little-known pieces like "Puer natus in Bethlehem," Omnis mundus jucundetur," "Four Carols" by Halsey Stevens," Wm. Dawson's "Hail Mary," the Plainchant "Hodie Christus natus est," the Georgian wassailing song "Alilo," Ariel Ramirez' "Los Reyes Magos" and Babatunde Olatunji's "Betelehemu" with the more traditional carols like "Go Tell it On the Mountain," the French carol "Masters In This Hall," "God Rest You Merry, Gentlemen," "Riiu Riu Chiu," and an almost unrecognizable arrangement of "Deck the Halls." Some percussion and accompaniment. Consistent throughout are the powerful harmonies of Cantus, one of our favorite male ensembles. 7876 CD 15.98
Listen to "Masters in the Hall"
Posted by acapnews at 2:32 AM
October 22, 2005
The Tallis Scholars - The Tallis Scholars Sing Palestrina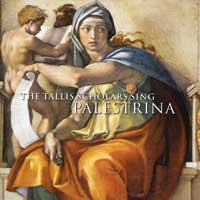 Palestrina is the composer The Tallis Scholars have sung and recorded most frequently and this two discs set contains some of the best, in their view, recordings from the very first record they made commercially (in 1980), to one of the most recent. In general they have concentrated on his Mass settings not least because they make such effective concert music. Palestrina had an unusual ability to write positive, outward-going, major-key music which, over the length of a Mass-setting, is a great strength: penitential writing tends to be more effective in shorter bursts. Three of the four settings in this collection rely on bright sonorities; the fourth – Sicut lilium – is more subdued and sensuous, as the words of the motet require. The Missa Assumpta est Maria, based on his own motet of that name which in turn is based on a short phrase of chant, is a classic example of sonorous Palestrina, its excitement achieved in large part by doubling the sopranos and tenors. The brighter sound this high-scored six-voice (SSATTB) choir produces is then emphasized in the style of the writing, which is more chordal than usual. The parody motet Assumpta est Maria shows the way in its opening bars: the three upper voices are grouped against the three lower ones in easily audible antiphony. This late-Renaissance method is then transferred to the Mass, most obviously in the Gloria and Credo but also in the first Kyrie, where greater elaboration was more customary. The sheer verve of this music has ensured that, along with Papae Marcelli, Assumpta est Maria has remained the most performed of all Palestrina's 107 Mass-settings. The second disc opens with a six-voice (SSATTB) set of Lamentations, originally the third lesson on the Saturday of Holy Week. The Missa Brevis (for four voices SATB), although relatively 'short' and straightforward in musical style, shows Palestrina's idiom at its most accessible. 7881 2CDs 19.98

Posted by acapnews at 3:19 AM
October 21, 2005
Voci Nobili - Contrasts (Kontraster)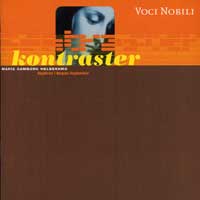 Kontraster – contrasts, the term speaks for itself. This third CD by Voci Nobili is a collection of contrasting pieces from the 20th century. Church music is still a living tradition, and during the last century a vast repertoire of great choral composition has arisen within this genre. This recording introduces a selection of songs with texts connected to the Virgin Mary, the compositions almost spanning the entire century, from Gustav Holst to Knut Nystedt. Halfway through, the style gradually shifts to jazz by way of John Rutter's choral suite Birthday Mardigals, which contains elements from both styles, and Ward Swingle's unique blend of baroque and jazz in the ingenious Reeds of Innocence. Voci Nobili celebrates the centennial anniversary of the birth of George Gerswin by letting his music introduce the record's jazz section, which also contains standard-jazz pieces like Lullaby of Broadway and Makin' Whoopie. The recording ends with a collection of modern folk songs by singer/songwriter Alf Prøysen, who has a constant place in the heart of every Norwegian. 7858 CD 15.98
Listen to "My True Love Has My Heart"
Posted by acapnews at 2:54 AM